Because your children deserve unusual gifts
Birthdays, Easter, Christmas, First Days at school or any other important day worth celebrating in the year – there are so many occasions where you are in need of unusual gifts for children. Either go shopping and get them some presents from the high street chains or, as a truly creative alternative, create your very own unusual gifts for children, easy and without any hassle from your computer at home (or work…).
It couldn't be any easier: Just choose one of the products and then start uploading your photos or designs. From a photo blanket with the favourite movie or cartoon character of your child to a photo cube with the funniest photos of the past years or a unique Baby deckchair – let your imagination and ideas flow and create unusual gifts for children!
Photo gifts with the Wow factor
The photo cube is an ideal present for children. Either have the photo cube on your desk or play with it, but your photos will always be around you. For children that have just achieved something great there could be images of the awards and the proud child themself…on the other side the siblings could design the photo cube with their own drawings and messages and then just scan these ones and upload them as files for the design of the cube.
The photo blanket has always been (and I am sure that it will always be) one of the most popular and unusual gifts for children. Make a montage with different images, add text like the name of the child or get them their personalised blanket with their favourite character from movies or books. Anything is possible.
Unusual gifts for children with photos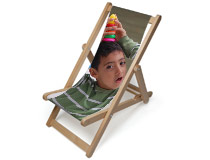 One of the newest additions in our wide range of photo gifts is the baby deckchair. Your child can now have its own deckchair with your photos or text printed onto the sling.
Come and have a look yourself for the most unusual gifts for children with photos!