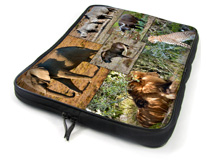 Is your mum a career woman who's always on the go? Does she take her laptop with her everywhere she goes and travels a lot in her work? Coming up with personal and practical gift ideas for mum can be a struggle, but for the busy career mum we have a great idea. Why not give her a personalised laptop bag? That way she can see some of her favourite images throughout her busy days in or outside the office.
Maybe the whole family went on a Safari trip on your most recent holiday to Africa and took some amazing photos, those will look great as a photo montage on a laptop bag! Whether she's a Mac or PC user we have the right size for her work companion. Other great gift ideas for mum are photo books or albums. Our elegant photo book printed with photos of your choice, will make a truly stunning addition to your mum's office.
When she has a quiet moment with a cup of tea, she can look through the photo book and remember good times spent with her family. Or if you have loads of baby photos of yourself and your siblings in your photo box then you can create an elegant photo album and fill it with childhood memories. Either way, they will look great on her desk as they are printed on HD Satin and have beautiful details such as silver or gold corner protectors. The little details make such a difference!
Personal gift ideas are perfect for important people in your life such as mum and dad. So even though mum and dad work a lot, you can still get them personal gifts by using your very own family photos. They will appreciate gifts they can use whilst at work and gifts that show off beautiful photos.