A "Your Life" album is a unique, fun, and nostalgic way to celebrate a monumental event or a big birthday. Whether you're planning a complete Your Life theme party or want a quirky and emotional gift it's a perfect choice. With a choice of colours and the option to personalise the front cover, "Your Life" albums are perfect as a gift idea for big occasion. So if you are looking for gift ideas for your mum's 50th birthday, a This is your life book is ideal.
How To Personalise Your Life Book
The cover of the Your life album or book can include a personalised message or name of your loved one. It is also available in a range of colours. The album is then printed and hand bound according to your specifications. Personalised photographs can be mounted using photo mounts. Giving a personalised life story book is the perfect gift for anybody and can make the ideal addition to a themed party or as a fun gift idea. They are ideal gift ideas from your photos.
How Does It Work?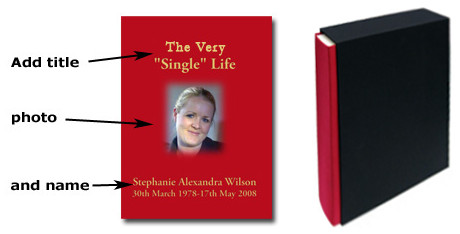 You select the size and format and add to cart. You choose from four cover colours. The last stage in the process is where you create the Title you want to appear on the album, e.g. the 'Life and Times of….' and then add a name. We then make the cover to order with exactly what you request printed on it.
Personal and unforgettable, your own Life Book.