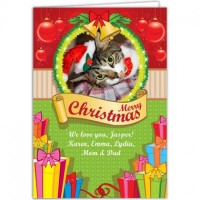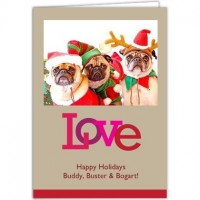 Pets are more than animals. As our closest companions, of whom we might have grown up with and cared for, our pets take on the role of people in our lives. They are like family members who are always happy to see you. So this holiday season, while searching for all the right Christmas gifts, include your furry and feathery family members in your celebrations and gift-giving by making personalised pet Christmas cards.
Personalised pet Christmas cards add an individualised and playful touch to that new dog leash, or aquarium, or hamster wheel your pet may be receiving. Yet, whether or not their Christmas gifts last them through New Years, we bet that your pet's personalised Christmas card will outlive the treats and equipment they collect. Plus, the high-quality photograph on the cover of the card will recall fond memories you've shared with your buddy.
To create personalised pet Christmas cards, simply select your favourite and most charming photo of your pet, and then submit the image along with a message for inside the card through our website. Even though your pet won't be reading the cards themselves (unless you happen to live with Charlotte's Web or Babe the pig), we know about all the people who will be opening your pet's Christmas gifts, and thus we ensure all the same best-quality photo prints.
Once you choose and dispatch your image, message and design, we will deliver your personalised pet Christmas cards in two shakes of a lamb's tail… or a cat, dog, bird, or fish's tail, depending on your critter. This Christmas, show your beloved companions all the tender love and care they deserve with their own Christmas gifts and personalised pet Christmas cards.