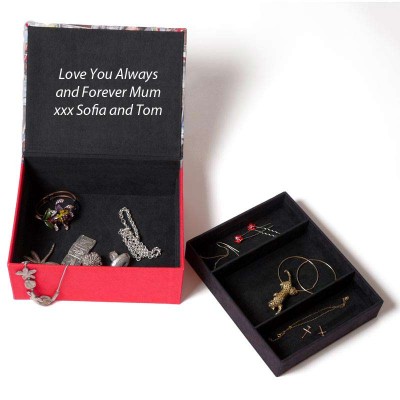 You could find the best Mothers day gifts ever but do you still feel like something is missing? Great gifts come in many forms but the best one's are gifts which you can add a personal message to. Mothers day gifts are really personal, after all this is the woman who gave birth to you, so she deserves something personal.
Photo canvas prints on their own is obviously great but what makes it even better is a personalised message. Personalised gifts truly make a statement – they prove that you have put a lot of thought and effort into creating these mothers day gifts. And what's great about personalised gifts from Bags of Love is that you can add a bit of text to many of them.
Our stunning jewellery boxes for example. The jewellery box make an ideal mothers day gift because of its practicality and beauty. The smooth velvet like material with an exterior and interior personalised by you, is just fabulous. Use photos from your childhood or your mum's 20′s to make her remember past times.
You can stop at just creating the exterior with your images but you could also personalise this gift to the fullest by adding a message to the inside of the lid. So that every time she opens the jewellery box she sees the message you created for her. The very same goes for the photo canvas prints. They are perfect additions to the home interior by using photos or images of things your mum loves and a message makes it even more personal.