Personalised Design Themes for Your Home
Bags of Love offers a wide variety of items to decorate your home.   From floor cushions to wallpaper,  add your photos to create home decor that is truly your own.
We have complied three themes for interior decor, using our products and your own photos.  Each design theme follows an established design trend, with suggestions for finding images and the right product for your home.
1) Nautical Design Theme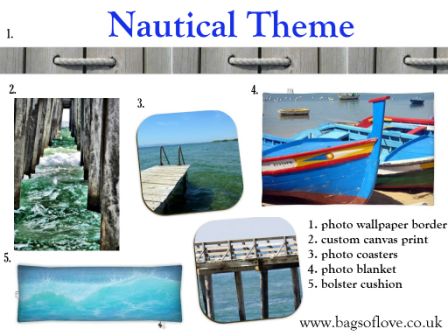 1) flickr.com/photos/mattimattila/6065239480; 2) flickr.com/photos/karsund/5601455001; 3) flickr.com/photos/xlibber/4676710476/ & flickr.com/photos/mikebaird/390648066/; 4) flickr.com/photos/zombie/444122430; 5) flickr.com/photos/60580775@N08/5519650473
Our first design theme is nautical, drawing on images of piers, waves, and boats.  A very popular design theme for fashion and interiors, nautical objects posses a dreamy and romantic quality.  Plus all the blue hues are rich and easy to match with other colours and textures.  The first item in the image above is our photo wallpaper border with an image of a pier repeated along its length.  The warm qualities of rope and wood in the image softens the corners of a room, and draws your eye along the wall.   In addition to the custom photo canvas print (#2), photo coasters are a brilliant way to bring your design theme to other surfaces.  The photo coasters from Bags of Love come in packs of 4, with the option to add as many images as there are coasters – why not make a gallery for your coffee table?   The Bags of Love photo blanket is ideal for snuggling up on the couch, and can be used with a single or multiple image(s).  And finally, our photo bolster cushion printed with ocean waves is a subtle way to bring more color and comfort to the sofa.   All of these personalised items create a clear and carerfully thought out theme to update your interiors.
2) Urban Safari Design Ideas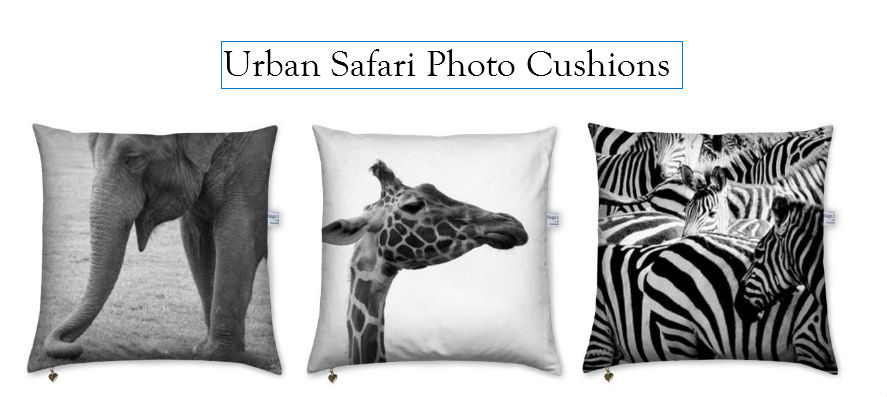 1) .flickr.com/photos/wwarby/4915643997/; 2) flickr.com/photos/wwarby/5026638947; 3) flickr.com/photos/robbie73/2045519749
For those who like to keep things in a neutral colour palette, why not try out a urban safari theme?  Simply find images of your favourite animals, change them to black and white using our online design system, and create exotic home furnishings! By using black and white images, the safari theme takes on a sleeker look ideal for city living.  The images above are of our square personalised photo cushions – perfect for increasing the comfort of your couch and giving your living room a bit of life.  The urban safari style would work perfectly in flats with exposed brick, metal, or wood.  The monochromatic hues compliment the surroundings, while the natural images bring warmth to the industrial style.
3) Bright Abstract Patterns
Bright bursts of color and graphic patterns are brilliant for those looking for a contemporary twist to their interior decor.  Featured below are our triptych canvas prints and large photo floor cushions.  By keeping to abstract patterns, each piece is more versatile and provides a punch of colour wherever it is needed.  Our triptych canvas prints come in variety of shapes and sizes depending on your home's needs.  Using our online design system you can easily test out canvas sizes best suited for you image and home; choose from panels 30 x 30cm, up to 200 x 100cm.   The floor cushions from Bags of Love are fluffy, comfy, and perfect for extra seating.  Add your own images or artwork to our floor cushions for a personalised design and functional artwork, sizes from 32 x 24cm up to 48 x 36cm.  All cushions and canvases are printed and constructed in London to ensure quality production of all our items – no matter how big or small.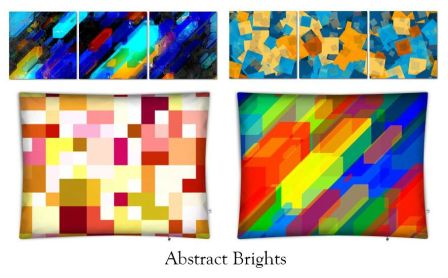 All patterns from: flickr.com/photos/zooboing
Which design theme is your favourite?  Please let us know what you think by leaving a comment!
Thanks!