Here at Bags of Love we're not ones to pass on a celebration of any kind, and why would we when there's going to be global festivities of lantern displays, fireworks and traditional dance to wish good fortune for our family and friends?
Unlike in the UK, where we celebrate New Year on January 1st, the Chinese New Year falls on a different day as it's based on the lunar calendar. This year, it's Saturday 28th January, and it's all about the Fire Rooster. So, to begin 2017 with a positive outlook and bring luck, good health and prosperity to your homes, follow our step-by-step guide on how to design your own calendar or diary for Chinese New Year. This makes a fun project for kids, or a thoughtful gift to a neighbour. Check here to see if your or anyone you know might be a Rooster and make them a personalised calendar or diary.
How to Make Your Own Calendar for Chinese New Year
Step 1:
Choose from 2 sizes, A4 or A3. Whether you want a cute and compact calendar or a feature piece for your kitchen, these are ideal sizes to hang on your wall.
Step 2:
Choose your images, text and colour scheme for a personalised calendar that really represents the Rooster.
The Chinese zodiac breaks down each spirit animal into 5 elements; fire, wood, earth, gold and water, each one having their own separate traits and characteristics. 2017 is the year of the Fire Rooster. These people are trustworthy, punctual and responsible at work.
Step 3: 
Time to design your front cover! You can add a single cover photo or even create a photo collage using our design tool. Give your calendar a title and add a special message. This is an ideal place to describe the year of the Rooster, and send wishes of good luck and fortune to your gift recipient.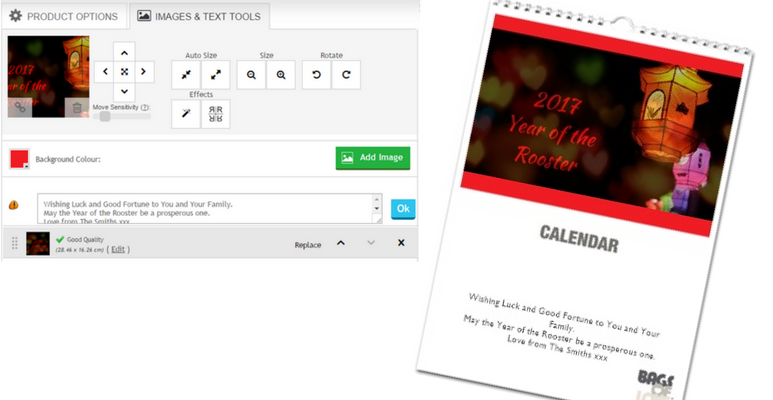 Step 4:
Each monthly page can be customised with your photos and text. What will you decide to include? Astrology has a huge influence on the Chinese lunar calendar, so we suggest following this theme and including the monthly horoscope for the Rooster.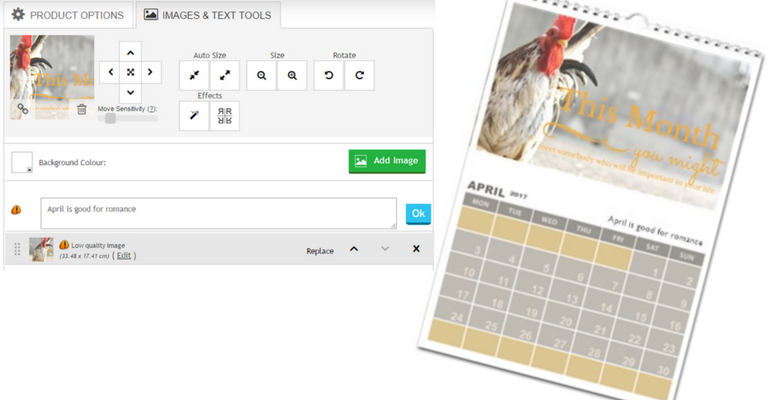 Step 5:
Repeat step 4 for all the months, and there you have it! Your very own personalised calendar to celebate the Chinese New Year of the Rooster.
Have a go now! 

Psst…Need Something Quickly?
Design your own diary for Chinese New Year 2017 and personalise with photos that inspire you for the year ahead. You can design the front and back with images and text. Was £34, now £17!