Ideal for the Preloved Armchair Classic
If you like a new twist on an old or preloved arm chair this is a beautiful idea. Make a bold design with old photos, classic memorabilia images or scans of your favourite tickets of flyers. Just the idea for the print and then you can have the material custom printed ready for the task of upholstering to your armchair. To refurbish an old chair, our high quality 'Suede Vision' is the perfect fabric for enhance softness.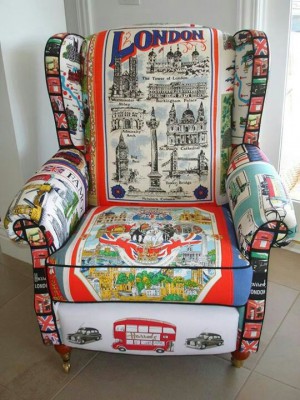 The best thing is you will breathe new life into a dilapidated object! Has your granny got an old chair? Give it a new lease of life in your flat if she lets you. When she comes around to visit she will love what you have done with it. We estimate about 3 linear metres is required for a single armchair. You can flood this material with your random images to make a pattern that repeats and can be seen on the individual sections of the chair.
Up-cycling the Old Chair Into a Modern Masterpiece
This is the interesting thing. An old piece of unwanted unloved past it armchair being given pride of place in a new and exciting modern environment. Just because it has a modern print technique applied the new textile covering that now adorns the chair. Best thing is you get to design the textile to set it off perfectly.
Design the Fabric to Cover Your Chair
You need to learn a few things up to get this right. A great textile printer that will do short runs of 2 – 3 metres, plus the right feeling textile preferably fire rated for added safety. The material needs to feel good and be tough enough for furniture coverings. There are not many printing companies who can do this, but Bags Of Love from Contrado in London is one of the places where you can do this successfully and in a day or two and affordable too. The design process involves uploading a selection of images and using the tools to payer repeat or design your own material for the look of this chair you want. Try your design right here….. and turn the preloved into reloved.