Moving house is an exciting adventure that doesn't come without a bit of stress and anxiety. But once the last box has been emptied and the bottle of celebratory champers has been opened, that feeling of falling onto the couch (or temporary stand-in deckchair) is a joyous moment. Some people move out for the first time without so much as a knife and fork to their name, whilst others already have 2 of everything, and a spare. When it comes to housewarming gifts, this presents a problem. Buying furniture or appliances is too risky, and the seasoned homemaker? They've already got it all. That's why these personalised housewarming gift ideas are the perfect balance between useful and sentimental as they're customised by you.
Browse our range of personalised housewarming gift ideas for some stylish home decor inspiration.
Housewarming Gift Ideas: The Living Room Collection
The lounge is where you wind down, chill out and possibly fight over the remote. It's a room destined to be filled with loving memories so it's essential the foundations are just as rosy. Treat your friends or family who have recently moved home to a personalised canvas print featuring one of their favourite photos. O if they're pet owners, a picture of their fur baby's face. You'd be surprised at how something as simple as wall art can transform the ambiance of a room.
Every living room should have comfort at its core, so what better new house gifts than a cushion and throw? Soft, cuddly and warm, snuggling up on the sofa just reached a whole new level of dreamy.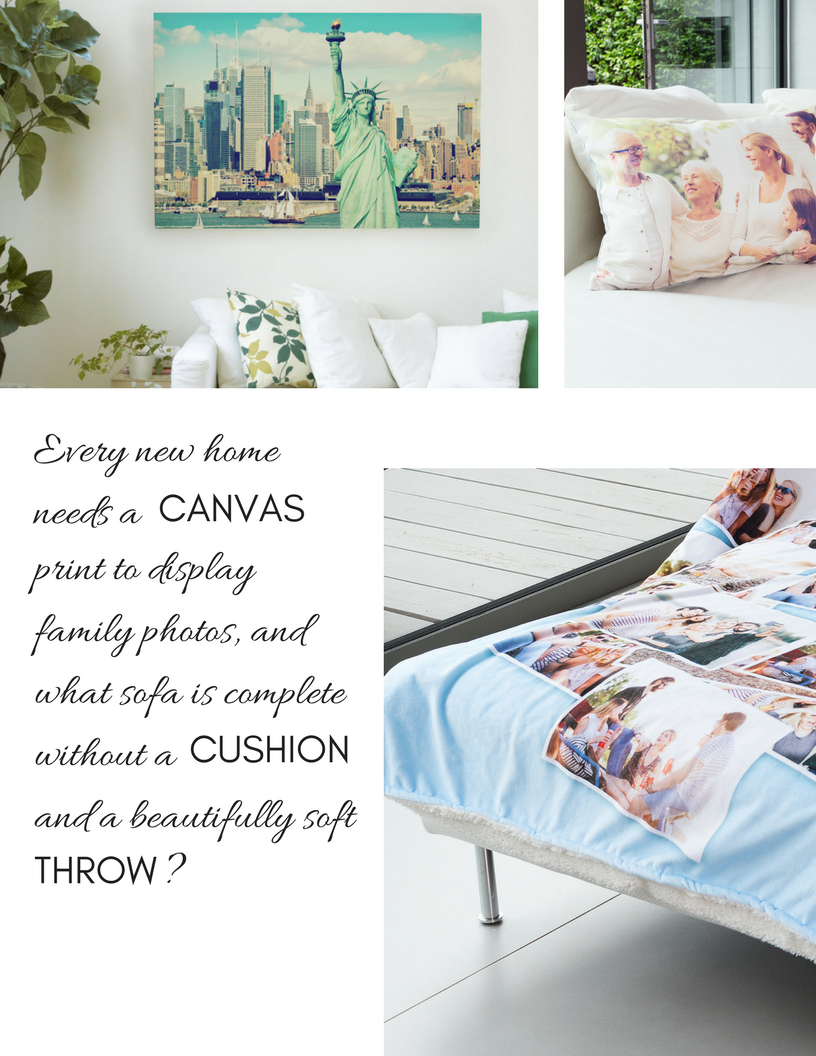 Best Housewarming Gifts: The Kitchen Collection
Arguably the most important room in the house, kitchens have the ability to bring people together. As you bake bread or cook up a spicy storm, the home is filled with wondrous aromas, tantalising taste buds in every room. For personalised housewarming gift ideas, the kitchen is a safe choice because, well, everybody has one. Stay classic with a personalised chopping board and printed teacup and saucer, or 'brunch' out with a customised tray, ideal for those lazy weekend lie-ins.
The kitchen is a communal area, so therefore it's often the designated place for keys and other bits and bobs. Design a set of leather keyrings for the new home owners, printed with the date of the move. A useful gift that doubles as a keepsake. For those clumsy cooks who have a knack at burning charring their food, a customised clock is a stylish way to keep track time of time.
New House Gifts: The Bedroom Collection
The bedroom; the place of dreams where all the magic happens. I think of bedrooms as private little havens where you can escape everything and everyone. The decor needs to be calm and relaxing, but interesting at the same time. Custom curtains can be used to create a mini dressing area where the home owners can change in peace. Another trendy addition is the bespoke trunk. It's a stylish storage solution for clothes, toys, shoes or other items that are best hidden away, and is a truly elegant piece of furniture.
It's not just bulky things that can be a nightmare to store away, though. When moving house, it's the tiny little things like earrings, necklaces and bracelets that become a nuisance to keep track of. Treat the new lady of the manor to a place for her diamonds and bling: a unique jewellery box to take pride of place on the dresser.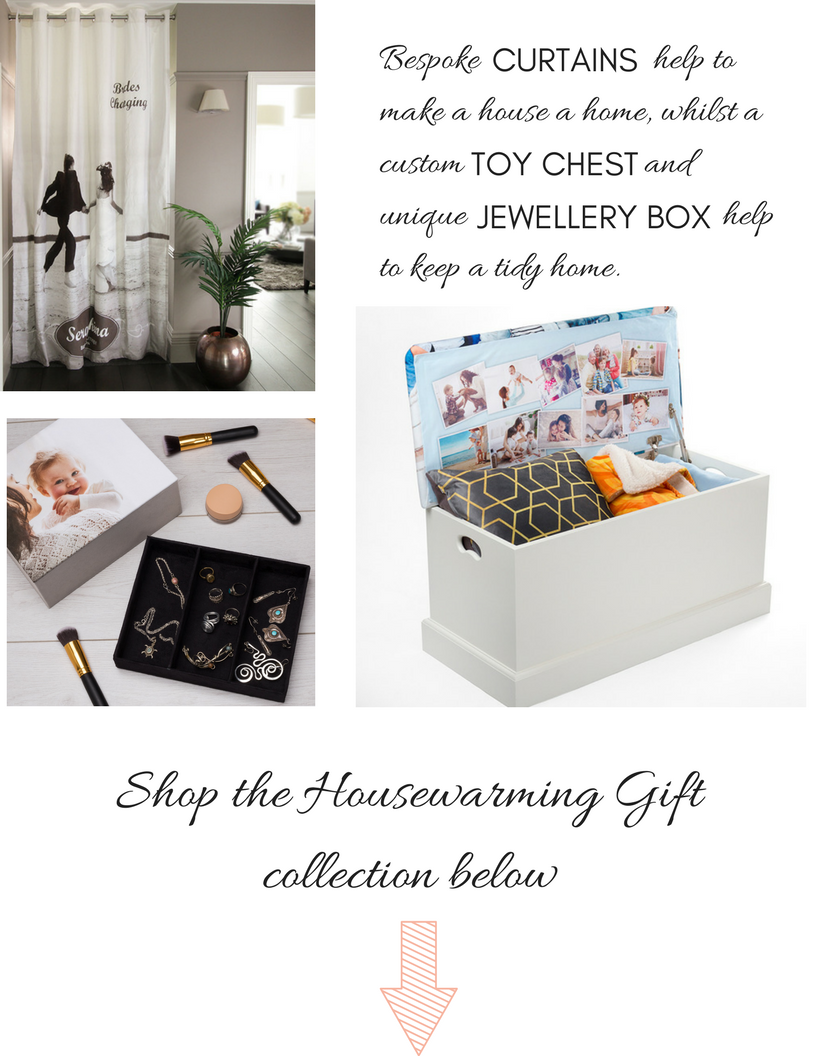 Make sure your friends, family and new neighbours have an enjoyable move into their new abode. Browse our entire range of personalised gifts and design something special for this big adventure.