Tin Gift Ideas for your 10th Anniversary
A decade of marriage is certainly something to celebrate. Some couples decide to renew their vows or go on an luxurious holiday. Here at Bags of Love we don't organize parties or getaways, but we do offer a couple of gifts in line with the theme of the 10th anniversary – tin.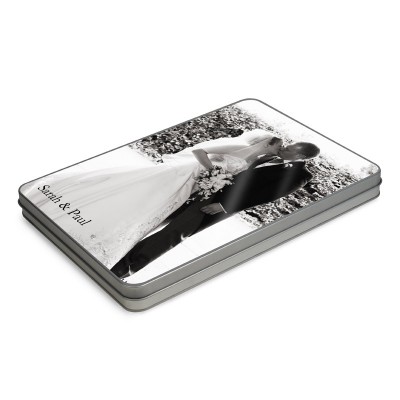 Custom Printed Tin Box
To celebrate your 10 years together, Bags of Love offers a custom printed tin box. Ideal for keepsakes, or storing art and craft items, our boxes come in three sizes – A6, A5, and A4. You design the lid online using your favourite photo memories or artwork, with the option to add a personal message.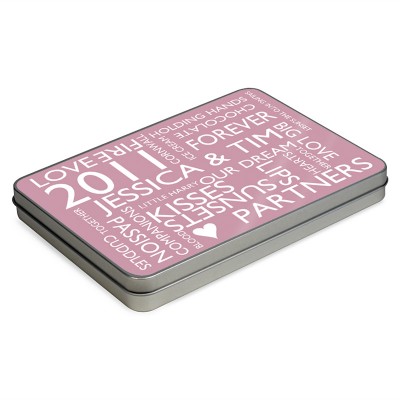 See how creative you can be and design a personalised tin that speaks to your loved one. Our gift tins are the perfect gift to compliment to the holiday, jewelry, or dinner you will be treating your partner to. Why not present the anniversary trip tickets or gorgeous jewelry inside the tin box, as an extra special gift box to mark the occasion? Our personalised tin box is both useful and beautiful – and your thoughtful design will appear in clear detail on the lid.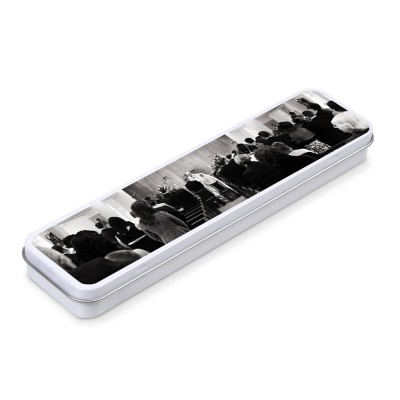 Personalised Sweet Tin
If your partner has a serious sweet tooth, why not treat them to a fun personalised sweet tin. Each tin includes Jelly Bean Factory treats, totally natural and in a variety of fun flavors. While this might not be the most expensive of gifts, its a fun way to stick the the traditional tin theme and would compliment a variety of other gift ideas.
You can personalise the lid with photos, poetry, or artwork to create a gift tin your partner will cherish. Plus, after all the sweets are gone it makes a perfect pencil box for the home or office.
If you are celebrating your 10th anniversary with a vow renewal ceremony, our sweet tins are the ideal party favor for guests. Have your friends and family literally taste all the sweet memories you have shared together.