Gift Ideas – Photos On Canvas
Whether you're looking for a 1st-anniversary gift or for general gift ideas, photo canvases are unique and personalised gifts for any occasion. Gone are the days of glass covered photographs in wooden frames for your family snaps.
You can print any photos on canvas. People, places, cars, or images related to a person's hobbies or interests make excellent gift ideas that will be unrivalled for their thoughtfulness. The quality of the canvas, as well as the choice of pictures, can make seemingly ordinary pictures really stand out as personalised gift ideas.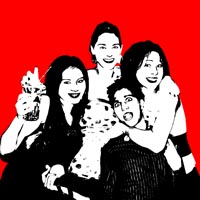 Frame it, and frame it right
Did you know – the quality of the framing is one of the more important factors in choosing wall art? Canvases should be stretched tightly across the frame, ensuring that the canvas is kept marginally away from the frame. Real photo canvas prints look superior to their plastic coated counterparts and typically offer longer life and better look throughout.
The materials used are of the greatest possible standard to ensure that the images look their best and last a lifetime rather than a few months. The frame is gallery grade and made from pine using spacers where appropriate to fully ensure that the finished canvas does not scratch and the image can continue to look its best throughout its life.
All photo canvas prints are supplied with the appropriate wall fittings too so you won't need to root around the shed.
So much choice
With photo canvases comes a surprising amount of choice. Not only can customers choose from different sizes of canvas and include their own photographs or images, but they can even have a bespoke panelled design for an entirely different and unique look that can't be achieved in any other variety of high-quality wall décor.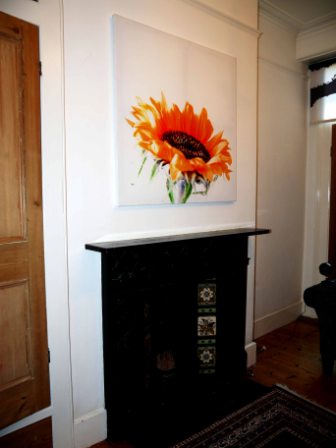 Explore Your Artistic Side With Canvas Prints
You might be one of those people who think that art should remain in the hands of proper artists. But who says that you don't have what it takes to create amazing wall art yourself? The ability to personalise canvas prints allows you to create your very own wall art using your photos.
Don't Underestimate Your Photos
We've seen some fantastic canvas prints from photos – photos that were taken by you, not some professional photographer. You might underestimate your ability to take great photos but sit down and have a good look at photos you've taken and you will realise what a waste it is for them to be stuck on your computer or phone! Photos you might not have considered for wall art could turn out to look simply marvellous on canvas prints.
The things you print
Holiday Photos For Canvas Prints
Holiday photos are probably the most popular photos for canvas prints – and it is easy to see why. When we see all the gorgeous photos of all the gorgeous places you've been to it is clear why you have chosen those photos to print. Photos of exotic beaches and sleek cities from all over the globe on canvas prints make us want to pack up a bag and go exploring ourselves!
Canvas Skylines
Do you remember the moment, the very first moment when you came into the city and immediately fell in love with the skyline and the city itself?
Sunset over the rooftops, the change of vibrations in the city when the daily life ends and the nightlife is about to start… I am sure you have taken hundreds of pictures to try to catch the atmosphere on different occasions and times of the day. How about turning your best photo into a custom canvas, your canvas skyline as a unique and personalised gifts decoration for your own wall?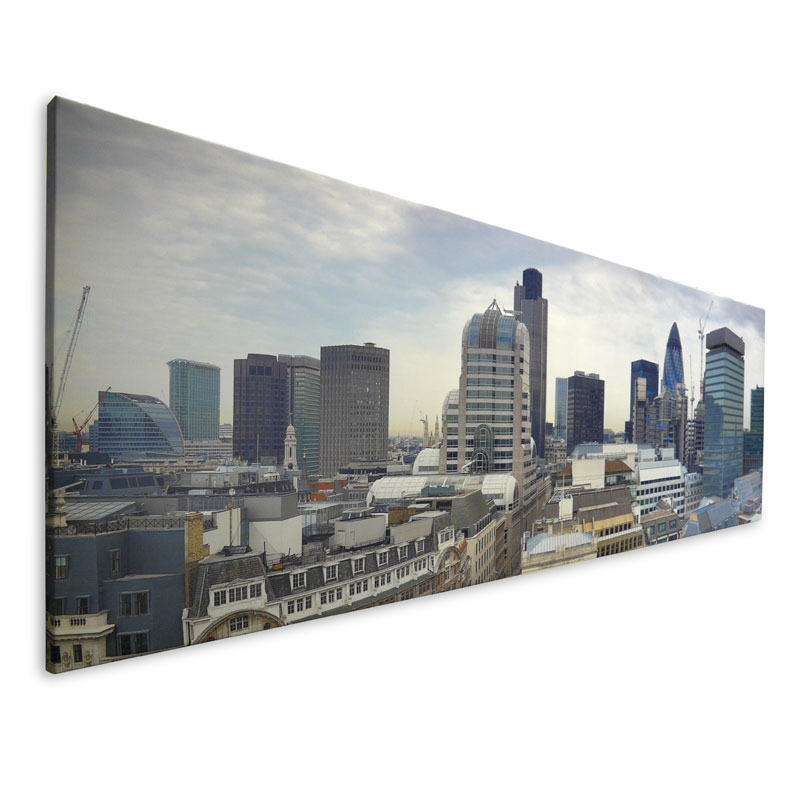 Wall Art – What Kind of Canvas?
There are endless opportunities to create wall art for your house with Bags Of Love. There are so many options that you really can use your imagination to come up with the best wall art designs to spice up your home decor, totally personalised after your own taste.
We offer custom canvas prints in a wide range of sizes and options. Turn the skyline of New York into a panoramic canvas over a metre and a half wide and create an eye-catching piece for your living room. Print your favourite photo of the beach and the breathtakingly beautiful sunset from your last holiday as a canvas for your bedroom.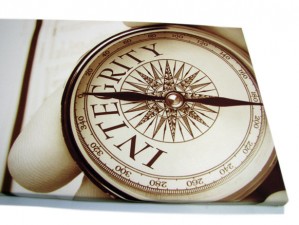 Another wonderful and pretty creative idea is to have your photo not only printed on one canvas but on multi panels. A multi-panel with three or four panels is just perfect for giving the custom canvas the additional twist. The triptych is great for landscape photos, displaying your image over three panels.
Filmstrip Montage Canvases
A filmstrip montage is an even more unique but equally high-quality way to print on canvas. It is a fun way to display anywhere from two to seven different photographs in a unique style that can be hung from the wall in any room. The size of the filmstrip montage essentially determines the number of images that would prove ideal. Regardless of the size that you choose, the filmstrip montage is printed in a panoramic filmstrip style on to high-quality woven photo canvas.

You can choose 2, 3, 4, 5, or 7 images to be printed onto the filmstrip montage and you can choose the order in which they will appear with the first image on the left being number 1 and increasing increments until the final one to the most right. To make sure that your images are in the order you want them, you can make changes once they've uploaded. Simply save those changes, and we will show you a product preview so that you can check to see that it will look exactly how you envisaged before it goes to print.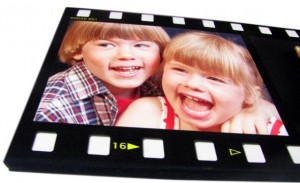 Create your own filmstrip photo montage
These gift ideas are also ideal for movie lovers. To make great gifts for anyone in your life, pick scenes from their favourite movie and have those printed on a filmstrip montage. Is your boyfriend a massive film fan? Has he seen Star Wars and The Lord Of The Rings about a million times? Then how about turning images from his favourite films into a panoramic filmstrip montage? Maybe your sister thinks she's a Hollywood star as you've seen her posing in her room secretly? Tease her and give her a filmstrip montage featuring pictures of her posing, like she's a movie star in a film! Another great way to use these canvases to your advantage is to choose about five photos showing someone's life from childhood to a fully-fledged adult.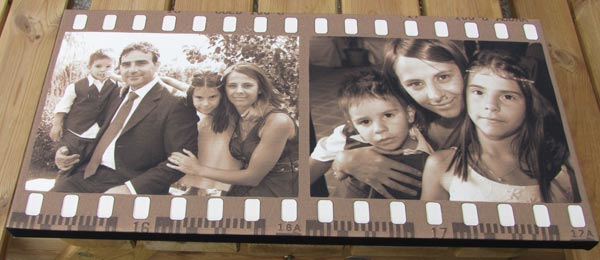 Add Some Flair To Your Walls With A Triptych Photo Canvas
For an even more striking look, the triptych photo canvas prints one single image over three canvases. Traditionally these are displayed in a row with a small gap between each picture to give a tiled effect that is both unique and great looking. While this is the traditional technique of hanging, that doesn't mean you have to be bound by tradition. You can opt for any display, any orientation for each of the pictures and, of course, you choose the image or the photograph.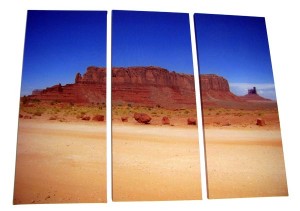 Triptych art has been used for centuries in religious and more modern art. Facing something of a renaissance now, a triptych is not only great for showing a split image, but also for displaying three different images side by side. The break between the photo canvases makes the photograph or image even more striking and enables you to go wild in choosing your own designs and applying them to your wall art.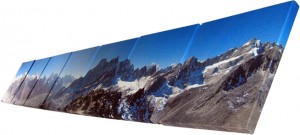 Black and White Canvas
Black and white canvas printing for the home is an extremely artistic and creative idea for home decor that combines personalisation with classy chic. The black and white tones of the print, contrasted with the bright sunshine coming through from the doors or windows, create a beautiful effect that works wonders for the design and feel of the room. It also fits perfectly in the space, because often these parts of walls are left empty and unloved simply because there is nothing suitable for the area.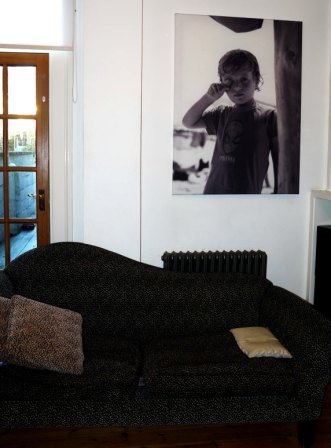 Vintage Canvas Prints
Create your own artwork with old images. Do you have any old images from your grandparents or other relatives? Any really old black and white photographs of cities or landscape from the area your whole family comes from? Why should you keep these treasures in boxes or folders? Try bringing them to new life and create vintage canvas prints as decoration for your bedroom wall, living room wall or even for the office! Be proud of your origin and show it off with a custom canvas!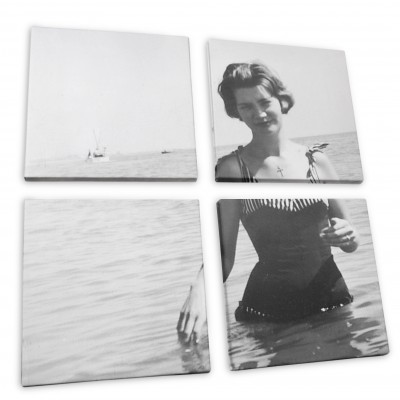 How does that work you might wonder? You might only have the printed photographs and obviously no saved files on your computer to upload. No worries, you can scan the photo yourself and then just save it as a .jpg file.
Heart Shape Photo Collage Canvas
Roses wither, boxes of chocolate get eaten and stuffed teddy bears get put away in storage boxes. Whether a Valentine's day gift for your sweetheart, a birthday present for a family member or a housewarming gift for a friend, it should show your personal love and last a lifetime.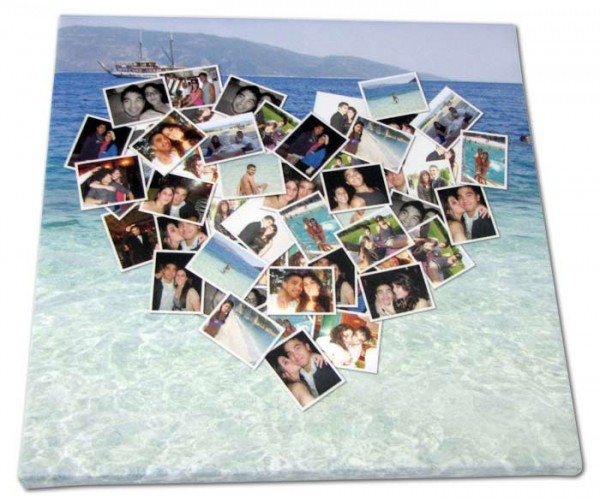 The heart shape photo collage photo canvas might look like a lot of work but it's totally hassle-free. You pick 25 photos that you think represents your story. One of the photos cater as the background on the photo canvas whilst the rest are put together randomly into a heart-shaped collage in the centre of the canvas.
Canvas Subjects
Nature
Nature pictures are a traditional subject for any wall art. Posters, framed photographs, and paintings have long been based on flowers and animals. With modern wall art options like the photo canvas, the possibilities have increased even further. You can use your own photos that you've taken at home or on holiday, or you can find pictures from other sources that you instantly fell in love with. 
People
People are also a popular subject for wall art. Portraits of your own family are one option. You can use one favourite snap or several images creating a canvas photo montage. You can use photographs and other pictures of anybody you like; make a photo canvas of your favourite singer or actor, or as a gift for a loved one using a pic of someone who you know they're a huge fan of.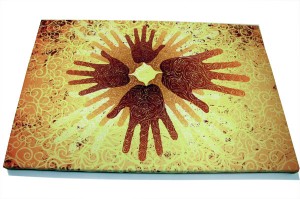 Places
Got a favourite family holiday spot? Or perhaps you have a picture of the place you met your partner? Maybe you have a photograph of somewhere you've visited that you feel would translate perfectly into a canvas prints for your wall. Landscapes and location shots are the perfect subjects for canvas prints and with the quality of modern photography combined with the latest digital imaging technology, you can capture and display the image for everybody to see.
Your favourite holiday destination or the spot where you spent your honeymoon are both locations that mean a lot to you. An image of one of these locations makes for a good picture, but when printed on woven canvas and then stretched over a gallery grade frame to makes one of the most visually appealing pieces of wall art possible.
Activities and Hobbies
Maybe one of your hobbies is taking photographs? Are you a photographer or artist in the making? Then turning your brilliant photos or illustrations into photo canvas items, such as the triptych, is perfect. This works for so many hobbies. A snap of an artisan seamstress would look amazing in your craft room.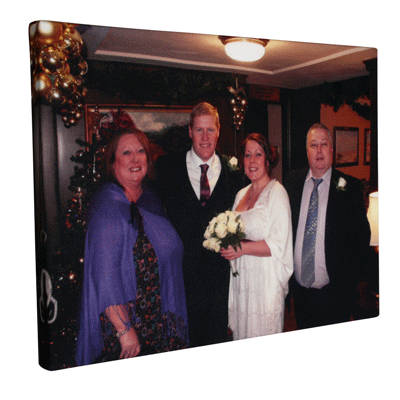 Special Occasions
If you have been lucky enough to capture on camera that beautiful instant that you never want to forget, what better way to immortalise that memory than displaying it on the wall?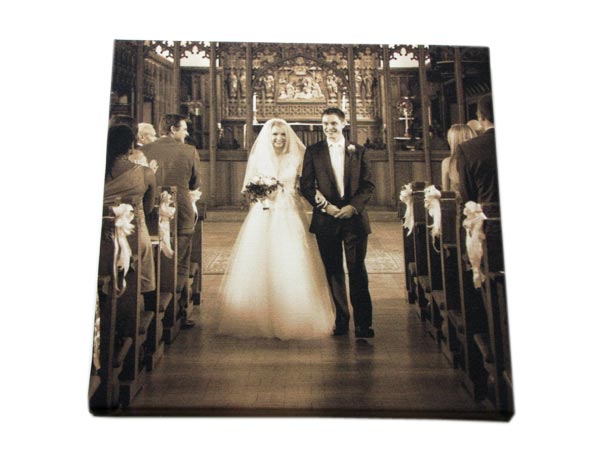 Holiday Photos On Canvas
Holiday photos are great to put on canvas! New environments make excellent wall art. Have you been somewhere exotic and you took amazing photos, why not share that with your friends and family? By sharing your great holiday photos you give your friends and family a bit of your own photography which you think will light up their home.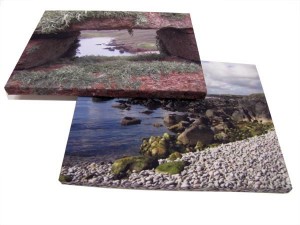 Professional Photoshoots
A great gift for someone close to you is a photoshoot with a professional photographer and then some prints to follow. This way the person you give the gift to will be hands-on with the production of the photos and then you can both choose your favourite ones to go onto the canvas.
First, surprise them with the photoshoot and then tell them that they'll be getting the photos printed on a stunning photo canvas as well. Check what kind of photoshoots your local area offers – some do themes or makeovers so the lucky recipient will get styled before the shoot.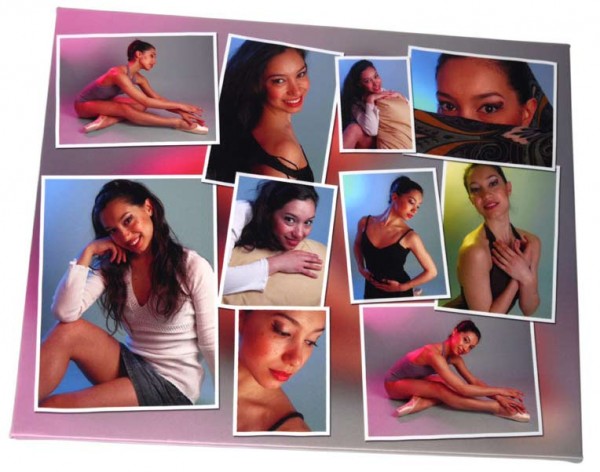 When the photo shoot is over and done with, choose the favourite snaps together. The next step is to go to our website and upload the photos. This kind of gift takes a bit more time and effort than simply choosing photos yourself, but for someone special in your life, this is the ultimate gift for them to show how much you care.
Fabulous Florals
Minimalist Floral: Ditch that dusty orchid you always mean to water! A clean-cut square photo canvas print depicting a single flower is a low key way of de-clutter your room décor. It can complement an existing colour scheme – or add a smash of colour, right where you need it. If you don't want the fuss of an actual picture – one wall splashed with photo wallpaper is a beautiful enhancement to your room.
Funky Floral: Flowers blooming make for funky prints as wall décor. How about some blooming pink tulips arranged in lines and blocks for her? Or some charcoal lily pads featuring splashes of red for him? Flower pictures don't have to be boring. There are loads of ways images of flowers can be taken to shake up your home décor.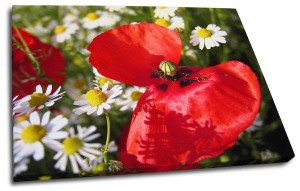 Traditional: Roses are red, violets are blue, you choose the photo we'll make it for you. Relaxing pictures on photo canvas are great bathroom decor.
Edgy/Urban Floral: floral prints as new home gifts are a neat gift for city living. A flower photo against a concrete backdrop creates visual excitement.
Animals
Whether they are your pets or snaps you took when you took your last family trip to the zoo, animals are always a popular choice. Display them proudly on canvases. From the majestic lion to your own loyal furry family friend. See how stunning you can make your pictures of animals look.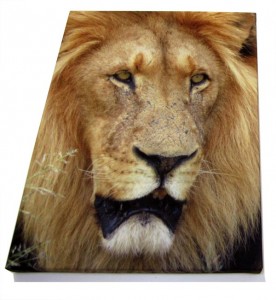 Stock Images
As well as your own photographs, there are appealing and endearing stock images that can be used to complement your existing room design. Canvas prints can display any photographic subject from personal photographs to industrial or even commercial buildings; ideal for your home or place of business.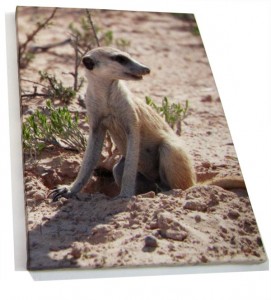 Seasonal Photos
Pictures are taken all year round all over the world so every season offers new exciting sceneries that can be celebrated on canvas. Each season has its beauty. Summer is a time for sun, sand and fun – often abroad on holiday. Autumn gives us beautiful sunsets and we see the trees change colour right in front of our eyes in parks and woods. Winter means Christmas holiday fun in the snow, making snowmen and perhaps going away on a skiing trip. Spring means brighter and longer days and flowers coming to life, getting a taste of summer.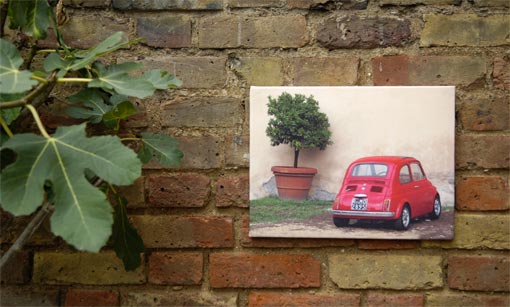 It's hard to believe after some of the beautiful days of summer in London, with all the blue sky and the sky-high temperatures, that autumn just creeps in on us. Yes, autumn, the season before winter. The time of year when I really don't want to believe it, where the leaves are starting to turn red and gold and falling down, weeks full of rain, wind and greyness ahead of us, and then comes winter and snow…but hey, can you please tell me to stop complaining and remember how beautiful these seasons can be, too?
I actually do enjoy a walk in the park and see the leaves turning red, orange and golden, I do like the damp grass in the mornings and when it comes to the rain, well, what are the good old wellies and umbrellas for? So why not go for a walk, take your camera with you and try to capture the best moments in pictures? Take your family, take your boyfriend or your best friends – enjoy the sun and take some great photos. They surely will look great on a photo canvas.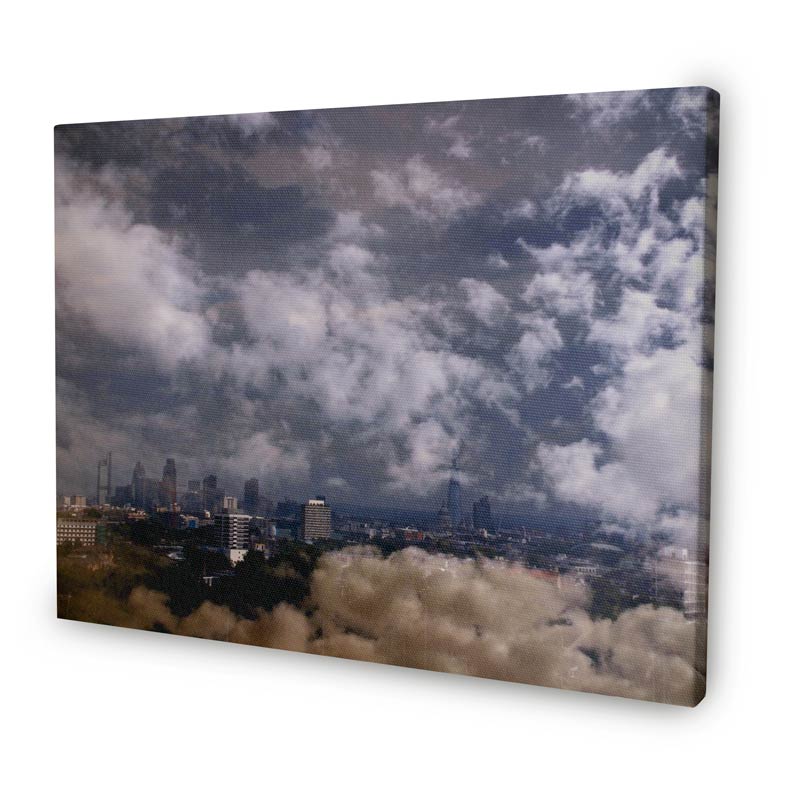 When winter comes along and you come inside from a cold walk, seeing those pictures of the two weeks in Egypt will surely make you feel warmer. At least on the inside! Stunning autumn images make stunning additions to any living room and can be adored all year round. Spring flowers on a photo canvas would look great in bathrooms and hallways.
Using colour to enhance your decor
A photo canvas can transform a dull living room to a comfy space where you can relax after a hard day at work or turn your outdated kitchen to a modern, contemporary place to cook and socialise in.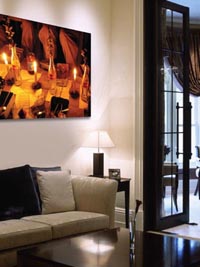 Reds, yellows, oranges, browns and purples are considered "warm" colours. Warm colours have always been connected to creating emotions in the form of comfort, lust and passion. If you want to create a cosy and intimate feeling in your bedroom, lounge area or dining room using these colours on wall paint, furniture and wall art is ideal.
Cool colours such as blues and greens are also said to have a calming effect and they are often used in modern design. Such colours on photo canvases can update a room in a flash!
In ancient Egyptian and Chinese cultures, it is believed that one can heal with the use of colour. Whether that's accurate or not we can all agree that a room with cosy colours does make us feel more relaxed after a long day!
Keep That Precious Moment Alive With A Photo Canvas
You know those special moments when you've reached for your camera as you feel it's absolutely necessary to capture the moment? That time your daughter blew out the candles on her birthday cake when your sister pulled a funny face or that time your mate dressed up as Vicky Pollard from "Little Britain" for a fancy dress party? It's so great to get that perfect snap because now you can preserve it forever with a photo canvas, put it up on the wall and it can be adored every single day.
Even if those snaps look great on your digital camera, or even as your screensaver on the laptop, the best way to display stunning pictures is to do so on a high-quality photo canvas. Important events deserve to be turned into quality photo canvases.
Prom Night
Birthdays
Graduation Day
Holidays
Family Gatherings
Weddings
Christenings
Sport Events
Christmas
Fancy Dress Parties
Anniversaries
Valentine's Day
If you can't say "I love you" on Valentine's Day, then when can you eh? Instead of just saying it, why not show it with a gorgeous personalised photo gift? And we have the perfect recommendation, which we guarantee everyone will love, whether it is for a boyfriend, girlfriend, husband, wife, parent, child, friend…you get the idea! Valentine's Day isn't just for lovers, it's for loved ones, and your loved ones deserve beautiful personalised gifts to make their Valentine's Day special.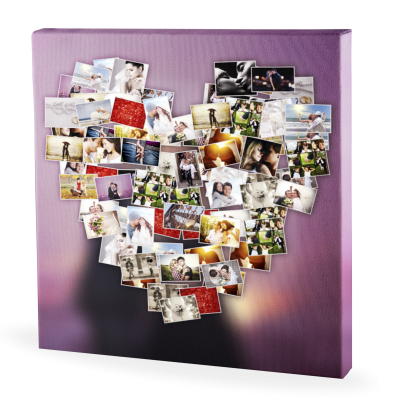 Our Heart Montage Canvas is sure to spread the love. A stunning canvas print in the shape of a heart made up from a display of your favourite photos. You can make your memories and most treasured moments come to life with this beautiful personalised photo canvas – it really is a gift straight from the heart. Not only does our Heart Montage Canvas look gorgeous, it really makes a unique Valentine's Day gift for everyone. It is easy and fun to design and you have complete control of the design and layout, the effect, the colour and even the text! You can add your very own heartfelt message to the canvas, to make it even more special. When your sweetheart opens this gift they won't believe their eyes! No flowers, chocolates or stuffed animals can reach the same level as this romantic Valentine's day themed gift which lasts a lifetime.
We love seeing the designs our customer's come up with and throughout Valentine's Day, we see some pretty wonderful and moving designs, featuring photos from all walks of life. A personal favourite has to be one designed by a rather romantic chap who decided to propose using the heart canvas. He filled his canvas with photos of his girlfriend and him from different stages of their relationship and he added the words: "From our very first memories to our very last, I only want to make them with you. Will you marry me?" A wedding proposal on Valentine's Day on a personalised gift…can it get any sweeter than that?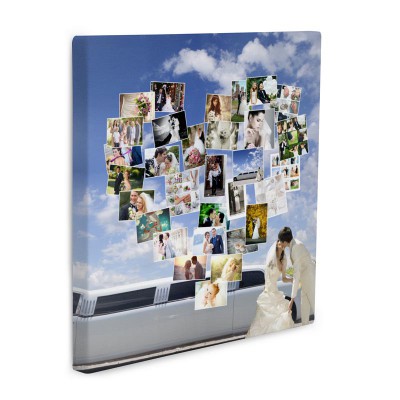 Housewarming
Images and photos can be very personal to us. Photos from your childhood, photos of friends or images of things we love or things we enjoy doing can make your home a very personal space. Personalised gifts make great gift ideas for anyone. Has your best friend just bought their own place? Then getting them photo canvas prints to make the place a real home is ideal.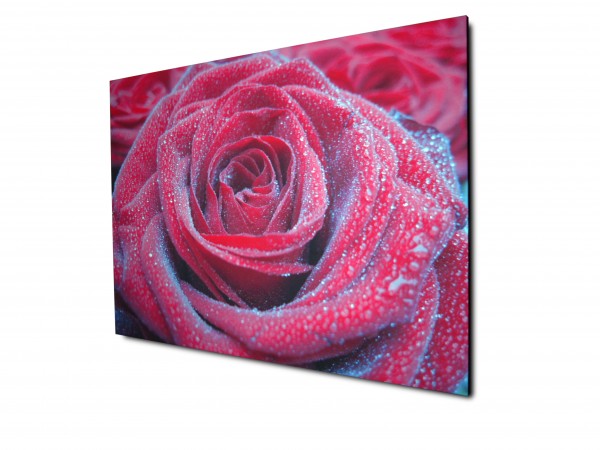 Or perhaps your mum loves flowers? Maybe she lives in a flat and always tells you how she longs to have a garden of her own where she can grow flowers? And does she often go on about wanting personalised gifts for her next birthday? You can't buy her a house with a garden but you could get her photo canvas prints with beautiful flower images so that she can adore them on the walls of her flat. She will appreciate your effort!
Photo Canvas Printing Advice
Once you've decided to buy a photo canvas you should consider the following:
Is the attention to detail provided by an in-house studio, with blemish and red-eye removal free of charge?
Print quality – is the photo canvas printing of high standard?
The materials and skills used to make the print into the finished piece. Is the photo canvas as tight as a drum?
The materials and skills used to make the print into the finished piece. Is the photo canvas as tight as a drum?
Will the service you receive and turnaround time be helpful and effective?
Many companies providing photo canvases use poor print technology and materials that can allow the canvas to damage easily. Tearing due to paper-based canvas, poor inkjet print quality allowing scuffs to damage the ink surface, loose-fitting, cracking prints are the usual pitfalls. And then they take two weeks to send it to you.
WE GUARANTEE THE FOLLOWING:
You will get a perfect likeness in print quality
Our canvas doesn't tear as it's a real woven fabric
You cannot scuff our canvas as print penetrates deep into yarn
It will be stretched as tight as a drum
Our print does not crack on the edge
We offer next day delivery
And, because we use the original 'wedge' method you can maintain a tight stretch of your canvas over the years by tapping the corner wedges if needs be. That is the correct way to keep the canvas firm! Many companies have removed the wedge (or don't even know about it) from their production to reduce their costs meaning canvas is not tight as a drum. We wedge all our canvasses. Wedges are vital! Our service to our customers is simple and straightforward – we listen to you, we follow instructions, we raise concerns, we meet your expectations and we are easy to talk to.
Most suppliers offer inkjet prints that will crack on the corners. We use dye sublimation and print photos on canvas (real woven heavy 500gsm fabric) using fibre deep printing with dye sublimation. This means the ink fuses deep into the canvas and is impossible to crack. Inkjet print means ink spray lands on the surface of the plastic material. It cannot be stretched because it dries firm. So make sure you do not order inkjet photo canvases if you want to avoid many pitfalls like the cracking edges.
Buy 2 Photo Canvases Get 1 free
Why don't you take advantage of our photo canvas offer? When you order two photo canvas prints you get a third one absolutely free! Choose between any of our sizes and the cheapest is yours for free!
That's right, at Bags of Love we have a special offer of 3 canvas prints for the price of 2. Simply order 2 separate canvas art prints and you will receive a third – absolutely free of charge! With 2 for 1, you simply can't go wrong!
How to Design Your Own Photo Canvas
Step-by-Step Instructions for Photo Canvas Prints from Bags Of Love
If you need a bit of help using our online design tools, then be sure to read this article!  We have made a step-by-step guide to personalising your very own photo canvas print.
1) Choose your product and image.
Are you looking to preserve a family photo from a reunion or holiday? Or would you rather have a professional quality print of your own artwork? Whatever your needs, we will be able to realize your creative vision on high-quality printed canvas. Find the photo canvas print in the product sidebar, and click the yellow bird to begin the design process.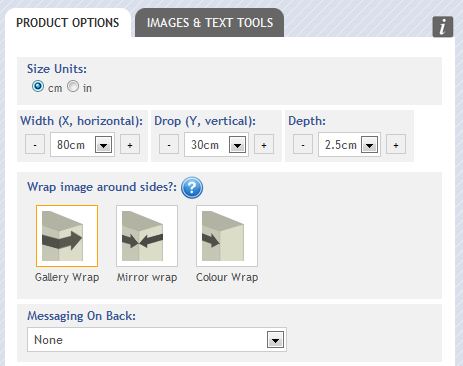 2) Product Options
Be sure to double-check that you have selected the correct size of canvas for your needs. We hand-stretch each canvas, and so are able to provide you with a variety of shapes and sizes. To change the canvas size, simply indicate your required dimensions under 'Product Options'. You are also able to choose how your image is wrapped around the sides of the final canvas, and are able to preview these options once you have uploaded the image.
3) Create your design
Select the image you wish to use – you can upload directly from your computer (jpeg file), or use an image from your Facebook account. Once the photo is uploaded, a preview of the product is provided. It is essential to check the image is of the correct quality for the size of the canvas. Our online design program will indicate if the image is not of a high enough resolution – a yellow sign will appear in the bottom left corner. To resolve this, you may choose a smaller product, a higher resolution copy, or find another image to add to the design. You can also add a background colour, and text to the front of the canvas.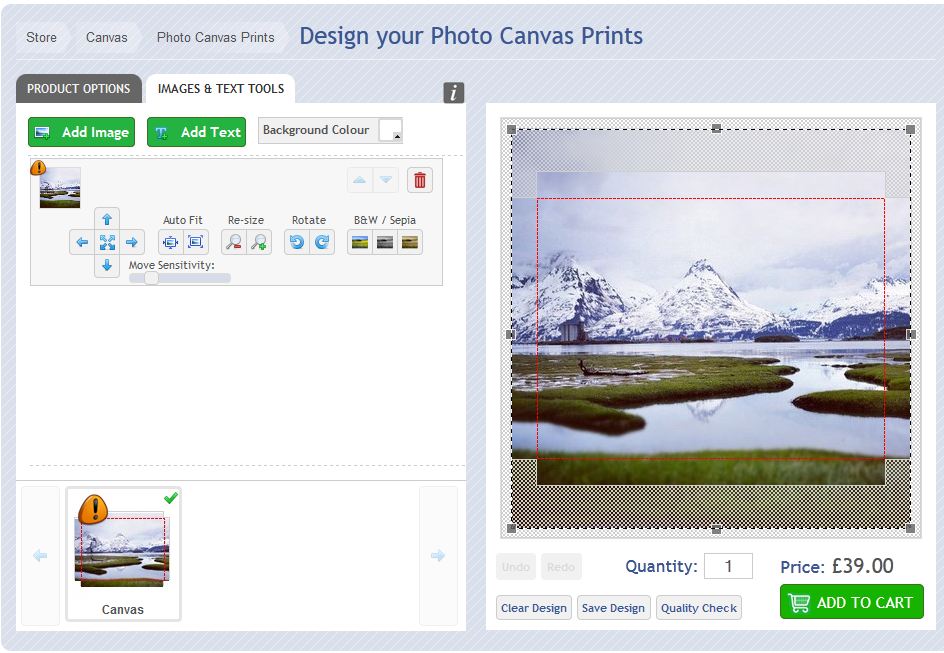 4) Adding Text
To add text, simply click on the 'Add Text' button – this will allow you to write the message you wish to appear on the front. Once the message is entered you can change the font, size, colour, and placement of the message. To add a message on the back of the canvas, click on the back preview that appears in the lower-left and simply type the message into the text box that appears. There are not any design options for the back message text – but it is a fantastic feature for gifts and holiday memories.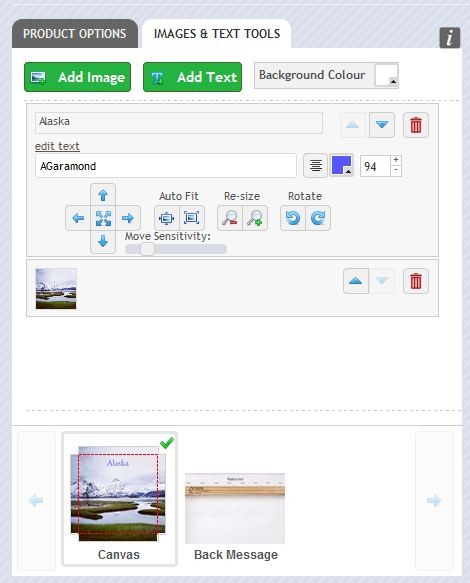 5) Save and order!
Finally, check over your design and save it! If you are happy with your work, simply order online and receive your canvas within a couple of days! Everything is handmade here in our London studio. We always love to hear back from customers, so please let us know what you think of your canvas! We may want to feature it on our Facebook or enter it in a customer design competition.