Keepsake Box with Personalised Design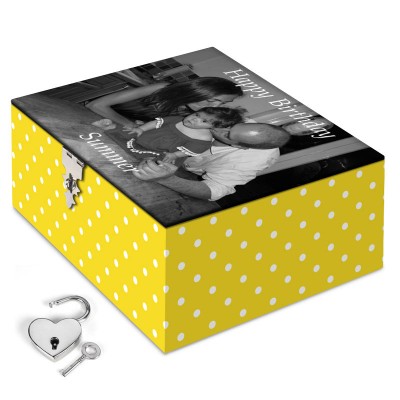 The latest addition to our product range? A PERSONALISED TREASURE BOX!  Ideal for children and teenagers, the custom treasure chest includes a back slot and small padlock to secure its contents. You can add your own photos, artwork, or text to the exterior to make it personal, and also have the option to include a message on the inside of the lid.  Kids will love having their own box to store their favourite things! Perfect for pocket money, mementos, and anything else with sentimental value.  The unique and personal nature of this product means that the box itself is a memento! The lid features photographs of childhood moments that will bring back fond memories as an adult.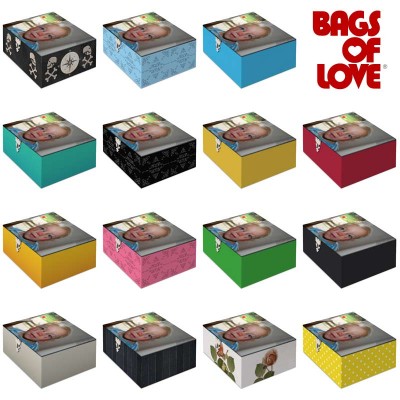 The box comes in two sizes and with 15 fabric choices for the exterior edges.  Our wide range of textiles means that you can find the design that suits you or your loved one.  All boxes are lined with black suede style fabric and are assembled by hand.  They are made with quality FSC certified card and specialist photo reproduction fabrics.  The entire box is custom printed and assembled – combining personal service with luxury craftsmanship.  All aspects of your order and the treasure box's construction take place in the same building – at our vertically integrated facility in Northwest London.  And since we are based in London, we can dispatch your order in a matter of days, rather than weeks!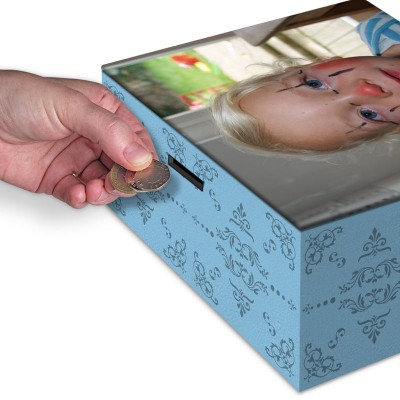 Why not play around on our online design system to test our your ideas?  You an preview each fabric option and upload your pictures free of any cost.  Plus, you can always save your design and come back to it later!  The personalised treasure chest is an original and fun gift for any loved one.  Please contact us with any questions you may have about our products or design system.
Happy Friday Everyone!!!!