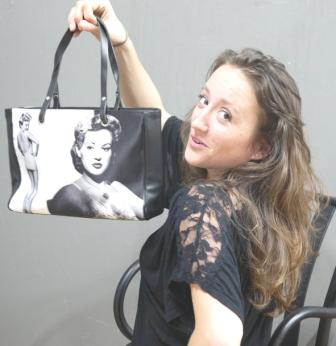 What is your name?
Rebecca (you can call me Reba, though).
What is your role at Contrado?
I'm an Online Marketing Assistant for Photo-Canvas and Bags of Love.
What does that involve?
I do a lot of writing for our social media accounts, and I'm responsible for a bunch of the blogposts you'll find here. I do a tad of webpage editing as well, and I am the official coffee drinker of the office. I'm into fashion in a big way and I'm really pushing our Pinterest boards at the moment. I love collaborating with our customers over Twitter (@BagsofloveUk) and Facebook on competitions and giveaways. It's fab to see the cool designs you guys come up with! I'm helping to develop and promote our new products and I'm very excited about our latest dog beds. I don't have a dog but I dogsit, and I love it!
The thing you most like about working here?
I love the social media team – we've got some really interesting and creative minds working here. Also, of course, it's really fun seeing all the beautiful products being made!
Your favourite product?
HANDBAGS!!!
Why?
Because they're awesome and I love that you can design them yourself with whoever you want printed on them. As you can see I'm a sucker for vintage photography!
Any distinguishing features?
I've got very crooked pinkies, but other than that I'm totally normal – I swear!
What's on your iPod at the moment?
Funky deep house.
Most desired superpower?
Teleportation.
Anything else?
I'm always happy to hear new ideas, so feel free to contact me through Facebook or on Twitter (@BagsofloveUk).