It's time for another designer interview!
Today, we would like to introduce you to another of our winners from our Christmas cushion design competition, Sara Brezzi.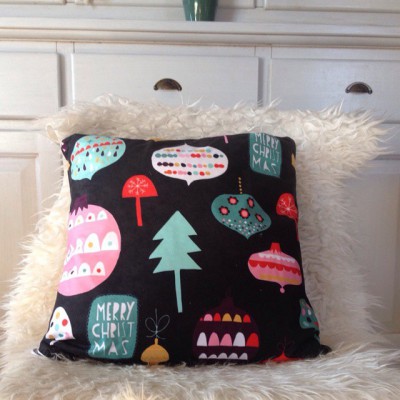 Bags of Love: Hi there Sara and thanks for chatting with us today. Would you be able to tell us a bit more about your winning design and what the inspiration behind it is?
Sara Brezzi: Thank you so much and thanks for this opportunity! I was working on my Christmas collection, and I felt the need to create something a little different. I thought about using vintage ornaments and decorations as inspiration, as they have such beautiful shapes, but I wanted to combine these with a contemporary colour palette. I love using bright and cheerful colours and I love creating art, which has a vintage or folk vibe, which is why I felt that these two objectives went so well together. I decided to use a dark blue background, as it makes the design stand out even more.
Bags of Love: Do you have a website or blog, which we can share with our readers?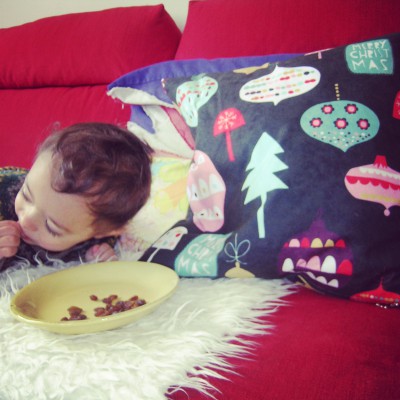 Sara Brezzi: I am currently working on both my blog and my website, but it so so hard to find the time to do everything (I am also a freelance artist and a mum to a two year old little boy) so they are a bit of a work in progress. I have a Facebook page and a Flickr account in the mean time, to share and show my work, and I also have a portfolio on the Moyo directory. These can all be found here: www.moyodirectory.com/sarabrezzi www.flickr.com/photos/127429830@N08 and www.facebook.com/sara.brezzi
Bags of Love: How would you describe your style of design?
Sara Brezzi: I would describe my style as quirky, whimsical and colourful with a strong folk vibe. I hope that my work and my style communicates a little of the joy I feel when I start a new pattern or illustration.
Bags of Love: What do you plan to do with your prizes? 
Sara Brezzi: I have photographed the personalised cushion as an example of how my artwork can translate onto a real product, as opposed to a Photoshop mock-up. It is such a beautiful cushion and amazing quality – I just love it. My winning prize has become the highlight on my living room, and my little one, Gabriele loves to play with it! I love that I can show people a real example of my work, as sometimes it is difficult to explain to people what a surface pattern designer is…especially in Italy!
Bags of Love: If you could design any product on the Bags of Love website, what would it be? What product would you love to see on the Bags of Love website, if it doesn't already exist?
Sara Brezzi: This is such a hard question to answer, as Bags of Love is such a great website and has so many enviable products, which I would love to design. I think above all, I would love to be able to create personalised gift wrap or wrapping paper…especially with my winning design, as I am so addicted to it!
Thank you Sara for taking part in our winners interview! Stay tuned for more interviews, coming your way on the blog soon.
Bags of Love x