With just a couple of weeks to go till the world celebrates love – it's time to ask yourself; what kind of Valentine are you?
By that, we mean there are so many different kinds of couples in the world – some love to flaunt their love to everyone and anyone. Some like to have a more casual approach to public displays of affection. Some are the jealous type while others have been together so long, they simply forget it is Valentine's Day all together! Each of these couples makes for a completely different Valentine's Day gift and we want to make sure that you give the perfect personalised gift, dependant on what kind of Valentine you are!
The Ultra-Romantics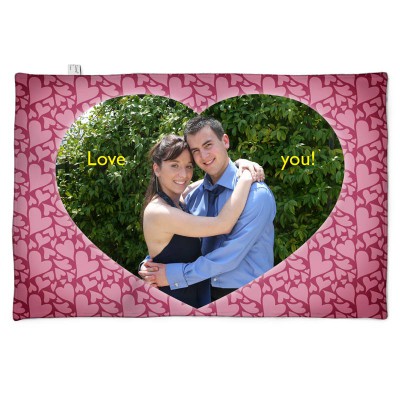 We all know this kind of couple. They are all loved up all the time. Always together, always holding hands and for them – every day is Valentine's Day! Does this sound like you and your other half? If so, then you should opt for a Valentine's Day gift, which is just us lovey-dovey as you are! Our Personalised Love Blanket is definitely the photo gift for you! Your special someone will be blown away when they open this stunning personalised blanket, handmade and printed by us, featuring a photo of the two of you, literally, surrounded by love! We print your cherished photo in the centre of a gorgeous love heart and then surround it with dozens of pink hearts on a beautiful red background. You can even add a line of text to make it even more special. The ultimate romantic Valentine's Day gift for all you soppy love birds out there!
The Super Fan
These couples are of course in love but they also have another love in their life…well…maybe one of them does. We're talking about the super fans out there! These are people who have a die hard obsession with a band, a football club, an actor, a TV programme…you get the idea! If this is the case, then they might appreciate a gift showing off their obsession…rather than you (sorry!) A nice and easy option to do this is with our Personalised Canvas. We have a big selection of canvas sizes and options, including fun artwork options, such as Banksy, Andy Warhol, Pop Art and Black and White. You can also choose to create a photo montage…perfect if she is a bit obsessed with One Direction or he is nuts about West Ham! Your super fan Valentine will love receiving a gift, which shows just how well you know them…and how much you love them!
The Lazy Couple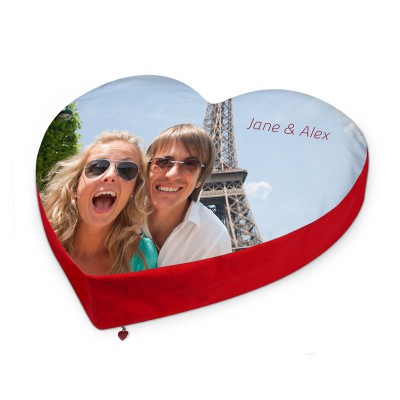 We don't mean lazy as in, they never get off the couch, what we mean is this is a couple that have been together for so long, that they might just forget about Valentine's Day…and other romantic dates such as anniversaries! Well, we can't have that! Even if you can't be bothered to choose a Valentine's Day gift, then a personalised photo gift is the perfect option for you. Our Personalised Heart Cushion to be exact! This gorgeous gift is a real crowd pleaser and is perfect for guys or girls. It is super easy to design – simply pick a photo of the two of you together, if that's what you fancy and add a few lovely words and voila! We will print it onto our gorgeous, handmade cushion of love. Soft and cuddly, this photo cushion is perfect for showing you care – in a very easy way.
The Secret Admirer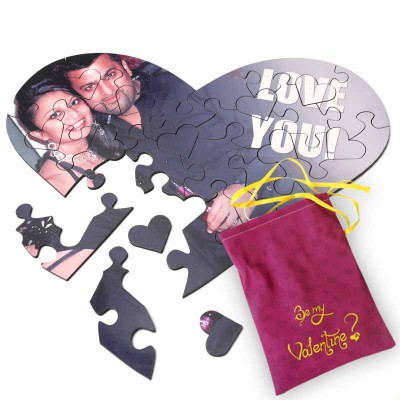 Come on…admit it. You have the hots for someone! And you are looking for a way to reveal your true feelings to them. Well, Valentine's Day is the perfect time to stop being a secret admirer and become a couple! You need the ultimate photo gift to show him or her your true feelings and we have the answer for you. Our Personalised Heart Jigsaw Puzzle is a fun and romantic way to tell someone "I love you!" Why not upload a photo of yourself, a photo of the two of you together or even just a riddle to reveal how you really feel about them. We will present your handmade personalised jigsaw in a gorgeous drawstring pouch with "Be My Valentine?" printed on the front. Leave it somewhere for them to find and watch their face light up as they put the jigsaw puzzle together and realise that they have a (not so) secret admirer. How lovely is that?
The Single Folk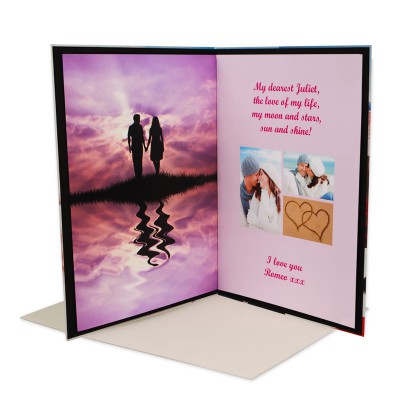 Yes Valentine's Day is a day for celebrating love but that doesn't mean that those not in a relationship should be left out! If you fancy having a giggle, why not send yourself a Personalised Valentine's Day card to yourself at work and get those tongues wagging with gossip! Make it a secret admirer card and leave them all guessing who it is from. If that doesn't sound up your street, then why not send it to a special friend, a parent or a sibling and show them just how much you love and appreciate them on Valentine's Day – we guarantee it will make their day!
The Possessive Types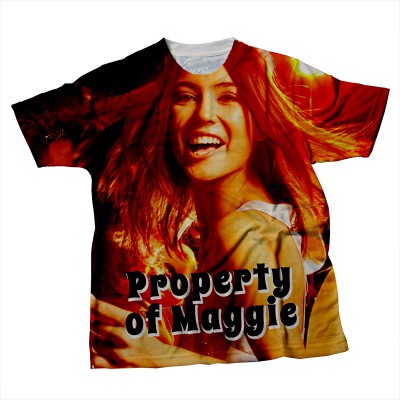 This couple consists of one half or even both being a wee bit possessive and jealous. Can be seen as sweet or just plain annoying! If you are in a relationship like this then why not have a bit of fun with your other half this Valentine's Day and show the world that he or she is yours! Our Personalised T-Shirts are perfect for showing this. Simply upload a photo of yourself onto the front (and back if you fancy) of the t-shirt and we will print it all over the t-shirt, so it is one seamless print taking up the whole t-shirt. Then add a line of text "Property of Jack." Present it to your special someone on Valentine's Day and watch them crack up as they unveil their own personalised t-shirt. If they don't fancy wearing it out and about, then why not suggest wearing it as personalised pyjamas – so you are always with them!
The Kinky Couple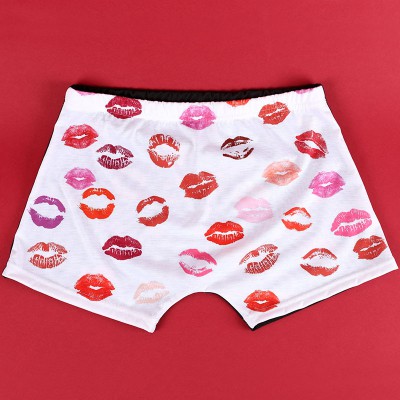 This is a fun couple and one, which will enjoy a bit of a naughty Valentine's Day gift! Not too naughty mind you…this is a family blog! We talking about personalised underwear. If you're mad for your man then design him a pair of our Personalised Boxer Shorts. These gorgeous, handmade boxer shorts can be printed on the front and back, so you can have fun designing him a pair of boxers made especially for him. Upload photos, a photo montage and even a line of text. A great Valentine's Day gift idea for him…but he will also love to see you wearing them too. Have fun!
The Loved Ones – Not Lovers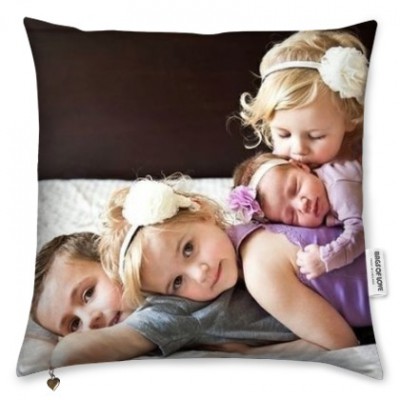 So not everyone has a love interest on Valentine's Day, in which case, don't ignore the big day. Valentine's Day is a day about LOVE after all, not just lovers. Use this day to show a special loved one just how much you care about them. A parent, a child, a close friend…whoever it is who means the world to you. Treat them to something special and personalised to show them just how you feel for them. Photo gifts are a wonderful way to show this and we particularly love our Personalised Cushion to show your affections. Upload a photo of you together or a photo of a treasured memory and present it to them on the day of love. We guarantee you will make their day.
If these Valentine's Day gift ideas float your boat then just click on any of the images to start designing your own versions. If you need some more inspiration, then click here to visit our Valentine's Day gift page for him and her.
Bags of Love x