Set The Standards High With Great 1st Birthday Presents
Someone's first birthday may be a very young one but it is a very special one in a line of many more to come. So when buying birthday gifts for someone's first birthday make sure those birthday gifts give the little one great first birthday. The only problem is that you might be setting the standards too high for the future birthdays! The two choices when it comes to 1st birthday presents are that you A) give something which the 1-year old can enjoy right now or B) get the 1-year old birthday gifts which the entire family can enjoy now and forever.
Birthday Gifts For A Lifetime
For choice B canvas prints are the most suitable options as they have a high level of display factor and a lifetime guarantee. These 1st birthday presents will be seen and adored by everyone and they will last as well as be appreciated a lifetime. Canvas prints are memory birthday gifts for the 1-year old as they can remember their 1st birthday forever as the canvas prints will last and last. Unlike plastic toys, these 1st birthday presents will stick around for a while and will make great additions to the home interior.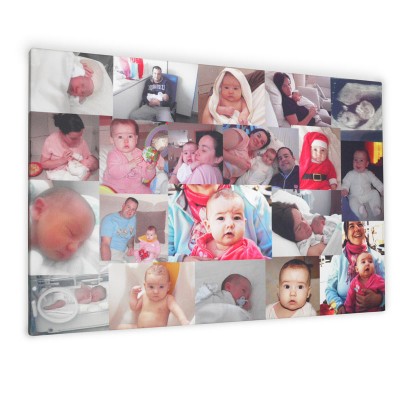 Canvas Prints 1st Birthday Presents
There are many different design options when it comes to canvas prints for 1-year olds. Single photos on canvas prints have a lot of thought to them but you could also add a personal message and create a message canvas print. If you want to use many photos opt for photomontages on canvas prints. The personal message can also be added to these. A single photo can also be transformed into a cool image using one of our photo treatments. The treatment makes super modern birthday gifts and the colour splash canvas prints are great if you want more classic 1st birthday presents.
Your photo – your story: A wonderful A3 Satin-card for baby's 1st birthday
Some things will never change, will they? Every morning at work I start with my morning routine. Good morning guys – making coffee – Good morning to another colleague – starting the computer – getting ready for the day. Oh no, wait, not quite there yet, another coffee won't harm 🙂
So one of the first things I do is check all orders that came in overnight. That's exactly when I came across Ann's order. There were 2 reasons why this order got my full attention. Firstly because I saw a card with a lovely montage made of baby photos and I liked the design instantly. Secondly because Ann has added a long note to her order. Phew, even though I love reading that was a lot of text for me to read on an early morning.
Here's what Ann wrote:
"I googled for ages looking for anyone to do A3 cards. There were a lot of people doing a big card but no one who would let you personalise. When I came up with the idea of doing this card I'd thought that the normal places like Moonpig or Funky Pigeon would do this kind of thing – was sorely disappointed they did not. Took a fair bit of searching to find this place though, but glad I did.".
Luxury A3 card – 100% personalised, 100% handmade
Oh Ann, glad you did find us indeed! Since I loved the card and her feedback so much I decided to contact Ann directly. I wanted to ask whether I can write about her card. And guess what, Ann agreed and loved her card to appear on the blog. The only promise I had to make was not to write about the card before the 20th of October. Why not you might ask? Well, the card was a birthday surprise for a 1st birthday – and you never know, the parents might have come across the blog post. The surprise would have been ruined. But no worries, Ann, as promised I only write about it today.
Ann has designed the card for her grandchild's first birthday. She made a lovely montage with the best photos from the first year for the cover. Then she added a black and white baby photo and a lovely personal message for the inner pages of the card. I am sure little Eva will love the card in a few years time. She will appreciate the memory of her first birthday celebrations very much.
And this is what Ann wrote in an email after the birthday party:
Sorry for a slow reply! They absolutely loved the card, everyone was awed by it and wanted to know where we got it. It was really a much greater standard of card compared to the normal slightly soulless custom cards from Moonpig or the like. My sister got engaged on the same day as her daughters birthday so I think another of these cards will be on the cards now!

Thanks again for such a wonderful card, it's fantastic that someone is able to produce that sort of thing.

Ann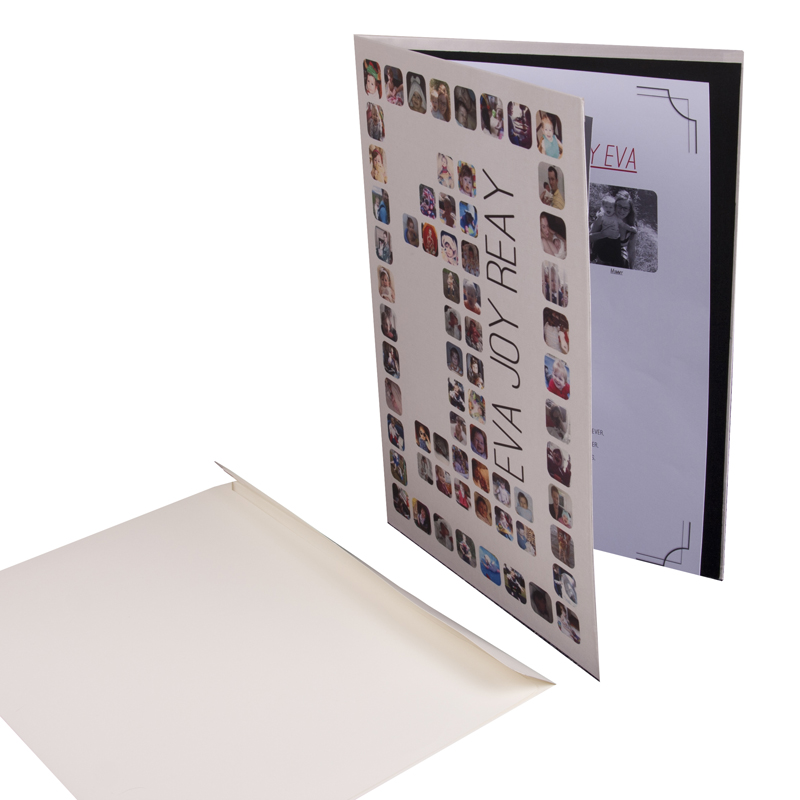 Do you know for which occasion you would design a luxury big card?
Birthdays, Anniversaries, Christmas, Christenings, Leaving Parties, Get well Greetings, Wedding Surprises, Valentine's day…so many occasions. Each of them would deserve a massive A3 card full of photos and a private message!
Thanks again Ann for finding us and sharing your lovely card with us. Happy Birthday from all of us at Bags of Love and many happy returns, Eva!