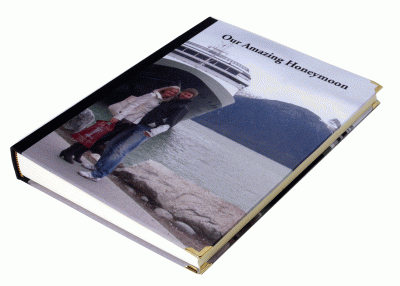 1st Anniversary Gifts Made From Paper
If you want to stick to traditional 1st anniversary gifts then you are in the need of paper gifts. And luckily you have come to the right place if you are reading this as we have a great range of gifts made out of paper which you can personalise and give away as 1st anniversary gifts. Our range of photo books is ideal for 1st anniversary gifts and you have many options to choose from. Photo books are stylish gifts which with the help of your photos will be personal stylish anniversary gifts for the married couple.
Photo Albums For Prints
If you just couldn't wait to print those photos from the wedding day then might we suggest that you make customised photo albums? Make a home for a home for all those prints by making stunning photo albums. The photo albums can have up to 100 sides of thick Italian ivory coloured pages in each album with parchment tissue interleaves for each page. The cover is personalised with a photo of your choice printed on satin. Make photo albums for photos from the wedding day or make honeymoon photo albums.
Sleek Photo Books
For those who have wedding photos still stuck on their computer there is no need to worry. You don't have to print photos to have them collected in a stylish book, you can simply upload them to us and we print them straight onto photo books for you. Photo books are truly sleek and modern 1st anniversary gifts which will be appreciated by the couple or your other half. Photo books hold more than 50 photos in the photo books and if you have specific requirements for the pages we'll work it out for you.
The Book Of Love
When you want to include text as well as photos – personal notes or poems perhaps – opt for The Book of Love. This little book holds 11 photos with a page of text next to each photo. You have a couple of beautiful design options for the cover as well as you may choose a photo. The books of love are really the most romantic 1st anniversary gifts you can give to your spouse. Here you have the opportunity to express your love in words as well as photos. Personal photo books like these are ideal for your husband or wife as anniversary gifts.