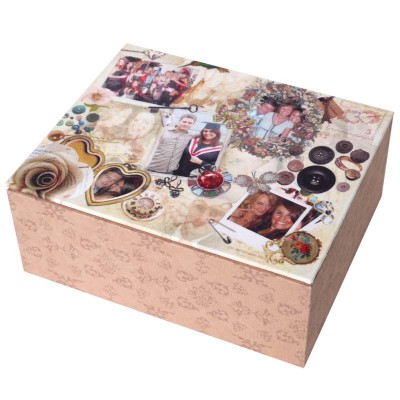 Scrapbook Childhood Memories
Do you remember your childhood and teens when you would do scrapbooks and collages as gift ideas for friends or families? Can you nearly smell the glue just thinking about it? Did you used to make collages of photos or drawings for your dad each and every Father's Day? Scrapbooking involves putting image, photos, stickers, ribbons and artwork together as a form of memorabilia. It's popular for preserving personal and family or friend's history in the form of a scrapbook. Making scrapbooks and photo collages are great activities for children as well as adults.
Digital Scrapbooks And Photo Collages
They make fantastic gift ideas for friends and family as they have such a personal touch to them and they are made with love. If you haven't got the time to bring out the glue and scissors there are other ways of creating memorabilia gift ideas similar to collages and scrapbooks. With the help of Bags of Love you can create photo collages and scrapbook gifts digitally and quick to get a professional looking outcome. You can make your own photo collage by simply choosing the photos and we'll have them sympathetically printed on our range of products.
Design Options 
Our designers will tell you about the different styles of the photo collage and how you can make it look interesting and beautiful. The photo box is perfect for a photo collage and if you want to make this memorabilia gift even more personal fill the box with more memory items. Patterns, photos and graphics can all be put together to look like a scrapbook, the jewellery box below is a fantastic example. These are amazing gift ideas to say thank you, serenade someone who's leaving a workplace or the country or to close friends and family members.
Scrapbook And Photo Collage Gift Ideas
A great idea for a school teacher who is leaving is to make the students write little notes to him or her and then let us print these on items like make-up bags and wash-bags. The teacher will be thrilled! These types of collages can be placed on most of our products. Why not make a photo collage deckchair for dad for Father's Day? Or a scrapbook style laptop case for your sister who is off to University? Try digital scrapbooking today to give loved ones modern memorabilia gift ideas.