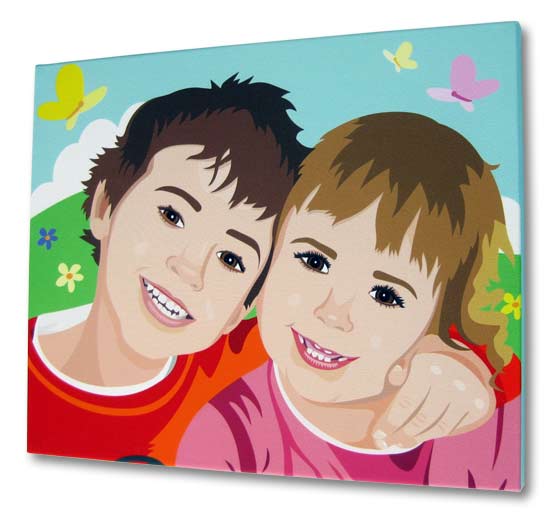 Photos of the kids – you have loads of them on your digital camera. You have great photos from that day you went to the zoo, when you visited grand mum in the countryside and when you went on holiday to Italy. You made sure you took plenty of photos of them because your intention was to put the photos on photo canvas. Try some of Bags Of Loves innovative treatments for portrait of the kids!
All those beautiful photos of the kids can be transformed into a range of Photo canvas treatments from our original photo canvas to Andy Warhol-style to this funky treatment above, the custom portrait. Our designers can transform your normal photograph into this exclusive custom portrait style part of our Pop Art treatments.
This cartoon like treatment custom portrait will make the kids thrilled. You can even choose a different background from the one in the original photo. Like the custom portrait above, a field with butterflies and clods have been created by our designer to add that extra touch to the photo canvas. Original photo canvas printsof the kids are great too, but this time why don't you try something new and experience our amazing Pop Art treatments for yourself.