Design your own personalised lingerie and custom printed underwear at Bags of Love!
With all of the hysteria surrounding 50 Shades of Grey at the moment (and who can blame it…have you seen Jamie Dornan topless?!) women are going mad for sexy lingerie and underwear. With women shelling out hundreds of pounds on designer underwear or hitting the high street for sexy panties, it seems the demand for custom underwear and designer lingerie is at an all time high.
We wanted to offer our customers something a little different. At Bags of Love, personalised photo gifts are our passion, and we are constantly expanding our photo gift range. Most recently, we have been working on our customised fashion collection, and we felt it was high time to add something a little…naughty to it! Introducing our Personalised Lingerie collection!
Our custom printed lingerie and underwear make the perfect gift for couples. They also make brilliant projects for fashion designers and fashion students alike. Our new range of personalised lingerie and underwear have been created in-house by our resident designer and each piece is handmade, printed and sewn just for you.
Upload photos, prints, your own designs and even text, to create lingerie and underwear, personalised by you!
From Personalised Boxer Shorts to Custom Printed Nighties, our collection of customised lingerie and underwear has been created to suit everyone and everybody. Design your girlfriend or wife her very own Personalised Chemise for your anniversary, and for him, why not give him a pair of personalised boxer shorts, which you designed yourself?
This exclusive range is new to our customised apparel collection and with new and exciting products constantly being thought up, you are sure to find something you will fall in love with.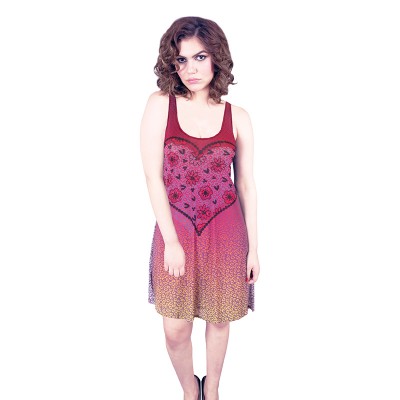 Forget boring pyjamas, why not design yourself your very own Personalised Chemise? This gorgeous and flattering nightie is made from our soft Florence fabric. Have fun designing the front and back of this sweet customised nightdress, with photos, prints and text. They make great gifts for the special woman in your life – perfect for wearing to bed or even thrown over a bikini in the summer! This nightie is available in sizes XS to XL and makes a fun (and more affordable) alternative to designer nightwear. Click here to start designing your nightie.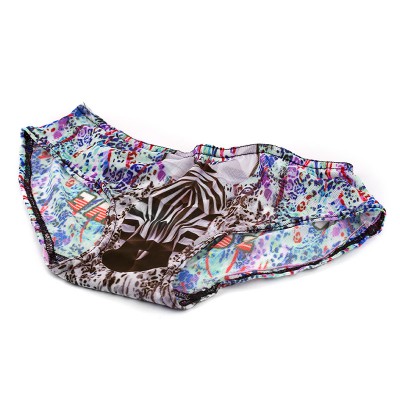 Gorgeous, flattering and custom printed! Introducing our Personalised Knickers. Our beautiful customised knickers are fun, flirty and fabulous. Made from the same soft Florence fabric as our Personalised Nightie, these knickers can be personalised on the front and back, creating a piece of designer underwear of your very own. Our handmade knickers made romantic and sexy personalised gifts, but are also great for fashion designers and students, looking to set up their own line of designer lingerie. Click here to learn more about our custom printed panties.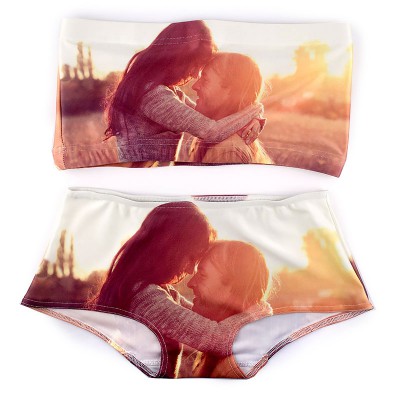 Crop tops are high up there in the fashion charts and with spring on its way, this trend is showing no sign of slowing down. Our new Personalised Bandeau Top is a designer crop top with a difference. Printed and sewn by hand by us at Bags of Love, this gorgeous boob tube comes in a choice of matte or shiny Lycra and can be worn as a crop top or as a bikini bandeau top. Our bandeau goes beautifully with our new Personalised Hot Pants. These fun and flirty hot pants can be worn as a set with the bandeau, to create a complete bikini or underwear look, or alone with an alternative top or bra. Create a matching set and stand out from the crowd this summer. Click here to check out our Personalised Bandeau Top or here to see our Personalised Hot Pants.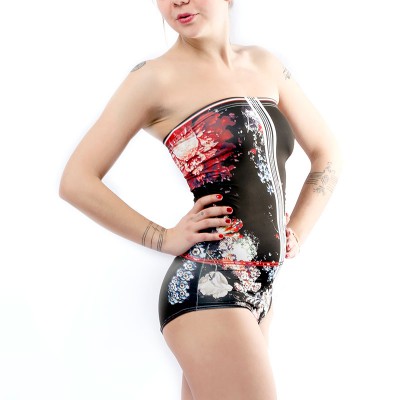 Our brand new custom printed photo body is a must have for fashionistas, dancers and gymnists. Made from our beautiful Lycra, this sleeveless body is an all-in-one, which can be worn under jeans or skirts to create a streamline silhouette, or in the gym for dance practice and even in the pool. Available in sizes XS to XL, design your very own Personalised Bodysuit click here.
To view all of our Personalised Underwear range, just click here to see the current collection. With new ideas being thought up daily at Bags of Love HQ, this collection will just continue to grow and grow!
Bags of Love x