Leather bags make for a timeless classic that never goes out of style. At Bags of Love, we have a range of personalised leather bags that you will love. Our leather workers are highly skilled so you can guarantee that you are receiving a high-quality product.
Read on to discover our range and get some inspiration for your brand new bag or for the perfect gift!
Leather Bags For A Weekend Getaway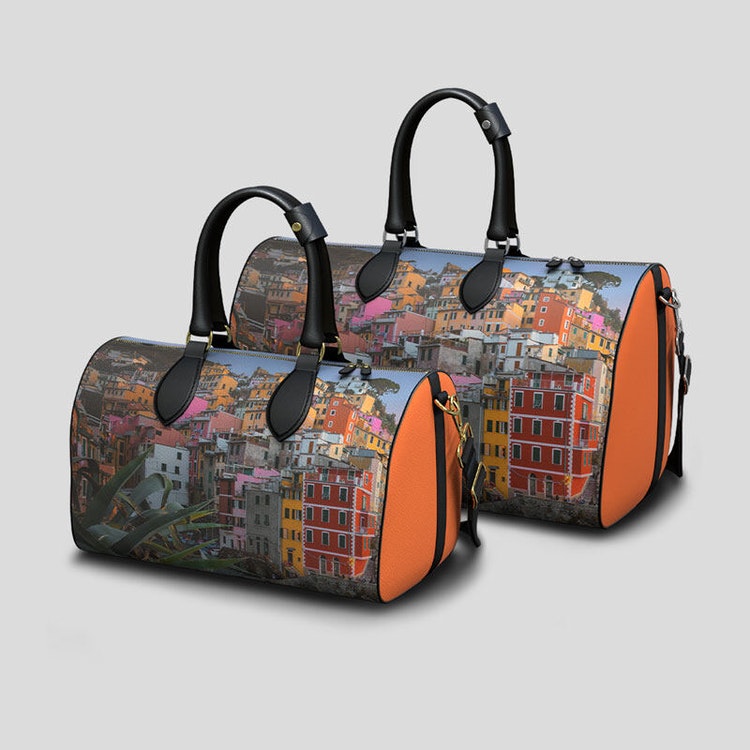 Travelling should always be a luxurious experience. Your precious belongings should travel in style and your luggage should never compromise your look. That is why we have created the perfect duffle bag for those little getaways. Made from real Nappa leather by hand right here in the UK. Customise it with images of your previous travels to create a bag with meaning.
A versatile leather bag that looks sleek and can be carried in multiple ways. The shoulder strap is perfect for when you have packed a decent amount of clothes (you need to have options!) Throw it over your shoulder, loop it through your arm or hold the handles with pride.
They also make excellent gym bags. The perfect personalised leather bags for a fitness fanatic. Add pictures of your shared precious memories to bring a smile to their face. Nothing is more thoughtful than a gift made to fit their personal style.
Bespoke Evening Bags
A glamourous night out calls for an even more glamorous accessory. A personalised leather purse is a perfect way to tie an outfit together. So if you have been struggling to find an evening bag you adore, then create your own! Personalise leather bags to suit your style have never been easier to create. At Bags of Love, you can upload any images of your choice and we will print them onto 100% real leather.
We have a few styles of evening bags to choose from. As most have a detachable strap this means you can have two bags in one.
Unique Real Leather Bags
Elevate your handbag game by choosing to personalise leather bags. This is a great way to personalise something you use every day to keep the most important things close to you, put your children on your handbag! Our photo handbags are fantastic personalised gifts for new mums and those who adore customisation.
Our shoulder bags are the ideal bag for day to day use. Sitting perfectly under the arm or in the crook of the elbow, they look sleek and are always on-trend. They are the perfect size to throw all your belongings, but compact enough to ensure that you are not overpacking (we are all guilty of this).
If you prefer a bag that you can just reach into to find what you are looking for then we have the ideal bag for you. Our bucket bag is a unique take on the everyday handbag. They create the perfect unique gift for handbag lovers as not only is is personalised by you, but is such a striking shape.
We offer worldwide delivery. So if you are not UK based don't worry, order on and we can deliver it to your country by the next day even! Order the ultimate personalised gifts for a special someone today.
Personalise Leather Bags For Work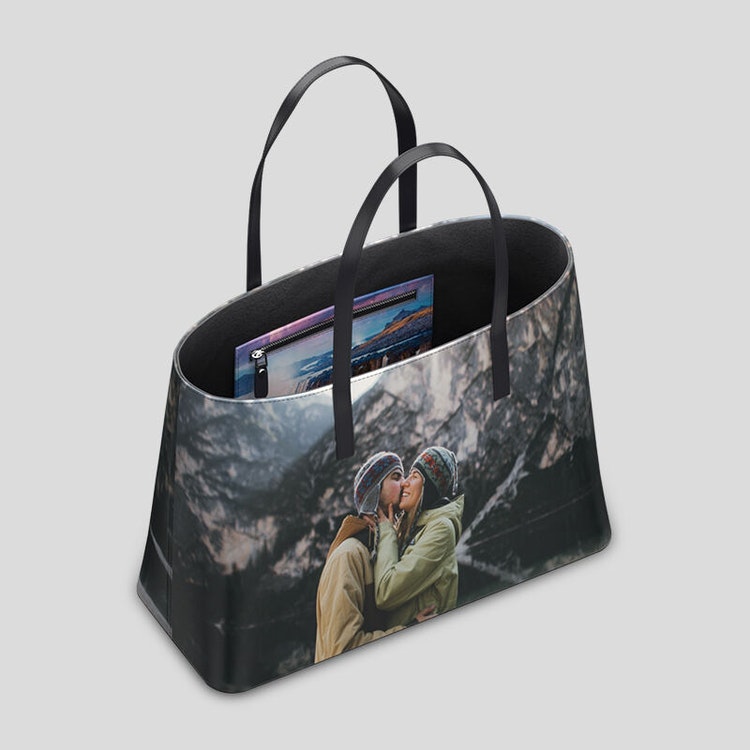 As you use your work bag every day it is important that it is functional as well as being an accessory you look forward to utilising.
Our Kika Tote is the perfect bag to throw everything you need into. With enough room for electronics, snacks, and all your papers. The inside pocket has a zip that is the perfect place to slide your keys into to locate them easily. You can even print an additional image on the inside pocket for the added personalised leather bags touch.
Create Your Own
Now you have seen the range why not create your own? You can have your very own pictures printed onto beautifully handmade leather bags. Our team of expert leatherworkers delicately assemble your bag. Then everything is quality checked before being shipped off for you to enjoy. Click Here to design your very own bags, to keep or to give. Share the love with custom gifts Bags of Love.