If you can't say "I love you" on Valentine's Day, then when can you eh?
Instead of just saying it, why not show it with a gorgeous personalised photo gift? And we have the perfect recommendation, which we guarantee everyone will love, whether it is for a boyfriend, girlfriend, husband, wife, parent, child, friend…you get the idea! Valentine's Day isn't just for lovers, it's for loved ones, and your loved ones deserve beautiful personalised gifts to make their Valentine's Day special.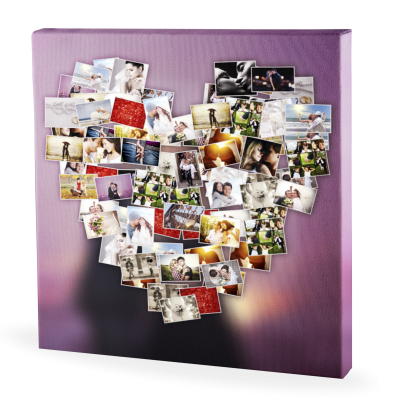 Our Heart Montage Canvas is sure to spread the love. A stunning canvas print in the shape of a heart, made up from a display of your favourite photos. You can make your memories and most treasured moments come to life with this beautiful personalised photo canvas – it really is a gift straight from the heart. Not only does our Heart Montage Canvas look gorgeous, it really makes a unique Valentine's Day gift for everyone. It is easy and fun to design and you have complete control of the design and layout, the effect, the colour and even the text! You can add your very own heartfelt message to the canvas, to make it even more special.
We love seeing the designs our customer's come up with and throughout Valentine's Day, we see some pretty wonderful and moving designs, featuring photos from all walks of life. A personal favourite has to be one designed by a rather romantic chap who decided to propose using the heart canvas. He filled his canvas with photos of his girlfriend and him from different stages of their relationship and he added the words: "From our very first memories to our very last, I only want to make them with you. Will you marry me?" A wedding proposal on Valentine's Day on a personalised gift…does it get any sweeter than that? 
When starting our design process, you will see just how easy and fun it is to design your very own personalised heart canvas, Upload photos straight from your computer and even from Facebook! Once you have selected your photos, you will be able to see just how good the quality is. If you are happy with the quality of the photos, you can click "create montage" and then you can have fun playing with the canvas' design. It really is as easy as that. The ultimate personalised Valentine's Day gift without any hassle.
Our Heart Montage Canvas is available in different sizes and will show off your photos in a beautiful heart shaped design. With a stylish matte finish, this gorgeous personalised photo canvas is normally ready on the same day, so can be with your before you can say "find me the perfect Valentine's Day gift."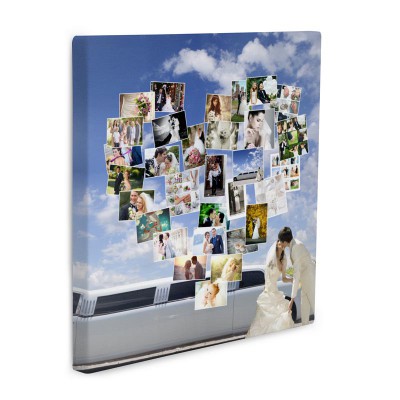 If you would like to have a go creating your own Heart Montage Canvas, then click here or click here to check out our other favourite Valentine's Day gifts.
There will be more fun and fabulous Valentine's Day gift ideas coming at you very soon, so make sure you keep your eyes on the Bags of Love blog.
Bags of Love x