Have you heard about TOMS shoes and their amazing One for One concept?
As you all know we love to create unique photo gifts for every single one of our customers – and we also love to cooperate with companies to help them to design and make special things with their designs for showrooms, window displays, offices and many more.
We are very proud of one of our latest cooperation, where we worked together with Toms Shoes to help them to create a truly unique window display for their new store in Covent Garden, London.
I am pretty sure most of you have already heard about Toms shoes, some of you might wear a pair of shoes at this very moment while reading the blog post, who knows?
Their concept is both simple and brilliant at the same time – you purchase a pair of shoes and they provide a pair of new shoes to a child in need. They do the same concept with glasses now, so with every purchase you make you help another person to see better.
So far over one million pairs of shoes have been offered by Toms, children who now have their feet protected from cuts and diseases; over 45.000 glasses have been sold and therefore people having their sight restored.… isn't that great to hear and make you think of being part of it too?
One for One – a brilliant concept everyone should support, because only then we can change something and make the world a better place.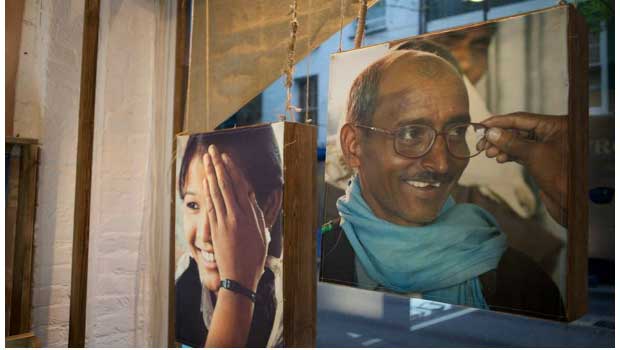 How Bags of Love helped to design the Shop window decoration for TOMS
The new store of Toms is located in Covent Garden, in Soho, an area of London quite famous for its fashionable flair and trendy atmosphere. They were looking for a window decoration that not only looks appealing and good but at the same time respects the spirit of a modern store with showing their concept and their shoes and other products.
We designed triangular banners with their pictures from recent visits to countries where Toms helped people with glasses and shoes. Impressive images that show very well the importance of helping each other in many ways and especially the happy faces of children with new shoes and others with new glasses so they can set of and discover and see the world literally with different eyes.
The whole team from Bags of Love loved working on these creative banners and after we have seen the results hung up as decoration in the windows we love them even more. What about you? How do you like them?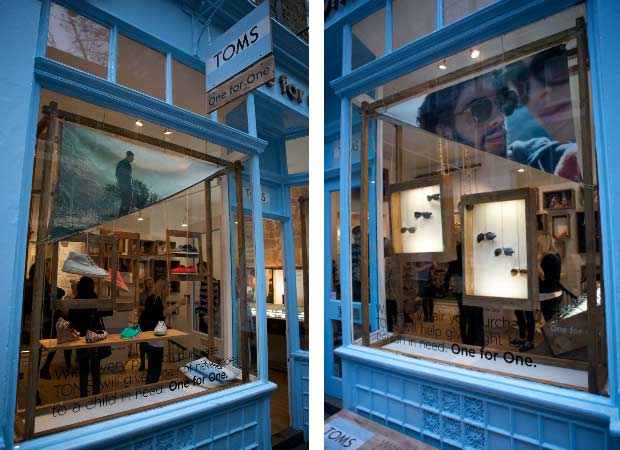 Photo Credits:
All images were kindly provided by TOMS Covent Garden, London. Find out more about TOMS and their One for One concept…