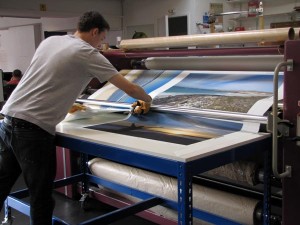 You may wonder what techniques we use here at Bags Of Love to create our very popular high-quality photo canvas prints. Well, we use something called dye sublimation because it gives a great permanent print on real canvas as opposed to what most photo canvas printing suppliers offer – solvent based ink jet prints on plastic coated canvas.
They just don't stand up to our quality requirements (the scratch, scuff, get damaged by water etc). Dye sublimation means the DPI (dots per inch) are beaten hands down by our continuous tone printing. Our print is fixed as a gaseus transfer deep into the fibres of our real woven canvas. Fibre deep prints are best because the ink does not sit on the surface where it becomes flaky.
There you have it, our photo canvas printing is of the highest quality!