I don't know about you but a dog birthday party is my kind of party. The thought of a room filled with wagging tails and puppy dog eyes fills me with an immense joy that I can't even begin to explain. So it probably comes as no surprise that I've scoured the web in search of expert opinions on how to throw the ultimate dog birthday party. From tasty dog-friendly birthday cakes to doggie themed decorations, this is your one-stop-shop for your pooch's next 'pawsome' birthday celebrations.
ClaireBear Pet Care: Apple & Peanut Butter 'Pupcakes'
I spoke to the lovely Claire from ClaireBear Pet Care, and she has shared with me a scrummy 'pupcake' recipe that's guaranteed to produce a lot of drool! There's some tasty alternatives too if you fancy mixing things up. It makes approximately 50 'pupcakes' or 6 human sized cupcakes. I promise I won't judge if you just make them for yourself.
BorrowMyDoggy: Carrot Cake Inspired Dog Birthday Cake
The folks over at BorrowMyDoggy recommend this carrot-style birthday cake that's pawsitively yummy. It makes enough to feed all the pooch pals, and pet-entially (these puns will continue, sorry) even a wee slice for you. After all your hard work getting lots of cuddles hosting the dog birthday party, you deserve it.
Ingredients:
1 egg
65g peanut butter
60ml vegetable oil
1 teaspoon vanilla extract
80g honey
135g grated carrots
120g wholemeal flour
1 teaspoon bicarbonate of soda
Method:
Preheat oven to 180 C.
Grease a round or square cake tin
Mix the egg, peanut butter, oil, vanilla, and honey in a bowl.
Stir in the carrots.
Combine the flour and bicarbonate of soda and add to the carrot mixture.
Spoon the mixture into the tin.
Bake for 40 minutes.
Let cake cool in the tin for 10 minutes.
Bone – apetit!
Steph and The Spaniels: Severus & Lily's Favourite Birthday Treats
Severus and Lily from the super amazing lifestyle blog Steph and The Spaniels, gave me a call on the dog and bone to tell me how they like to spend their birthdays. As you can see from Steph's beautiful photography below, these two pups get a better birthday party than most people.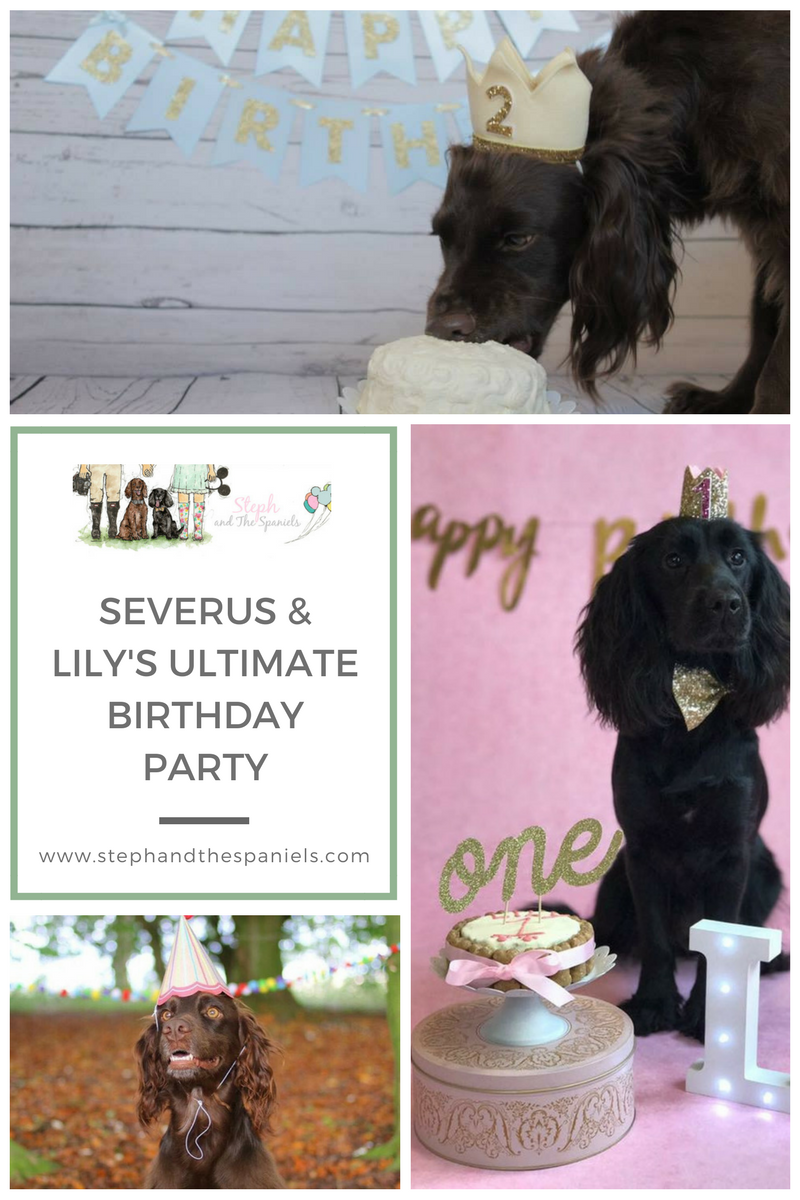 The conversation went a little bit like this: "Woof, woof woof, bark, growl, yap yap, pant, woof, woof."
If you don't speak fluent dog like I do, then I'll kindly translate.
"We wake up, then wake Mum and Dad up so we can start opening our presents! At this point though, we're more interested in the wrapping paper. We then go out for w.a.l.k.i.e.s, preferably running through woodlands, fields and parks. We finish the day by tucking into our favourite Arton & Co mini dog birthday cakes, and playing with all of our new toys."
I don't know about you, but I'm feeling very jealous of Severus & Lily.
Lily's Kitchen: Dog Birthday Bonanza
Seriously guys, this is how I want to party now that I'm closer to 30 than I am 20. Lily's Kitchen has developed a doggie birthday blow out bonanza, complete with nostalgic games that both canines and their companions can enjoy. You don't need the latest digital pet-nology when you've got a few chairs, some cups and a party plate full of homemade treats. What's more, Lily's Kitchen only uses proper, natural ingredients, so even with a little indulgence, your hound still gets a health kick.
DIY Liver Treats
You can't expect a dog to perform various tricks without giving them a treat in return, and these DIY liver snacks from Lily's Kitchen are the ultimate reward.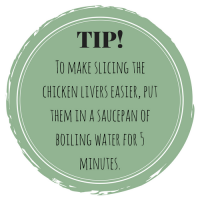 Ingredients
200g (7oz) of chicken livers
Optional tsp of aniseed, garlic powder, parsley or alfalfa
Method
Preheat oven to 180° & line a baking tin with greaseproof paper
Roughly chop livers into snack size pieces
Put them in the tin and cook for 45mins – 1 hour (they need to be dried out)
Once they're dry, remove from the oven and leave to cool
Refrigerate in an airtight container for 2 weeks, or freeze for up to 2 months
Musical Chairs
This classic game combines fun with obedience training, so it's a winner-winner, delicious dog's dinner. Simply line up chairs back to back, crank up the sub-woofer and walk around the line of chairs with your dog on a lead. When the music stops, get your pooch to sit on the chair. Tip: use a tasty treat to help them along.
Alternatively, you can ditch the chairs, and just tell your dog to sit when the music stops. I'd recommend this version for old timers and mini breeds who would have difficulty jumping onto a chair.
Magic Cups
You'll need 3 cups, a ball and a dog that has an attention span greater than that of a tea spoon! Show your dog the ball and place it under one of the cups. Give them a shuffle, and encourage your dog to find the ball. Make sure you have plenty of treats at hand and reward him/her with lots of praise. After a few rounds they'll be a pawfessional.
CC Bear Edibles: Wellness Celebration Sundaes
The lovely Christine, founder & owner of CC Bear Edibles, has let me in on a delicious Celebration Sundae recipe that's perfect for a dog birthday party. It's quick, easy, a breeze to clean up and is super healthy for you and your four-legged friend. Serving in a shot glass not only keeps the portion-controlled but it keeps your pup entertained as they try with all their might to get every last lick! If you opt for this serving method, Christine suggests clearing the decks or taking the party outside.
Yup, this scooby snack is so easy to prepare; just layer up! Start with some yoghurt, then fruit and continue till you reach the top! Crumble a dog biscuit over the top if they've been an exceptionally good boy or girl on their birthday.
Feeling Saucy?
This sauce is the pièce de résistance.
Use the other half of the mango or extra strawberries & blitz in a blender till pureed.
Gently press the puree through a mesh sieve into a bowl using the back of a spoon.
Drizzle on top of your sundaes for a taste sensation!
Dog Party Decorations
What's a party without a little bunting and cake? These decorations are a 'mutts have' for any doggie do, and what's more, you design them! Any of the tasty treats mentioned above deserve to be the centrepiece of the spread, so obviously, a cute, custom cake stand is the ultimate way to showcase their deliciousness. And let's be honest, it's not like you're never going to eat sponge based delights again so you may as well make this 3 tiered cake display part of your kitchen furniture. The personalised bunting is a generous 10m, coming in two 5m strips, either square or triangle (pictured).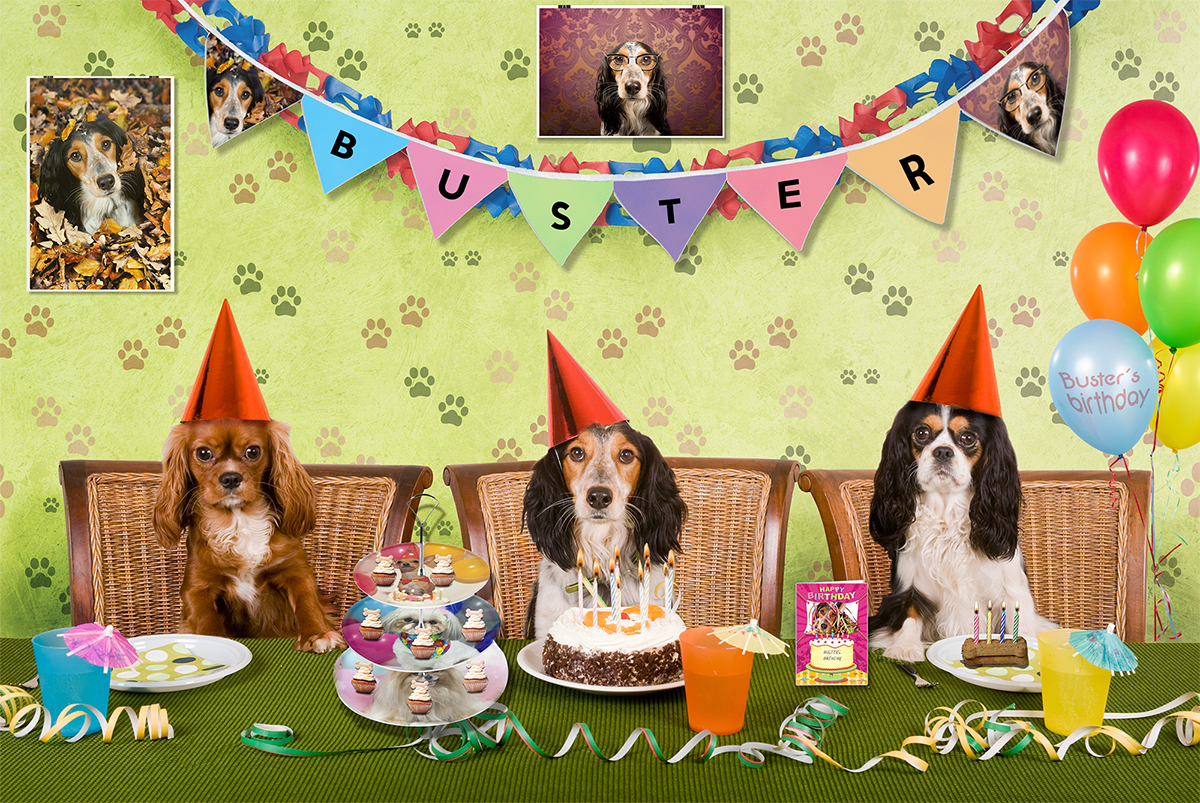 Party Plates
If the idea of shatterproof, hygienic, antibacterial party plates doesn't whet your noses, then I don't know what will. These are essential at any dog birthday party, especially for when the guests like to play a little 'woof' and send your tableware flying.
Dog Bowl
The pooch of honour should eat his/her birthday treats in a special personalised dog bowl. Made from tough ceramic and available in two sizes, it's a favourite amongst all breeds, from big fluffy Alsatians to tiny teacup Yorkshire terriers. You can also use it as a snack bowl for some chips and dip – the humans have got to eat too at a dog birthday party, right?
Now that you're feeling inspired to throw your own dog birthday party, take a look at our personalised party decorations and gifts for pets. By the way, you have to invite me, it's the rules. Sorry, I don't make them up…