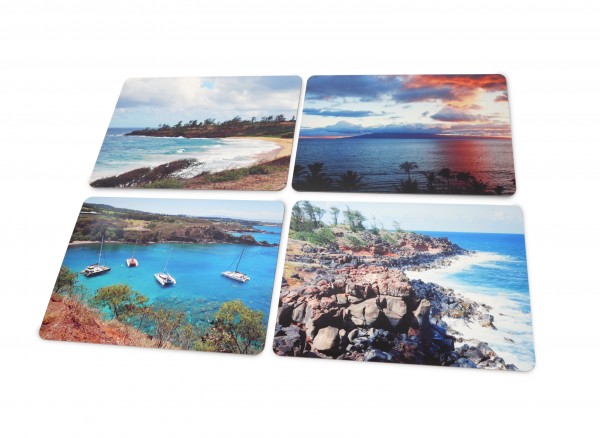 That amazing holiday you went on this summer can be the highlight of this year's Christmas dinner. With the help of Bags Of Love's creative and might we add gorgeous placemats, the whole family can reminisce over those two weeks in a sunny paradise as the snow falls outside. Personalised gifts like these photo placemats make absolutely perfect Christmas gift ideas!
The glossy finish and remarkable quality of these photo placemats is something you have to see for yourself. By adding your own photos, prints or other selected images to these stunners you create totally personalised gifts for the whole family to enjoy. They will look like pieces of art on your dining table, ideal for the Christmas holiday season when proper sit down dinners with the family are common.
The placemats make great personalised gifts for mum and dad or grand mum and granddad. For mum and dad holiday snaps of the whole family together or photos from their wedding day or baby photos are ideal. If you can't think of any Christmas gift ideas for granddad and grand mum they will love placemats with any photos of their beloved grandchildren.
These personalised gifts are like high quality photo prints and decorative home accessories all-in-one. Not only do the placemats display photo memories or stylish prints on a stunning finish they also upgrade the home decor and protects the dining room table from marks by hot plates and dishes. So make this Christmas dinner extra special by adding personalised home gifts to the table!