Christmas jumpers: Novelty, fun and sometimes just super ugly. But come on, an ugly Christmas sweater is the whole point, right?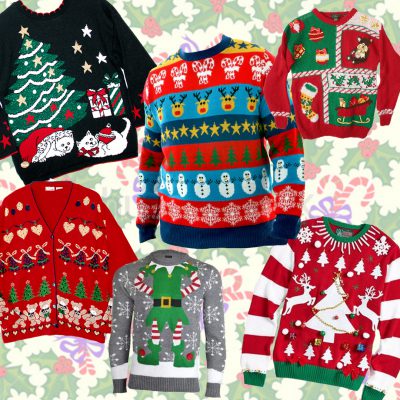 Christmas jumpers used to have such a bad name for themselves, but over the years, these knitted nightmares have ceased to become a thing of ridicule and have become a thing of, dare we say, fashion! Whether you are celebrating National Christmas Jumper Day, looking for something a bit naff but very special to wear on Christmas Day or are just looking for that perfect festive outfit to wear to work (and hopefully not get fired for), then you need to design your own Christmas jumper. So here are a few tips how to Design a Christmas Jumper:
1. Design an original Christmas jumper
I mean, you look to your right; reindeer Christmas jumpers. You look to your left; penguins and polar bears. You look right in front of you; snowflakes. No this isn't a weird Disney film, we're talking about all of the same, bog standard Christmas jumpers we see every year. Think about an original idea. Something that make you stand out.
2. Get funny and personal
Designing your own Christmas jumper is way more fun that choosing something from the shops. Do you have a design you love? Something you have created yourself? Something you have seen on TV? Whatever your Christmas jumper dreams are, print them on your own Christmas jumper.
3. Add photos
Christmas is about friends and family. We don't remember the arguments and slanging matches over who forgot to buy the crackers, what we do remember is the fun and frolics we have with our nearest and dearest over the festive season. So commemorate that on your Chrissy jumper. Choose your favourite photos of your favourite people and include them in your design.
4. Don't forget novelty for added chuckles
No good Christmas jumper is complete without a touch of festive novelty. Choose your favourite seasonal character (Don't you love sentimental snowmen ever since that John Lewis advert came out in 2012?), and include them in the design.
5. The tack factor
The best Christmas jumpers have to be a bit tacky. Those fashion designers can keep their chic and grownup alternatives; we love tinsel, we love tack, we love clashing colours, we love a sozzled Santa. No Christmas jumper is complete without a good old dose of tacky design thrown in.
6. Add text
Add a cheeky little message ("tickle my tinsel" anyone?) or a cool slogan to your stag Christmas jumper. You could even put your name and something a little…risqué. We won't judge!
7. A jumper for Hanukkah or Diwali
With so many religious holidays taking place over December, it would be a crying shame to just enjoy the magic of a lovely, sparkly, tacky jumper on Christmas or on Xmas Jumper Day. Why not design a holiday jumper for Hanukkah or Diwali? A Hanukkah jumper with some cute spinning dreidels and a happy little menorah would look so adorable – and the perfect way to feel just a little bit more unique at your next Christmas party.
8. Photoshop is your friend
If you are familiar with the wonder that is Photoshop, then your design opportunities will be blown wide open. Depending on your skill level, you can create a funky Christmas jumper design, a knit effect, to make it look like a retro Christmas jumper or even a repeat pattern, if you are looking for a more stylish and slightly less…naff look!
9. How to wear a Christmas jumper
Once you have your very own personalised Christmas jumper in your hand, the next question is, how do you wear it? For a Christmas party, team it with skinny jeans (guys and girls) a cute mini skirt and heels (we're mainly talking to the girls here) or your best pulling trousers (guys, like that would help!) They also look very cute layered underneath a fitted leather jacket or worn with your favourite pyjama bottoms, when you're chilling out around the house over the yuletide season. However you wear it, just make it yours.