With spring comes the desire to fill your home with beautiful blooms!
Once the weather changes for the better, we're suddenly spoilt for choice with the array of gorgeous flowers on offer. From tulips and hydrangeas to peonies and hyacinths, the choice is limitless and nothing looks nicer than a bouquet of your favourite flowers taking centre stage in your home.
We hope you love flowers as much as we do, because we have been scouring the internet to try and find the loveliest (and easiest) DIY floral arrangements for you to try out. If you like a little DIY and follow tutorials, then check out our picks below. We'll be having a go at these over the next few weeks and will be sure to let you know how we get on!
Cockscomb are known as wool flowers and look a bit like a very pretty and colourful brain! They're amazing because you don't need to add much else to create a truly gorgeous display, as they are so striking. www.styleathome.com suggest cutting the stalks short and placing them in a square, clear glass vase and then to place glass ornaments around the display to really show the flowers off.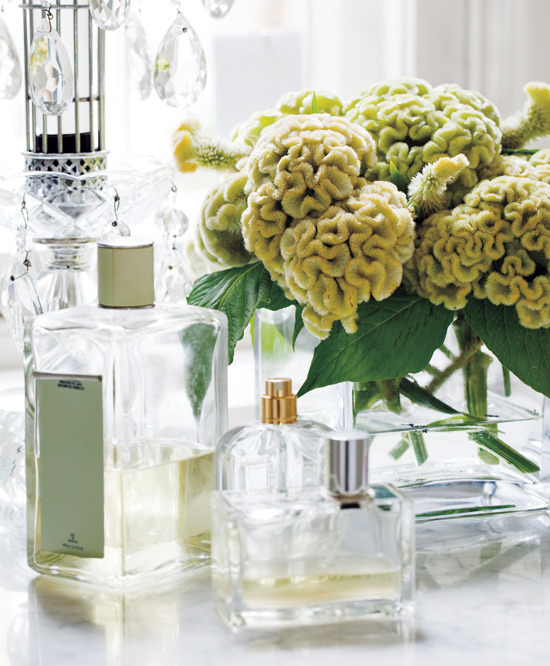 Pale pink is the perfect colour to set off a pretty and feminine mood. If your home decor verges on the feminine and shabby chic side, then opt for a bouquet of soft pink blooms, reminiscent of cotton candy and marshmallows. We love blossoms with large petals, which stop the display from looking too girly! Roses, peonies and hydrangeas are all great choices. Place them in a simple ceramic vase in a puffball design.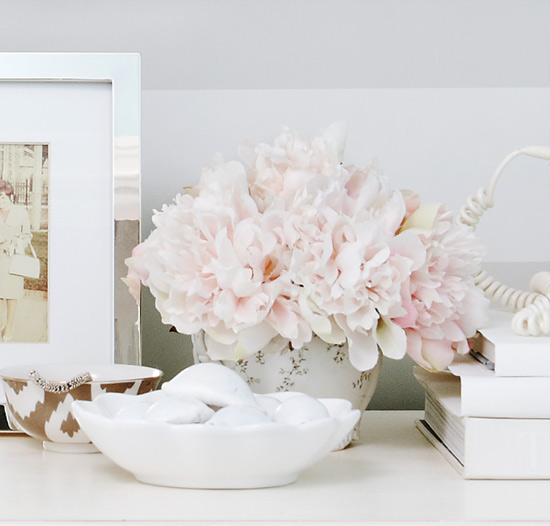 We love pastel tones in flowers. www.allaboutyou.com have a beautiful arrangement, which combines gorgeous, soft pastel tones in a beautiful looking display. They recommend using hydrangeas and roses as the main flowers and eucalyptus, salal and trachelium for the decorative element or you can use foliage from your own garden! Use a cake stand to display the flowers and a pre-soaked oasis to hold them and create a puffball, dome shape, with the roses in pairs and the hydrangeas surrounding them. Keep the oasis soaked whenever it needs it.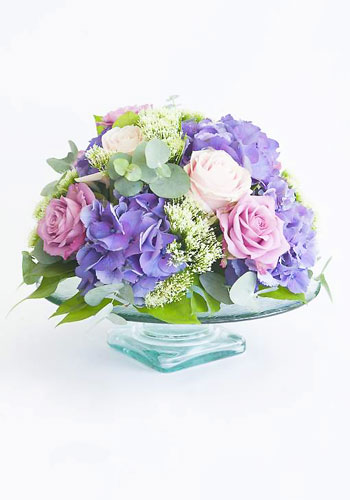 For the very unsure among you, www.countryliving.com suggest placing a single stem flower in a simple glass decanter. They suggest oakleaf hydrangea or sweetpeas to really make an impact. These can sometimes be as pleasing as an elaborate bouquet (and how easy is it to stick a stem in a glass?!)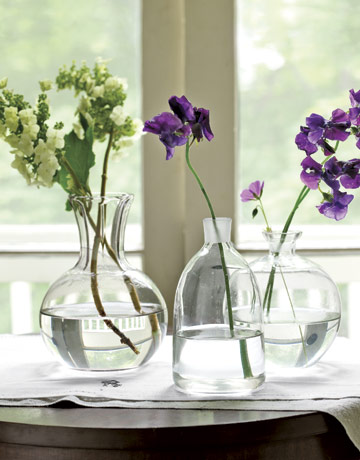 This final arrangement is also from www.countryliving.com and is perhaps a bit more work than the rest, but the finished design looked so adorable, we had to include it! They suggest taking an oversized square vase and wrapping it in polka dot and stripe ribbons, using a hot glue gun (or double sided sticky tape) to stick the ribbons to the vase. Then fill the vase with a cluster of pink peonies and tulips, red roses and chartreuse verbena to create a colourful and cartoonish finishing look!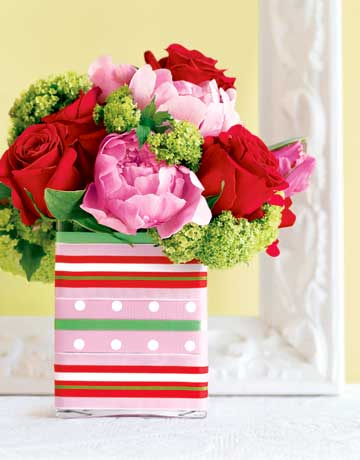 While we are on the subject of beautiful flowers, we thought that we would remind you about our exciting new competition, coming very soon! We've teamed up withThe People's Print, a collective, which celebrate the new era of DIY textile design, headed up by Dr Emma Neuberg and renowned author, textile designer and Senior Lecturer at Chelsea College of Art and Design, Melanie Bowles, to bring you a rather exciting competition called Blooming Marvellous.
More details will be revealed very shortly, but we would love to invite all of our lovely, creative customers to get involved. So, if you love design, fashion, prints and are a little bit crafty then make sure you stay tuned, as we'll be sharing all the details with you here and on our newsletter. You can also follow us on Twitter and Facebook, where we'll be announcing it too.
Bags of Love x