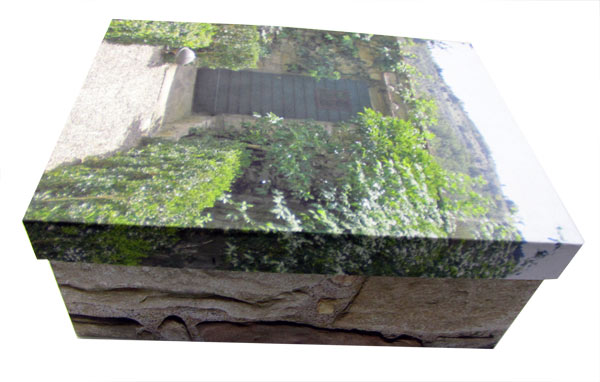 Paper is the first traditional wedding anniversary gift, and as the first year of marriage has passed – which is most likely the hardest one, why not treat the couple to something extra ordinary. 1st anniversary gifts don't have to be super ambitious but they should symbolise the strength it's taken to get through the first years or marriage. Our photo boxes are made from thick paper, cardboard, so they make perfect 1st anniversary gifts.
They are not just any boxes, they can be personalised anyway you want it. Photos, patterns, designs or images can all be put on the box. Ready-made photo boxes from shops often lack in details, not our one's. The whole box is put together by hand which means no details are spared. The lining is made from a suede material to give the box a luxury feel. Buying anniversary gifts doesn't have to be stressful, ordering paper gifts from Bags of Love is easy.
The photo box shown here is from a couple's honeymoon. The door in the lid of the box was the honeymoon suite where they stayed whilst in Italy. The bottom of the box is a stone image our in-house designer found to match with the picture of the door. This is a perfect example of thoughtful 1st anniversary gifts as it's been completely customised after a single photo.