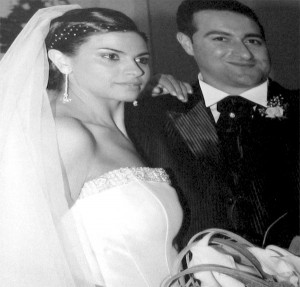 The custom of giving a couple a special type of  gift on their wedding anniversary day depending on what year they are celebrating, dates back to the Middle Ages. The anniversary gifts list vary from country to country and they are traditional and modern alternatives. To help celebrate the wedding anniversaries there are gift ideas assigned for each anniversary year and they all have their own symbolic meaning.  In some countries the gifts represents bringing luck to the couple or help them strengthen their marriage.
The 25th Silver and 50th Gold anniversaries are important years today but the importance of the years have changed throughout times. The 25th silver wedding anniversary has its origin in the Germanic region and back then the tradition was for the husband to give his wife a silver garland after 25 years of marriage. Originally the 75th anniversary was the diamond anniversary but the 60th (yellow diamond) was added when Queen Victoria celebrated her Diamond Jubilee on her 60th anniversary of accession to the throne in 1897.  The 1st and 10th anniversary gifts was not introduced until the late 1930's, prior to that 25th, 50th and 70th was main years for celebration.
Here at Bags of Love we have a wide range of wedding anniversary gifts for any of these imporant years. A photo album, duvet or leather bag make excellent paper (1st), cotton (2nd) and leather (3rd) anniversary gifts. We can print your photos on our products with a copper colour, silver satin print or ruby colour to make suitable photo gifts for someone's special anniversary. So basically we have perfect 1st, 2nd and 3rd anniversary gifts and even 50th anniversary gifts!
Traditional UK Anniversary Gifts:
1st Paper
2nd Cotton
3rd Leather
5th Wood
10th Tin
15th Crystal
20th China
25th Silver
30th Pearl
40th Ruby
50th Gold
60th Yellow Diamond
70th Platinum
75th Diamond
80th Oak
90th Granite