Halloween has become increasingly popular in the UK, thanks to our neighbours across the pond in the USA showing us just how much fun can be had on Halloween. Sweets, trick or treating, costume parties, bonfires, fireworks and more. Halloween has become a day to show your creativity, get together with friends and just have fun!
With that in mind, if you're not the sort of person who likes to dress up in costume, but you want to make a little effort for Halloween – whether for a party or to spook potential trick or treaters, then here are our top 5 personalised Halloween gifts and products from Bags of Love.
1. Design Customised T-shirt
Create your own Halloween T-shirt really easily by taking a photo of something scary, or finding an image online and simply upload it onto our personalised T-shirt page. You can then play around with the design and even add text to make it more personal to you. Our custom T-shirts are the perfect easy costume idea. We loved the idea of using mummy bandages, as it's pretty much a ready made costume! We then added the image onto our custom printed leggings and voilà! You have an entire mummy costume, which no one else will own. If a mummy design doesn't float your boat, then choose anything else, which does. A pumpkin, a werewolf, your old headmaster… The possibilities are endless.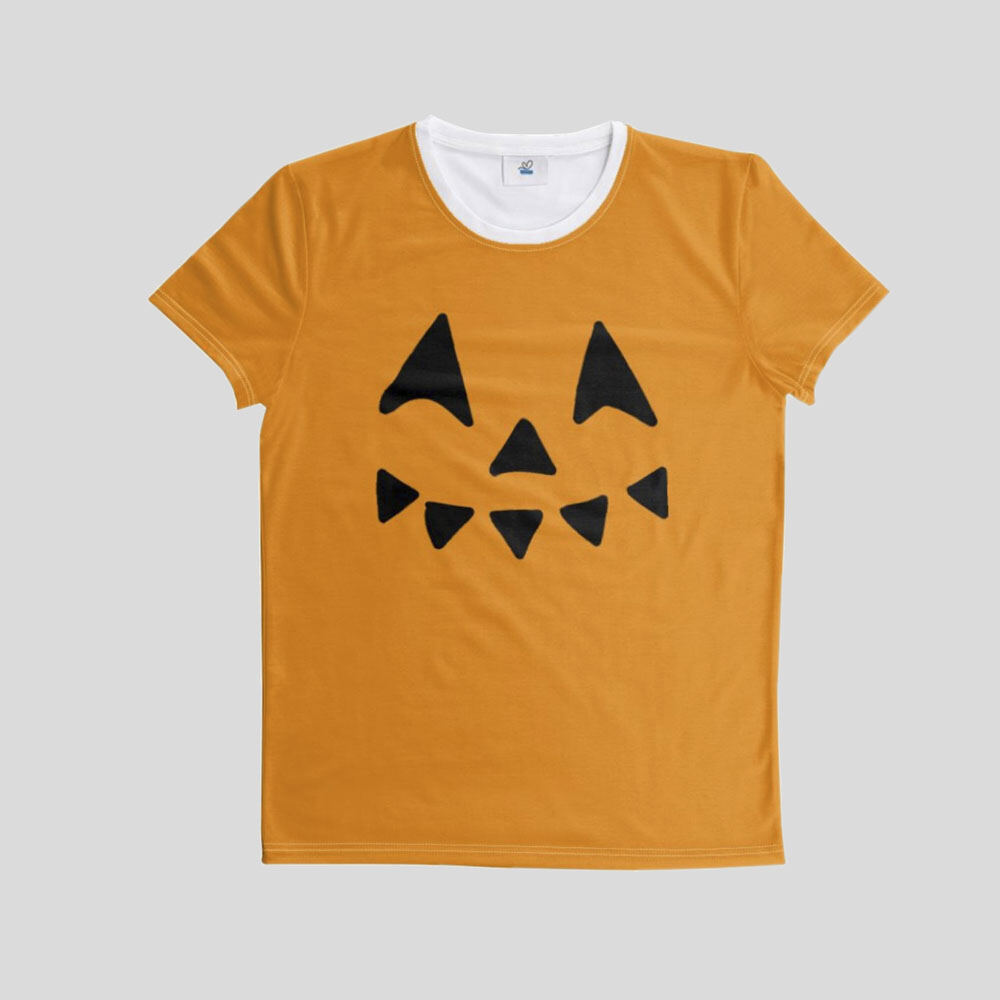 2. Trick Or Treat Loot Tote Bag
If you or your little ones like to indulge in a bit of trick or treating on Halloween, then why not invest in a trick or treat loot bag, to stash all of your sweets? Our Personalised Tote Bag makes a great trick or treat bag, as it can be easily carried over the shoulder and it holds A LOT of chocolate! We decided to create a pumpkin jack o'lantern trick or treat bag. We uploaded a picture of a creepy pumpkin, turned the background colour orange to match and then added the text "Trick or Treat?" for the perfect finishing touch. It's so much fun to design and you can really let your imagination run wild.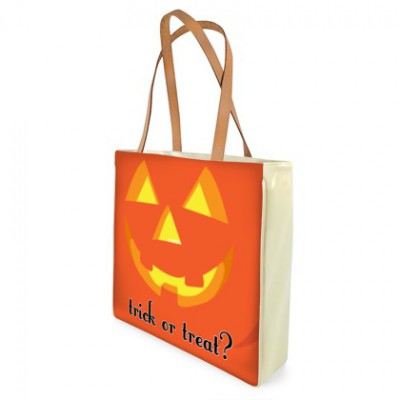 3. Halloween Customised Door Mat
Now this is a fun one to make if you are having a Halloween party, or just to welcome costume enthusiasts to your home. The Personalised Door Mats can be designed to feature whatever you would like. Available in 3 sizes and with a rubber back to prevent slipping, this mat is perfect to pop onto your porch or in your hall. We decided to create an "Enter If You Dare" sign to design our doormat – perfect to freak out the neighbours or make trick or treaters feel like they are welcome to knock on your door. Design your customised door mat now.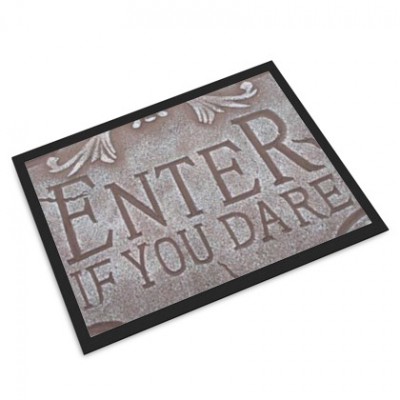 4. Trick Or Treat Personalised Sweet Tin
Now, obviously if you are going to be handing our sweeties all night long to excited trick or treaters, then you need something to stash all the sweets in to give them (and you if you are feeling peckish) easy access. Our Personalised Biscuit Tin makes a fab sweet tin and you can customise it to feature a fun and festive Halloween message. The easy to open hinge lid means eager little hands can open and close this customised tin easily…and eager adult hands as well of course! Have fun designing your sweet tin here.
5. Halloween Customised Apron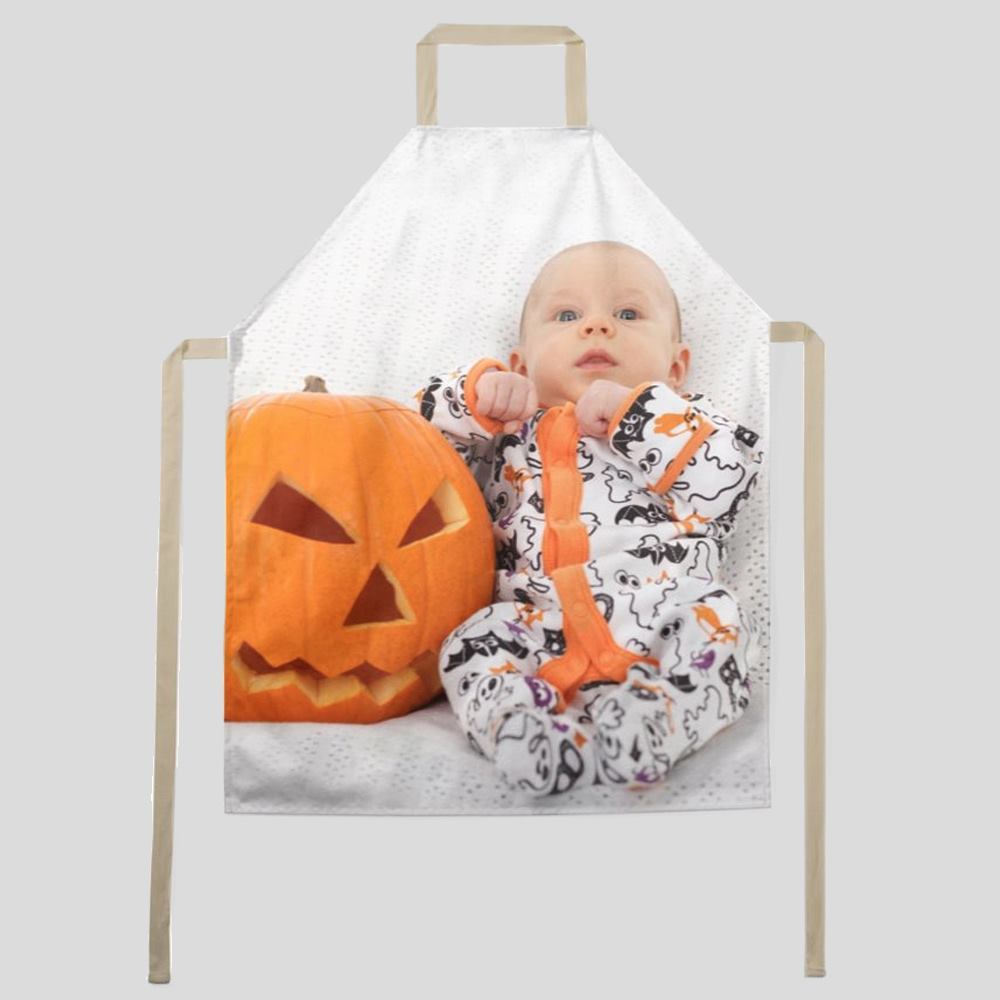 If you are hosting a Halloween party, and need to be in and out of the kitchen fixing drinks and snacks for your guests, then why not have a bit of fun with your apron? Make it a focal point. The Personalised Aprons come in 3 sizes and are made from fabric – not nasty cheap plastic. Create a spooky design and upload it onto our online system, to create an apron truly worthy of Halloween. If you want to create your own Halloween inspired customised apron, click here.
We hope you have enjoyed our favourite Halloween personalised products. Whatever you are planning on getting up to on this spooky night, be safe and have fun! Heavy on the treats…not so much the tricks!