With Mother's Day just around the corner, it's time to start thinking about what to get your mum or mother figure to show her, she really means the world to you!
Take it from us, as lovely as a bunch of gorgeous flowers, a good book, a meal out etc all are, we reckon you can do better when it comes to finding your mum a thoughtful and unique Mother's Day gift. This is where the beauty of personalised gifts and photo gifts come in. You can give a gift that is not only beautifully made to order, but you can also give one, which has been designed purely by you! Choose to upload photos from your mum's life, which will make her well up! Baby photos – great! Wedding photos – amazing! Family holidays – fabulous! All these memories captured in photos will help make your personalised gift for Mother's Day all the more special and memorable.
From new mums and mums-to-be to experienced mum's and grandmas and all mother figures, Mother's Day is a special time to show your appreciation for all she does for you.
Fancy winning "Child of the Year" award? Follow our guide to our top 10 Best Gifts for Mother's Day and you're a total shoe in! Featuring our favourite heartfelt, personalised gifts. You'll definitely get on the short list at any rate!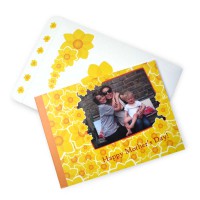 Your mum will absolutely swoon…and quite possibly shed a few tears, with our stunning Photo Book of Love. Add your treasured photos and loving words to our handmade photo book, to create a unique personalised gift, which she will treasure forever. Tell your mum in words and photos just how much you love her by personalising this stunning photo book. Select from one of the pretty designs and you can upload up to 12 photos with words to express your gratitude for her being a fab mum!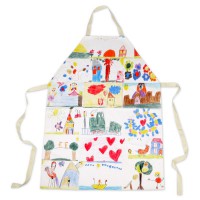 If your mum loves cooking up a storm in the kitchen, then she will love having her very own Personalised Apron – designed by you! Forget those horrible plastic aprons, our beautiful, handmade aprons are made from soft fabric, and we print your design deep into it, creating a stunning, permanent print. We also print edge to edge, so you are left with a gorgeous all-over print – no ugly white spaces! Upload photos, designs and text. If you are a dad helping your little one with a present for Mother's Day, then why not scan their drawings and upload them onto the apron? Mama will love wearing it and looking at it.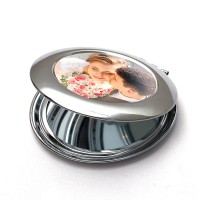 Perfect for women everywhere, our beautiful Customised Compact Mirror will make a fabulous Mother's Day gift. Our Personalised Photo Compact Mirrors have a stunning polished chrome finished and can be personalised to feature a photo on the front. We will print your photo onto a white, sparkly base colour, which will give it a subtle "twinkly" effect. Very pretty and we are sure mum will love it. It is the perfect size and shape for her to pop into her handbag, have a quick touch up and be reminded of you at the same time. Ahhhhh!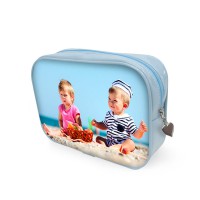 Give mum the gift of beauty…well…a gift to carry all of her beautifying bits around with her! Our Personalised Make Up Bag is a real winner when it comes to personalised gifts for Mother's Day. Choose your colour and material and then create a design for the front of the make up bag. We will print it into the fabric, creating a stunning, permanent print. The zip has a sweet heart shaped charm and there is room inside for items such as mascara, lipsticks, eye pencils…all the essentials a make-up loving mama needs!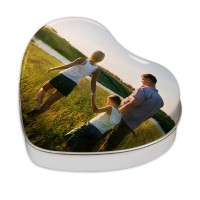 Give mum your heart this Mother's Day with our adorable Personalised Heart Shaped Tin. Our gorgeous heart shaped tin makes the perfect little trinket box, which mum will love to put on display in the lounge, or keep it close to her on her bedside table. We will print your special photo onto the surface of the lid, creating a permanent reminder of your love and appreciation for your mum.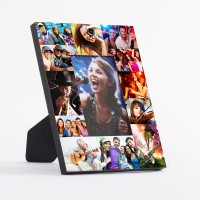 Instead of giving mum just one photo in a photo frame, why not create her a personalised photo frame? These amazing photo frames have been created, so you can design the actual frame with your photos. Why have one photo on the inside, when you can have a photo montage decorating the outside? Fill mum's frame with all of her favourite photos of you and the family. The photo frame has a lovely, glossy finish and we will even throw in a free photo print of the photo of your choice to fill the frame.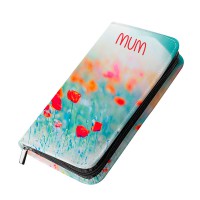 Treat your mum to something really special this Mother's Day. Our Personalised Leather Purse is a stunning photo gift, which mum will really appreciate. If your mum loves her accessories, then she is certain to love our beautiful Italian leather handmade purse. Not only are those all plus points, but it can also be personalised just for her! Upload a special photo, design and even a loving message and we will print it onto the exterior of the purse. This leather purse has lots of useful compartments and pockets for all of her important bits and bobs. She will love using it and admiring it.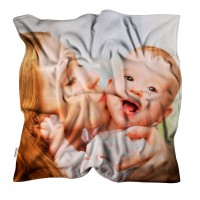 Let mum wrap up in your love with our soft and cosy Personalised Photo Blanket. Our Photo Blanket is a real favourite of ours here at Bags of Love. Soft and made from snuggly polar fleece, our Personalised Blanket makes the perfect Mother's Day gift. Choose one photo or design to make a statement blanket, or opt for several and create a stunning photo montage. You can even choose the size and backing colour of your blanket, to make it totally customised for your mum. Personalised, printed and handmade by us to order.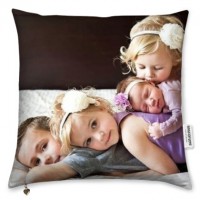 Handmade by us at Bags of Love HQ, our Personalised Cushions will make a treasured Mother's Day gift, which mum will fall in love with. Soft, plump and perfect for propping up on the couch, on her bed and great for cuddling! We will print your design edge to edge, creating a flawless and seamless finish. You can choose the shape and filling of your cushion as well as creating a stunning design. Choose to personalise your mum's cushion with photos, prints or text. Upload one image or several and create a gorgeous photo montage.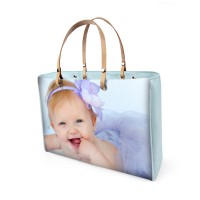 It's Mother's Day, so spoil your lovely mum with our stunning, handmade Luxury Photo Handbag. This stylish personalised handbag is available in 2 sizes and 4 colours and you have the option of Italian leather or patent vinyl. Your photo, or photos, will be printed onto the satin finish, creating a beautiful permanent print. Mum will love wearing her personalised handbag out and about and showing off what a fabulous child she has! Well done you!
If you fancy treating your mum to one (or more) of these lovely personalised photo gifts, then click on any of the pictures above to be taken to our website, and you can start designing. Or, click here and we will take you to our Mother's Day gift page.
Bags of Love x