In the name of being nosey sods market research, we at Bags of Love have been busy pouring over everything the people of Britain have been tweeting, to get an idea of whether we're a nation of quiet romantics at heart or whether we really are a country of cynics.
The Study is below, but first, The Infographic:

You can add this Infographic to Your Blog or Website, It's Free and Easy!
Copy the following code to your web page:
The Study:
We analysed every single tweet between 13:00 on the 13th and 20:00 on the 14th that contained the word Valentines. We included in this analysis estimates as to the persons Gender (based on their name), location, and the 'sentiment' of the tweet. The latter figure is about 85% accurate (Teaching a computer sarcasm is kinda difficult, turns out)
So. What do people think about Valenties day.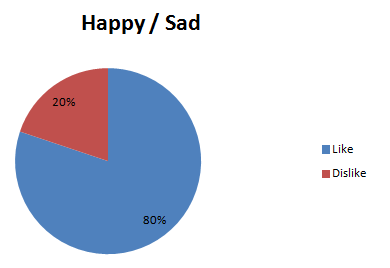 4/5 Brits like getting all mushy. We're not a nation of angry cynics! Rejoice! But, we wondered who were the 80%, and who were the 20%. Is there some sort of deeper commentary, perhaps on Gender Relations that can be had there?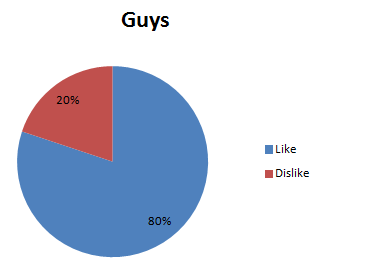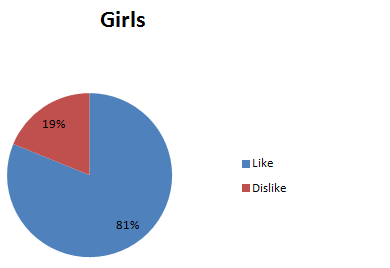 So, erm, not really. 1/5 people just aren't predisposed to liking Valentine's day. Pareto Principle in action.
We also wondered about names. And made a pretty Wordle.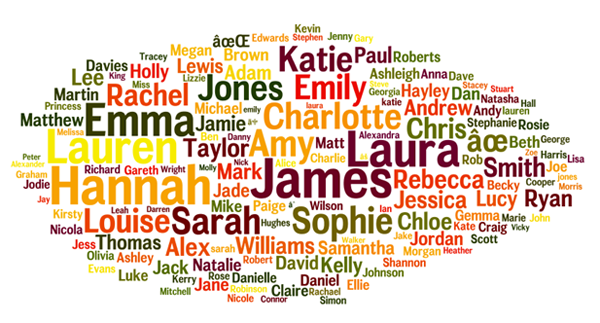 In short, if candle lit dinners are your thing, you should make a point of dating either a James, Laura, Hannah or Lauren. Don't date Jay though. He's just not into that mushy stuff. He's probably more of an extreme sports, let's go skydiving kinda dude.
Last minuters
My previous gut instinct – that 100% of people leave buying presents to the last possible minute – was dashed when I started working at Bags of Love and actually saw orders getting made, like, entire weeks beforehand. Check you all out, with your forward thinking and organisational skills. But, surely I'm not alone in being lazy giving myself as much time as possible to think of the perfect gift?
People hunting for gifts between 4 -5pm on the 13th
Remember folks, nothing says romance quite like flowers from the garage and a box of quality street. (For the record, Bags of Love can do photo gifts with next day delivery, and you can upload pictures direct from your Facebook.)
Get to the nitty gritty. Is my town/city a hotbed of lust or do I actually live in a soulless hellhole?
Take a look at this table my friend. The data is straight from Twitter, so be warned – it's locations are a bit weird (Smaller towns and villages tend to get reported as the county they're in. Basically, if you want to escape valentines day, head to Devon.) The number represents the amount of tweets, divided by their how cheery the language is (This is rated by a computer on a scale of -10 (terrifyingly angry human being, maybe about to commit a crime) to +10 (Terrifyingly happy human being, may of just gotten away with committing a crime). The rating is 85% accurate. Computers still don't understand condescending sarcasm. Bless 'em.
| | |
| --- | --- |
| Westminster, London | 260.3719 |
| Leeds, Leeds | 218.6325 |
| Manchester, Manchester | 229.8921 |
| Birmingham, Birmingham | 162.3363 |
| Glasgow City, Glasgow City | 162.5455 |
| Liverpool, Liverpool | 104.5407 |
| Cardiff, Cardiff | 119.4012 |
| Sheffield, Sheffield | 157.1213 |
| City of Edinburgh, City of Edinburgh | 135.3061 |
| City of Bristol, City of Bristol | 82.8169 |
| Cornwall, Cornwall | 76.91496 |
| Fife, Fife | 99.98684 |
| Swansea, Swansea | 70.40193 |
| Brighton and Hove, Brighton and Hove | 79.06137 |
| Leicester, Leicester | 68.62461 |
| Nottingham, Nottingham | 57.87234 |
| Newcastle Upon Tyne, Newcastle Upon Tyne | 84.32 |
| Bradford, Bradford | 68.40486 |
| London, England | 57.18219 |
| Cheshire East, Cheshire East | 62.47692 |
| Highland, Highland | 130 |
| Lewisham, London | 143.0291 |
| Barnet, London | 65.87838 |
| Plymouth, Plymouth | 66.76923 |
| Coventry, Coventry | 57.07937 |
| Durham, Durham | 42.01893 |
| Southampton, Southampton | 64.2 |
| Derby, Derby | 42.00664 |
| Belfast, Belfast | 54.73799 |
| Thurrock, Thurrock | 87.12857 |
| Salford, Salford | 64.49162 |
| Wirral, Wirral | 34.273 |
| Camden, London | 44.34109 |
| Cheshire West and Chester, Cheshire West and Chester | 58.64975 |
| Gateshead, Gateshead | 42.94981 |
| Islington, London | 46.18376 |
| Hillingdon, London | 43.46311 |
| Newham, London | 75.4252 |
| Kirklees, Kirklees | 37.74046 |
| Aberdeen City, Aberdeen City | 60.18675 |
| Havering, London | 49.5 |
| Rhondda Cynon Taff, Rhondda Cynon Taff | 63.49296 |
| Central Bedfordshire, Central Bedfordshire | 56.25926 |
| South Gloucestershire, South Gloucestershire | 93 |
| Stockport, Stockport | 60.70748 |
| South Lanarkshire, South Lanarkshire | 43.41905 |
| Wiltshire, Wiltshire | 44.16 |
| Doncaster, Doncaster | 105.4268 |
| Bolton, Bolton | 55.31646 |
| Charnwood, Leicestershire | 40.97156 |
| West Lothian, West Lothian | 77.21429 |
| Colchester, Essex | 53.97419 |
| Southwark, London | 35.4661 |
| Tower Hamlets, London | 37.63256 |
| Oldham, Oldham | 41.04615 |
| Luton, Luton | 24.79221 |
| Bromley, London | 45.5 |
| North Lanarkshire, North Lanarkshire | 49.19255 |
| Wigan, Wigan | 24.4918 |
| Shropshire, Shropshire | 51.51724 |
| Wakefield, Wakefield | 45.89937 |
| Warrington, Warrington | 38.0796 |
| Gloucester, Gloucestershire | 56.65116 |
| Sefton, Sefton | 29.2541 |
| Telford and Wrekin, Telford and Wrekin | 39.0407 |
| Enfield, London | 50.11194 |
| Bridgend, Bridgend | 32.7561 |
| East Riding of Yorkshire, East Riding of Yorkshire | 46.60274 |
| Cheltenham, Gloucestershire | 26.43825 |
| Sunderland, Sunderland | 51.23077 |
| Oxford, Oxfordshire | 42.6 |
| Greenwich, London | 32.57609 |
| Basildon, Essex | 42.94631 |
| Peterborough, Peterborough | 41.3986 |
| Blackpool, Blackpool | 31.19487 |
| Wandsworth, London | 33.56364 |
| Lambeth, London | 44.31818 |
| Stoke-on-Trent, Stoke-on-Trent | 27.13333 |
| Chelmsford, Essex | 43.23846 |
| Sandwell, Sandwell | 39.08571 |
| Canterbury, Kent | 45.79646 |
| Dundee City, Dundee City | 33.22785 |
| Aberdeenshire, Aberdeenshire | 34.76821 |
| Tameside, Tameside | 34.15385 |
| Rotherham, Rotherham | 48.88073 |
| Preston, Lancashire | 38.04225 |
| Bournemouth, Bournemouth | 56.30435 |
| Swindon, Swindon | 33.65248 |
| Lincoln, Lincolnshire | 43.8 |
| East Ayrshire, East Ayrshire | 34.55333 |
| York, York | 67.94366 |
| Welwyn Hatfield, Hertfordshire | 42.94737 |
| Ealing, London | 35.16279 |
| Bury, Bury | 36 |
| Renfrewshire, Renfrewshire | 30.94872 |
| Rochdale, Rochdale | 28.23864 |
| Croydon, London | 32.31724 |
| Solihull, Solihull | 52.53409 |
| Norwich, Norfolk | 33.18321 |
| Carmarthenshire, Carmarthenshire | 21.70423 |
| Kensington and Chelsea, London | 28.59868 |
| Dudley, Dudley | 31.66438 |
| Trafford, Trafford | 44.46154 |
| Newport, Newport | 38.76636 |
| Portsmouth, Portsmouth | 34.04762 |
| Cambridge, Cambridgeshire | 34.36364 |
| Calderdale, Calderdale | 31.02985 |
| City of Kingston-upon-Hull, City of Kingston-upon-Hull | 32.23256 |
| Northampton, Northamptonshire | 43.33333 |
| Bexley, London | 33.06034 |
| Hammersmith and Fulham, London | 19.73822 |
| North Tyneside, North Tyneside | 43.6044 |
| Sutton, London | 30.51563 |
| North Somerset, North Somerset | 34.10092 |
| City of London, London | 21.71751 |
| Flintshire, Flintshire | 22.82014 |
| Medway, Medway | 35.36842 |
| Walsall, Walsall | 42.90909 |
| Neath Port Talbot, Neath Port Talbot | 21.55769 |
| Worcester City, Worcestershire | 31.76923 |
| Barnsley, Barnsley | 33.71429 |
| Hackney, London | 23.10569 |
| Hounslow, London | 23.54887 |
| Exeter, Devon | 23.28169 |
| Eastleigh, Hampshire | 17.04124 |
| Northumberland, Northumberland | 42.56 |
| Southend-on-Sea, Southend-on-Sea | 37.32143 |
| Reading, Reading | 24.9375 |
| Dacorum, Hertfordshire | 21.86301 |
| Haringey, London | 23.7913 |
| Perth and Kinross, Perth and Kinross | 29.64706 |
| Kingston upon Thames, London | 35.5122 |
| Brent, London | 29.79167 |
| Merton, London | 32.02326 |
| Wolverhampton, Wolverhampton | 17.34545 |
| Blackburn with Darwen, Blackburn with Darwen | 76.5 |
| Bassetlaw, Nottinghamshire | 49.34483 |
| Redbridge, London | 27.50633 |
| South Cambridgeshire, Cambridgeshire | 48.43103 |
| Nuneaton and Bedworth, Warwickshire | 22.33884 |
| Falkirk, Falkirk | 26.82105 |
| Knowsley, Knowsley | 14.53763 |
| Aylesbury Vale, Buckinghamshire | 29.07527 |
| North Ayrshire, North Ayrshire | 23 |
| South Ayrshire, South Ayrshire | 32.45455 |
| East Staffordshire, Staffordshire | 23.22772 |
| Basingstoke and Deane, Hampshire | 17.3617 |
| Ipswich, Suffolk | 24.21212 |
| Bedford Borough, Bedford Borough | 24.28571 |
| North Lincolnshire, North Lincolnshire | 15.6051 |
| Wycombe, Buckinghamshire | 25.82418 |
| North Hertfordshire, Hertfordshire | 42.24138 |
| County of Herefordshire, County of Herefordshire | 23.46939 |
| King's Lynn and West Norfolk, Norfolk | 17.85714 |
| Barking and Dagenham, London | 26.63043 |
| Broadland, Norfolk | 27.90698 |
| Wealden, East Sussex | 60.025 |
| New Forest, Hampshire | 37.33333 |
| Saint Albans, Hertfordshire | 27.34177 |
| Hertsmere, Hertfordshire | 23.74194 |
| Crawley, West Sussex | 19.11864 |
| England, United Kingdom | 22.23158 |
| South Somerset, Somerset | 23.81176 |
| Blaby, Leicestershire | 19.90385 |
| Huntingdonshire, Cambridgeshire | 54.7027 |
| Bath and North East Somerset, Bath and North East Somerset | 16.76271 |
| Dumfries and Galloway, Dumfries and Galloway | 18.19231 |
| South Ribble, Lancashire | 30.61017 |
| Waltham Forest, London | 41.97619 |
| Wrexham, Wrexham | 16.125 |
| East Lothian, East Lothian | 18.24242 |
| Epping Forest, Essex | 25.67164 |
| East Hertfordshire, Hertfordshire | 22.60256 |
| West Berkshire, West Berkshire | 17.6129 |
| Rochford, Essex | 20.02326 |
| Watford, Hertfordshire | 67.2 |
| Milton Keynes, Milton Keynes | 19.22892 |
| Thanet, Kent | 43.02439 |
| Middlesbrough, Middlesbrough | 52.83871 |
| Midlothian, Midlothian | 20.25882 |
| St. Helens, St. Helens | 12.21277 |
| Chesterfield, Derbyshire | 16 |
| Barrow-in-Furness, Cumbria | 126 |
| Slough, Slough | 13.54128 |
| Cherwell, Oxfordshire | 23.70313 |
| Guildford, Surrey | 17.08333 |
| Brentwood, Essex | 43.27778 |
| Harrogate, North Yorkshire | 20.5 |
| Mid Sussex, West Sussex | 14.44444 |
| Dartford, Kent | 25.26316 |
| Harlow, Essex | 13.92857 |
| Copeland, Cumbria | 12.69841 |
| Halton, Halton | 12.89256 |
| Caerphilly, Caerphilly | 16.52174 |
| Swale, Kent | 14.9697 |
| North West Leicestershire, Leicestershire | 18.26582 |
| Lancaster, Lancashire | 22.45455 |
| Vale of White Horse, Oxfordshire | 13.71134 |
| Stroud, Gloucestershire | 28.88 |
| Richmond-upon-Thames, London | 54.07692 |
| Stockton-on-Tees, Stockton-on-Tees | 11.28125 |
| Kettering, Northamptonshire | 31.24444 |
| Warwick, Warwickshire | 22.7193 |
| Rushcliffe, Nottinghamshire | 25.97872 |
| Test Valley, Hampshire | 31.11364 |
| Pembrokeshire, Pembrokeshire | 18.75342 |
| West Dunbartonshire, West Dunbartonshire | 12.58763 |
| Tewkesbury, Gloucestershire | 19.42857 |
| Horsham, West Sussex | 20.13559 |
| West Lancashire, Lancashire | 12.26804 |
| Rushmoor, Hampshire | 18.62903 |
| Maidstone, Kent | 55 |
| South Tyneside, South Tyneside | 13.83721 |
| Darlington, Darlington | 20.51724 |
| Chorley, Lancashire | 17.23881 |
| Erewash, Derbyshire | 15 |
| Newark and Sherwood, Nottinghamshire | 18.75862 |
| Wychavon, Worcestershire | 17.26154 |
| West Oxfordshire, Oxfordshire | 13.94872 |
| Hartlepool, Hartlepool | 19.01695 |
| Moray, Moray | 17.85246 |
| Waveney, Suffolk | 16.7619 |
| Mansfield, Nottinghamshire | 92.4 |
| Harrow, London | 9.990826 |
| East Lindsey, Lincolnshire | 10.53191 |
| Weymouth and Portland, Dorset | 16.81356 |
| South Kesteven, Lincolnshire | 19.45098 |
| Winchester, Hampshire | 10.43478 |
| Newcastle-under-Lyme, Staffordshire | 11.67059 |
| Tendring, Essex | 23.61905 |
| Manchester, England | 10.79518 |
| Cotswold, Gloucestershire | 28.44444 |
| Fareham, Hampshire | 96 |
| Gwynedd, Gwynedd | 16 |
| Isle of Wight, Isle of Wight | 10.9011 |
| Chichester, West Sussex | 15.74603 |
| South Norfolk, Norfolk | 18.84314 |
| Redditch, Worcestershire | 13.53521 |
| Wokingham, Wokingham | 11.34146 |
| Torbay, Torbay | 9.434783 |
| East Dunbartonshire, East Dunbartonshire | 11.77215 |
| Sheffield, England | 7.241379 |
| Reigate and Banstead, Surrey | 12.27273 |
| Poole, Poole | 9.868421 |
| North East Lincolnshire, North East Lincolnshire | 14.03226 |
| The Vale of Glamorgan, The Vale of Glamorgan | 13.18182 |
| Bracknell Forest, Bracknell Forest | 81 |
| Gedling, Nottinghamshire | 12 |
| Braintree, Essex | 11.15385 |
| Breckland, Norfolk | 11.11111 |
| Denbighshire, Denbighshire | 11.57143 |
| Arun, West Sussex | 12.79412 |
| Carlisle, Cumbria | 16.8 |
| Babergh, Suffolk | 52.5 |
| Monmouthshire, Monmouthshire | 20.3 |
| Tonbridge and Malling, Kent | 13.76271 |
| South Derbyshire, Derbyshire | 17.52083 |
| Woking, Surrey | 12.88889 |
| South Oxfordshire, Oxfordshire | 12.18841 |
| Broxtowe, Nottinghamshire | 9.123596 |
| Elmbridge, Surrey | 15.97959 |
| Londres, Inglaterra | 9.205479 |
| West Dorset, Dorset | 24.26667 |
| Merthyr Tydfil, Merthyr Tydfil | 17.18182 |
| Spelthorne, Surrey | 23.625 |
| Tamworth, Staffordshire | 17.18182 |
| Waverley, Surrey | 6.933333 |
| Tunbridge Wells, Kent | 7.865169 |
| Havant, Hampshire | 10.8 |
| Eden, Cumbria | 26.92308 |
| Ashfield, Nottinghamshire | 30.24 |
| Lichfield, Staffordshire | 13.28814 |
| Staffordshire Moorlands, Staffordshire | 11.78182 |
| Stirling, Stirling | 33.13636 |
| Stevenage, Hertfordshire | 21.27273 |
| Conwy, Conwy | 16.07143 |
| Harborough, Leicestershire | 10.98305 |
| Hinckley and Bosworth, Leicestershire | 21.6 |
| Fylde, Lancashire | 6.815534 |
| Boston, Lincolnshire | 9 |
| Great Yarmouth, Norfolk | 11.08929 |
| Wyre, Lancashire | 30.58824 |
| Stafford, Staffordshire | 19.69697 |
| South Holland, Lincolnshire | 14.13043 |
| North East Derbyshire, Derbyshire | 16.25 |
| Windsor and Maidenhead, Windsor and Maidenhead | 9.388889 |
| North Kesteven, Lincolnshire | 7.386364 |
| Worthing, West Sussex | 12.73469 |
| The Scottish Borders, The Scottish Borders | 10.31746 |
| Wyre Forest, Worcestershire | 10.4 |
| Hart, Hampshire | 13 |
| Hyndburn, Lancashire | 17.56757 |
| Epsom and Ewell, Surrey | 10.57627 |
| Redcar and Cleveland, Redcar and Cleveland | 9.328358 |
| Scarborough, North Yorkshire | 5.913978 |
| Taunton Deane, Somerset | 10.45455 |
| Gosport, Hampshire | 13.95349 |
| Amber Valley, Derbyshire | 10.08772 |
| Burnley, Lancashire | 28.57143 |
| Derry, Derry | 14.88095 |
| Melton, Leicestershire | 11.70732 |
| Three Rivers, Hertfordshire | 8.492308 |
| Selby, North Yorkshire | 16.72727 |
| Sedgemoor, Somerset | 13.2 |
| South Bucks, Buckinghamshire | 16.72727 |
| Broxbourne, Hertfordshire | 8.238806 |
| Fenland, Cambridgeshire | 12 |
| High Peak, Derbyshire | 66 |
| Bolsover, Derbyshire | 12.25532 |
| Birmingham, England | 27.6 |
| Powys, Powys | 8.138462 |
| Runnymede, Surrey | 14.2973 |
| Teignbridge, Devon | 13.67568 |
| Rugby, Warwickshire | 11.25532 |
| Oadby and Wigston, Leicestershire | 16.32258 |
| Mendip, Somerset | 9.921569 |
| South Northamptonshire, Northamptonshire | 9.921569 |
| Craigavon, Craigavon | 11 |
| Forest Heath, Suffolk | 105.8 |
| Mid Suffolk, Suffolk | 12.73684 |
| Suffolk Coastal, Suffolk | 8.20339 |
| South Staffordshire, Staffordshire | 10.04348 |
| Lisburn, Lisburn | 24.2 |
| Bradford, England | 14 |
| Corby, Northamptonshire | 6.540541 |
| Cannock Chase, Staffordshire | 5.372093 |
| North Warwickshire, Warwickshire | 5.815385 |
| Purbeck, Dorset | 17.64 |
| Torfaen, Torfaen | 12.09091 |
| Angus, Angus | 8.647059 |
| Allerdale, Cumbria | 6.363636 |
| Bromsgrove, Worcestershire | 28.5 |
| East Dorset, Dorset | 12.6 |
| Gravesham, Kent | 22.16667 |
| Newry and Mourne, Newry and Mourne | 12.90323 |
| North Down, North Down | 6.8 |
| Ashford, Kent | 18.18182 |
| Malvern Hills, Worcestershire | 22.8 |
| St. Edmundsbury, Suffolk | 34.2 |
| Pendle, Lancashire | 34.2 |
| Tandridge, Surrey | 24.06667 |
| Sevenoaks, Kent | 14.44 |
| South Lakeland, Cumbria | 10.6875 |
| Ribble Valley, Lancashire | 8.216216 |
| Surrey Heath, Surrey | 6.333333 |
| Daventry, Northamptonshire | 12.03333 |
| Castle Point, Essex | 6.06383 |
| Chiltern, Buckinghamshire | 6 |
| Dover, Kent | 152 |
| Forest of Dean, Gloucestershire | 9.5 |
| Stratford-on-Avon, Warwickshire | 12.96 |
| Isle of Anglesey, Isle of Anglesey | 19.125 |
| Ballymena, Ballymena | 19.125 |
| Inverclyde, Inverclyde | 9 |
| North Devon, Devon | 11.08696 |
| Mole Valley, Surrey | 5.543478 |
| North Norfolk, Norfolk | 7.225 |
| Craven, North Yorkshire | 6.710526 |
| East Renfrewshire, East Renfrewshire | 9.444444 |
| Castlereagh, Castlereagh | 7.555556 |
| Clackmannanshire, Clackmannanshire | 7.771429 |
| Antrim, Antrim | 255 |
| Omagh, Omagh | 8 |
| Rossendale, Lancashire | 4.8 |
| United Kingdom | 3.878788 |
| South Hams, Devon | 4.869565 |
| Ceredigion, Ceredigion | 5.454545 |
| East Devon, Devon | 6.564103 |
| Coleraine, Coleraine | 5.333333 |
It should be noted that these locations are what was registered with Twitter. So, 'Westminister' is a separate place to Twitters eyes than 'London', while 'UK' is basically anyone where Twitter couldn't narrow it down further. In some towns, being in the town centre may count as being in that place, while being further out in a suburb will make you show as being in the county instead. We've also filtered any place with less than 15 tweets. (Before we placed that filter on the most unromantic place in Britain was Cheltenham Starbucks, which sounded reasonable until we noticed that one of the most romantic was apparently a Tesco Metro in East London)