Personalised Decoration Ideas for Kids
This decorative ode to the Union Jack was created by one of our customers. She personalised a variety of home decor items (pillow cases, bedding, AND wallpaper) with her son's favourite design – the British flag. His new room is decked out with patriotic flare and we are well pleased with the pictures they sent in!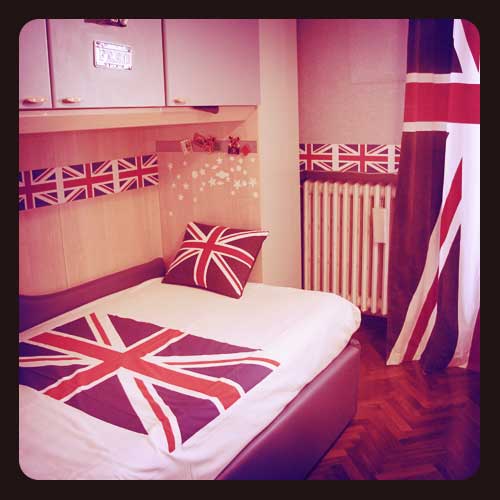 Personalised Room Decor with Bags of Love
At Bags of Love we offer a wide variety of items for your home to help you decorate with your own personal style. Taking inspiration from this customer's order, think about what your own children would like in their bedroom and make it a dream come true! Whether you kids have a favourite ficitional character, animal, or design you can personalise each product from Bags of Love with your own photos. You are only limited by your imagination!
To design your own versions of the items found in the room above, follow the product links listed here: bedding; cushions & wallpaper borders

Decorating with Your Children
Children are now surrounded by computers, many of them are more literate at software than adults! Use their computer skills to your (and their) advantage – personalise each item with your children online! Our online software is incredibly easy to use, simply upload the images you would like to use, place them on your desired items, and check out! You can even save your partially finished order and return to it later, free of charge. By designing with your children they are able to provide their creative inputs, develop their taste, and do something fun with you! No more endlessly turning pages of catalogs to find the perfect item – make yours today!