We are fortunate here at Bags of Love HQ to have a fabulous, international staff! We have wonderful folk from all over, including Spain, Italy, Germany, France, Japan…the list goes on! We currently have a lovely intern called Mark, who is joining us from Chicago, USA.
This is Mark's first time to London, and of course he has taken advantage of the famous West End and its incredible array of theatre productions. Being something of a wordsmith, I asked Mark if he would like to write a review on one of the productions he has seen, while being in London. The show is Once and our Mark has been raving about it ever since he saw it! Naturally he jumped at the chance, so theatre lovers, if you are wondering what show to see next, read on and see if Mark can convince you to check out Once. Take it away Mark!
"You cannot walk through your life leaving unfinished love behind you!" —Girl
This past Tuesday I stepped away from writing descriptions to inform customers of what a three tier cake is and the many ways to customise an iPad case, and went to go see ONCE the musical at the Phoenix Theatre. ONCE I got there, I never wanted to leave.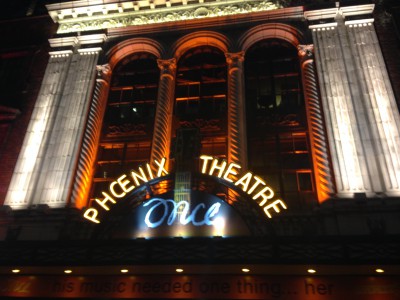 My sincere apologies for the pun above and my ignorance to forget to introduce myself, my name is Mark McGann, and I am currently interning here at Bags of Love HQ in London.
My name is Mark…and I am a chronic theatreholic. (This is where you all greet me back with a warm embrace, and kind words, and then admit why you have found yourself here, so I don't feel so alone for ONCE.) But boy was my addiction nourished that Tuesday night.
Once is by far one of the most creative, and innovative musicals I have ever seen. I have never felt more refreshed leaving the theatre. Normally I am shaking with adrenaline or fighting back the tears (shout out to Les Misérables, you keep on doing you, and I'll keep on refreshing my stock of Kleenex) but with the calm and collected atmosphere the setting provided, plus the elusive coolness, which seeped from the cast and into the audience, Once provided me with a feeling, I've never before felt.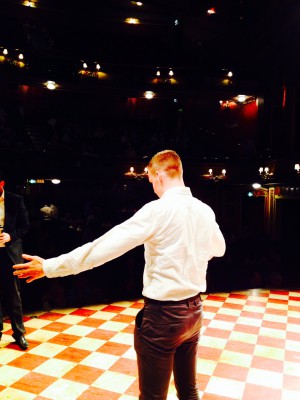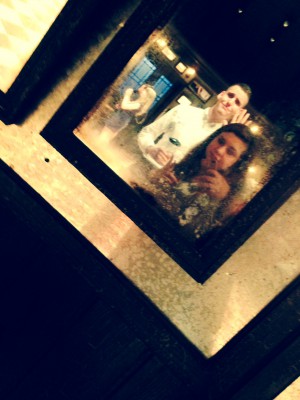 Here are the basics of the musical and set up (without spoiling anything too much). So there is only one set during the entire musical. It is basically just a big bar. The characters themselves travel to different settings and places in the story, but the physical set remains the same. It is through the lighting and/or performance alone, which tells you where the characters are during each scene. That is part of what makes the show so innovative and different, but I'm not even close to being done.
Throughout the entire performance, the whole cast is always on stage, the reason for this is to keep the scenes moving in a fluid motion and also because the cast is a live band. The soundtrack has a very folksy feel to it, so at all times a cast member has a violin, cello, or guitar in their hand, ready to break out into a beautiful tune at any time.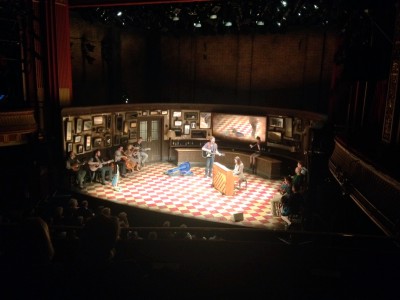 The story is a love story, though presented in a way that is unravelled… and I can't say any more about that, or I will give the story away!
And the stage isn't just for show. Remember when I said it was a bar, well it literally is. During intermission the audience was able to go up, and buy a drink on stage and look out onto the theatre. And before the show, the cast is also up there, creating a cool party vibe, which draws you in to feeling like you are also guests at this party and that you are all friends.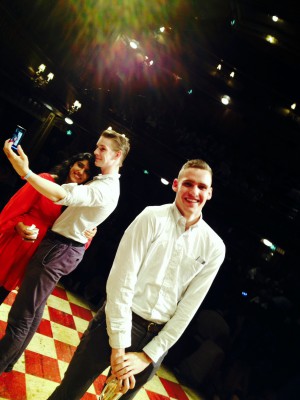 If you are going to see a musical soon, I highly recommend Once. From the second you walk into the Phoenix Theatre, to when you walk out, you experience something amazing and something different to the norm.
I'd like to praise to the actors too. I can't begin to describe how talented and amazing the cast were. I just couldn't believe how well rounded they all were, and how demanding it must be to do so much at once, I can't even manage to look and act cool at the same time, let along play an instrument, sing, act and perform! The lead characters deserve some extra special praise. The leading female actor was wonderful. I've never seen someone bring so much animation to a character and her vibrant enthusiasm was so contagious. The lead male actor had a glorious voice, which made him such a joy to watch on stage. His talent gave me chills (the good kind!) at many points during the performance.
Thank you Mark! Have you seen a show recently, which you would recommend us to see? Leave a comment below and let us know!
Bags of Love x