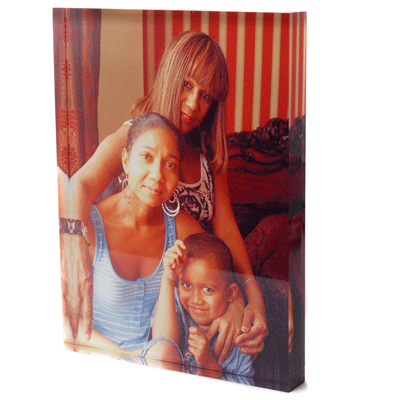 Personalised Gifts With Coolness
We are serious about offering you the latest in personalised gifts for all gift giving occasions. We spend much time developing new products that you won't find anywhere else with the highest quality and affordable price to match. You can scour the net for hours but you won't find a personalised gifts printing company like us with the same range of unique cool gifts with innovative personalisation options. Cool gifts that haven't been played out are hard to find but it won't be after you've discovered our range of cool gifts. The coolness of our range of personalised gifts is our understanding of uniqueness and exclusiveness.
Cool Gifts Fresh Off The Printer
The latest in photo display are our 3D acrylic photo blocks. The freestanding framed photo blocks, with your photos, have a crystal clear image and light refraction. Other companies do acrylic blocks but at rather high prices and not often in 3D! 3D crystal clear blocks are cool gifts and the ultimate in photo blocks at the moment. You will be amazed at how the photos will sparkle like diamonds! Other fresh off the printer personalised gifts are the shower curtains and personalised napkins. Measure your mum's shower curtain and make her a shower curtain with a photo of your dad! And for someone's upcoming anniversary party make them personalised napkins with the date and location of their wedding written on them.
Cool Gifts Range For Babies
Our range of baby gifts is brilliant when you need cool gifts for babies and parents. We have spent a lot of time creating useful yet cute baby gifts that are practical for parents and that make the baby look like the coolest baby in town. The personalised changing mat and sleeping bag allows you to add a scattered photo montage or cute name pattern to them. The comfort blanket give you the option of three adorable and exclusive designs to choose from and the latest baby gift to be invented is the buggy bag of love – a customised cosy bag for the pushchair. The hand and foot prints on baby gifts is another of our cool gifts ideas. You copy the hand and foot prints of your little one and we print them on items such as canvas prints, boxes, blankets and cubes.