How to find the perfect wedding anniversary gifts
Wedding Anniversary gifts are special messages of love.
Whether exchanged by the spouses to show their love or even given by their children or other family members, each wedding anniversary gift should be a truly unique gift. Do you know that there is a theme for every wedding anniversary, a material your anniversary gift should be made of when you stick to the traditional and appropriate gifts?
This tradition originates in different countries and has different backgrounds, but in the end every specific wedding anniversary gifts are supposed to have direct connections with each stage of married life.
Brilliant wedding anniversary gifts for the 1st anniversary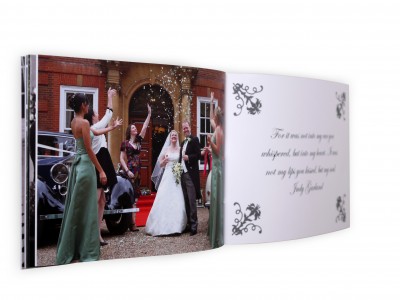 The theme of the first wedding anniversary after the wedding itself is Paper, and we have a wonderful range of gifts made out of paper to choose from. Photo Books, Albums, Postcards or Poster prints from your photos and designs, all with an optional personalised message.
Pure personalisation – the ideal paper anniversary gift is the Book of Love.
Combine your photos and your matching romantic words to create a unique story of your love – your very own Book of Love.
Personalised gift ideas for the 2nd and the 3rd wedding anniversary
Cotton, as the 2nd anniversary gift material, makes either photo canvases, photo blankets and personalised cushions the perfect choice for a wedding anniversary gift.
A wonderful black and white photo canvas with your favourite wedding picture and a secret message of love on the back is a great gift idea that will surprise your spouse.
You can order most of our photo bags in leather, so the bags are a brilliant anniversary gift for the 3rd wedding anniversary. They are available in different sizes and styles, so go ahead and create a special anniversary gift with your photos!
The 4th and the 5th wedding anniversary gifts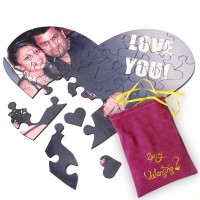 Most people don't think that the 4th wedding anniversary is anything special, but we think that each year of marriage deserves celebration and appreciation. As the theme is linen, our designer bed linen is perfect as a gift for this special wedding anniversary.
You can even create a whole set of bed linen including sheets, duvet covers and personalised cushions to give the couple a really cosy and comfy 4th anniversary …
Since wood is the 5th anniversary theme you can come up with a very unique wedding gift idea: a wooden jigsaw puzzle with your favourite photo and, if you wish, you can also add a personal message. A jigsaw puzzle is a great memento as an anniversary gift.
There are even more gift ideas for the 5th anniversary made out of wood, you can create your very own photo furnishings as well.