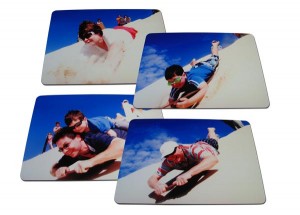 Whether you entertain regularly or looking for a unique and fun way to brighten up the dining table, personalised photo placemats featuring your photographs or images of your choice, make the ideal addition. They also make smashing personalised gifts. They come in packs of up to six photo placemats in medium or large and you decide whether you want all to have the same image or if you want a different photo on each personalised placemat. High quality materials ensure that these photo placemats will take hot plates and last for years without looking worn or jaded.
You can use any image you like not necessarily photographs, so you can choose from your holiday snaps, have a personalised placemat for those that regularly eat at your table, or you can even have hobby related images printed on each one. Photo placemats of your dad playing football make great personalised gifts for him. The options are endless and completely up to you.
Images are printed from edge to edge and top to bottom and the image reproduction is truly incredible and stunning so you can enjoy lifelike photographs. The process of printing your personalised photo placemats can be completed on the day you order so you could have them the very next day. If your mum loves to work around the garden, why not give her placemats of beautiful flowers from her very own garden? That will make stunning personalised gifts for her.