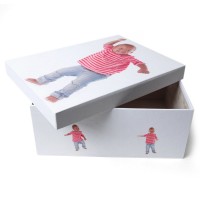 Christening Gifts with a Twist
Buying gifts for babies can be very difficult, because you want to get the beautiful child something significant within a budget. But have you ever considered a personalised photo box with a photo of the baby either on their own or with their family printed onto an amazing binding fabric with 3mm thick cardboard? This baby box can be used to store all those brilliant photos the family will have of their young one as it grows up and brings them so much joy every day. For childhood mementos and unforgettable reminders of their young toddler, the personalised photo box could be the perfect christening gift.
Flexible Photo Boxes
With a million and one uses, the personalised photo box is highly versatile and can be used in almost any capacity. It is sure to be enjoyed and loved by the parents of the gorgeous baby and is a very personal, original gift like no other. For the ultimate customised touch, you could even add your own message to the personalised photo box to let the family know that you love and care for them. Keep your amazing memories safe for generations to come with these amazing personalised gifts – just imagine being able to pass on a stunning keepsake box to your children or even grandchildren full of all their baby items! It will be a lovely reminder of the bond that you share.
Treasure your Spectacular Memories
Too often in the modern era we let our photos be wasted, hiding them away on our cameras or computers. Sometimes a physical representation is the best form of demonstrating your affection and fondness, and a personalised photo box is a totally unique gift that will do just that and will become a very important and meaningful addition to your recipient's home. Baby hand and foot prints, photos, locks of hair, cards, socks, shoes… anything the baby does or has can be placed into the photo box and will immortalise those beautiful memories that you never want to forget.