Finding the perfect anniversary can be daunting, especially if you want to keep to what tradition and etiquette dictate you should give your spouse on certain ones. Then, you worry about whether or not your spouse will like the gift that you picked out. There can be so much to think about when choosing the perfect gift for your spouse. Why not check out some of these suggestions for a unique anniversary gift? We think they will love it.
Men's Wash Bag
A unique anniversary gift (or for your 3rd or 13th anniversary if you are keeping to tradition) for your male partner is one of our bestsellers, a personalised men's wash bag. The men's wash bag comes in leather trim or in canvas and is rugged for everyday use. It can be used in the bathroom for storage of his toiletries, on holiday, or if he is particularly athletic, in the gym or after football matches. Personalise it with his favourite photo from childhood or use a picture from your wedding. The choice is all yours. He'll treasure this gift since you personalised it just for him, using some of his favourite memories.
Book of Love
The Book of Love makes for a unique anniversary gift, as a paper gift is traditionally given to mark the occasion. Fill your Book of Love with your favourite love quotations and photos of you together. You can choose 12 photos to put into your Book of Love to put on the left page and your personal accompanying text on the right. In about ten minutes, you can have your Book of Love uploaded to our website and designed for your special someone. Don't be afraid to be sentimental! Show your appreciation in your first year of marriage with the unique anniversary gift of a Book of Love.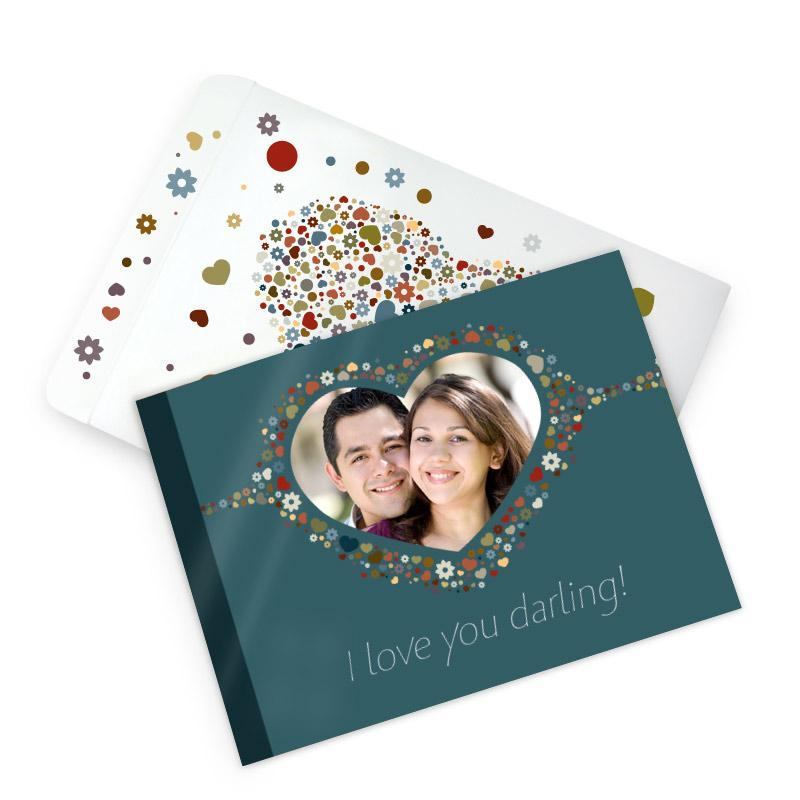 Photo Album
A personalised photo album or photo book is a perfect way to store the pictures in an elegant way that you can pull out and remember the special day anytime.
Placemats and Coasters
Personalised photo placemats and coasters for your dining table is a great way to remember your wedding day every day at breakfast, lunch and dinner!

The Personalised Box of Love
Perfect for anniversary gifts we've created a personalised box of love. To add that extra bit of romance to the photo box we've added design patterns in which you place your photo in the shape of a heart. The photo of your choice will be positioned in a heart-shaped graphic with a design pattern on the outside of the box. But it doesn't stop there. The inside of the personalised box of love can be customised as well. The lining of the box is a luxurious suede fabric with a colour of your preference and you can add a personal message to the inside of the lid.
Bolster Cushions
The history of the bolster cushions dates back to ancient Asia but back then it had a slightly different purpose than it has today. Today they are filled with soft materials and have decorative covers but in ancient Asia the bolster cushions could be made out of bamboo which a wife would make for her husband when he would travel – so that he could hug the bolster cushion and not be lonely at night. Wedding anniversary gifts today are not needed for the same purpose but it is a pretty funny anecdote for a married couple!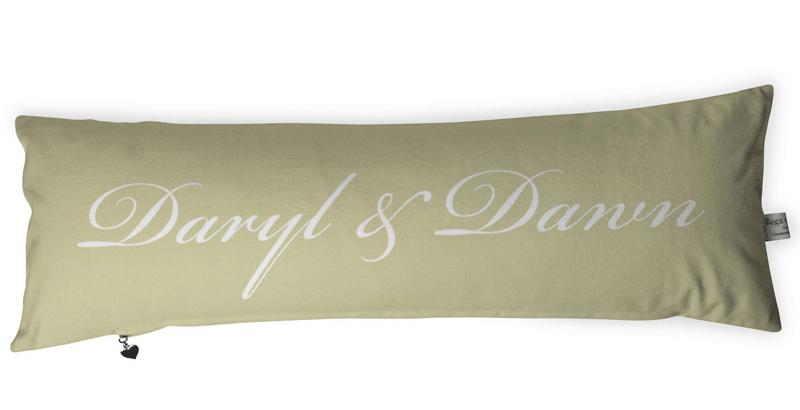 Tablecloths And Napkins
If you want to give the couple home gifts for the kitchen/dining room opt for personalised tablecloths and napkins. You can add photos from the wedding day, graphics and personalised text. Why not go for a matching set of a tablecloth and napkins with the couple's name printed all over the items or the date and location of their wedding day? Or for super emotional anniversary gifts add photos.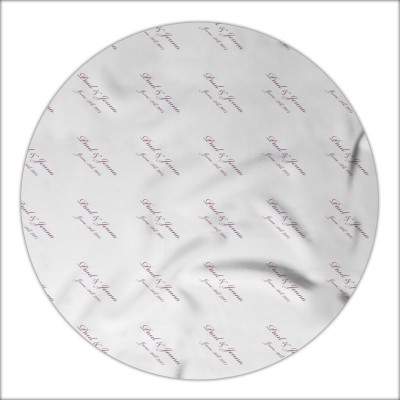 Bedding as Anniversary Gifts
A married couple will appreciate designer bedding gifts as they will help improve their bedroom decor. These anniversary gifts can be fun, elegant or emotional but they will all be unique. The tone of the anniversary gifts all depends on what you choose to personalise the designer bedding items with. You can use quirky photos of the married couple or Mr and Mrs text for fun anniversary gifts, black and white photos from the wedding day for elegant designer bedding gifts or add personal messages to the gifts to make them emotional.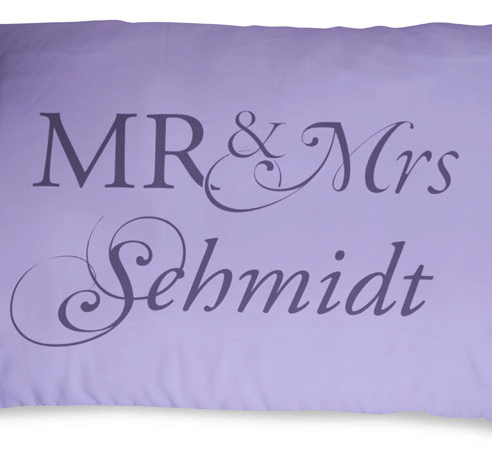 Personalised Bed Sheets
There are a few options when it comes to designer bedding anniversary gifts. Our latest addition to the bedding range is the personalised bed sheet. All you need to know is the size of the bed and then choose what you want to have printed on the bedsheets and have just made great 2nd anniversary gifts. Go for the bed sheets only or you could also add a personalised duvet cover and personalised pillowcases to create a whole bedding set! Use the same images for all of the designer bedding items or mix it up with different photos and text.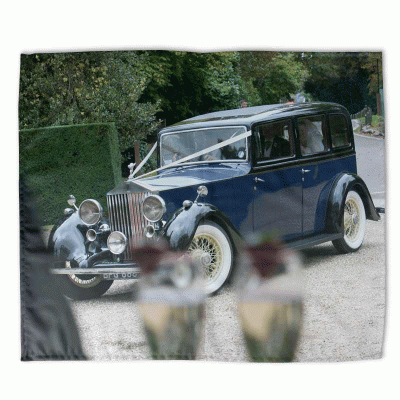 Photo Cubes
Photo cubes for your home is another great way to put the pictures on display. By having six photos printed with outstanding quality on six sides of the cube, the couple can enjoy wedding photos from every angle anywhere in their house!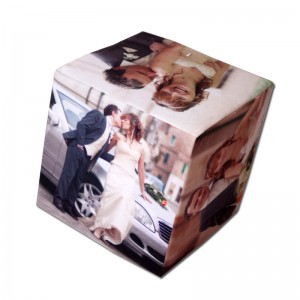 Jigsaws as wedding anniversary gifts
Since wood is the 5th-anniversary theme you can come up with a very unique wedding gift idea: a wooden jigsaw puzzle with your favourite photo and, if you wish, you can also add a personal message. A jigsaw puzzle is a great memento as an anniversary gift.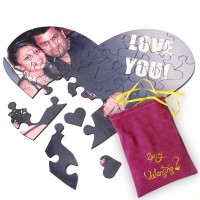 Anniversary Cards
Make the happy couple their very own photo anniversary card. The card will complement anniversary gifts and by using photos from their big day, the cards will be completely personalised to them.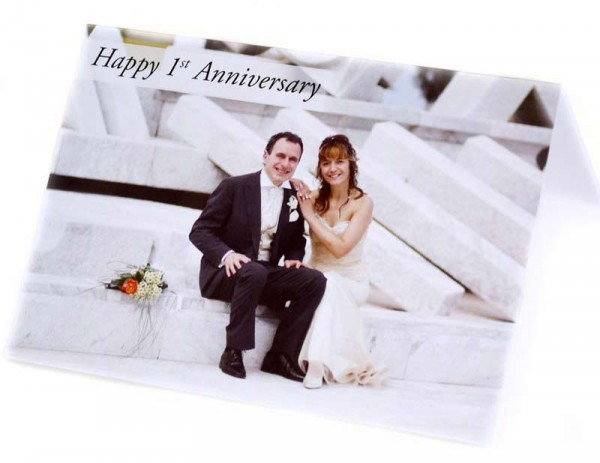 Plan A Party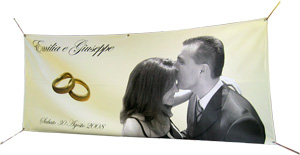 Planning an anniversary party is never an easy job but Bags of Love can help with providing personalised custom banners and a host of personalised anniversary gifts to make your anniversary party a real treat. Wedding anniversaries are special events whether they're celebrating one year or twenty-five years together and getting the party just right is almost as important as getting ideal wedding anniversary gifts.

Create personalised celebration bunting to decorate for a wedding anniversary party and the happy couple will not only have an amazing party decoration but also a beautiful keepsake for years to come.