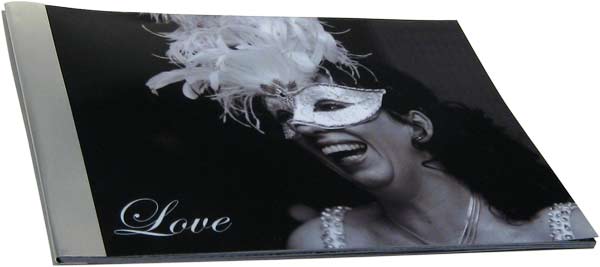 Do you sometimes feel like there's not enough time for the important people in your life? And do you feel like when you do see them you don't get a chance to tell them how you really feel about them? Then why don't you take the time and create a Book of Love – these books make ideal personalised gifts for loved ones.
The Book of Love lets you put down in words and show in photos how you feel about someone special, could be your husband or wife. On 11 pages you can display photos and text, perhaps quotes or just words you feel are appropriate for the photo next to it. With the photo on the left hand side and the text on the right hand side, it's sort of like a storytelling book – a story about your love for that person.
Choose the best photo for the cover and add a one line bit of text you think represents the book. They make perfect personalised gifts for Valentine's Day gifts, beats the original and unconventional red roses and chocolates. Red roses may be pretty, but they don't last very long while this Book of Love lasts a lifetime.
This book can also be used to start of a lifelong marriage by making it a proposal book where you pop the big question on the very last page. Romantic or what? Incorporate the proposal book with other Valentine's day gifts and he or she will have a day to remember. Mother's and Father's day can be extra special next time by giving mum and dad truly personal books where you explain how much they mean to you with photos and text.