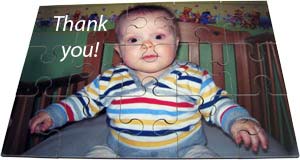 Say Thank You With Photo Gifts
Sometimes in life you might really feel the need to say a big thank you to certain people that have been there for you or that have changed your life. Thank you gift ideas come in many shapes and sizes and there are gift ideas for everyone. Whether you need thank you gift ideas for family members, friends or strangers that have become important to you we have the gift ideas you need to show your thankfulness. Leaving gift ideas for co-workers or gift ideas for teachers are always in demand and we have plenty of suitable options. Photo gifts personalised with your very own photos show thankfulness better than any other gifts because they display a memory captured in time.
Thank You Gift Ideas For All Occasions
There are many situations in life that leaves us truly thankful for someone's actions. It could be the process of pregnancy and giving birth when a nurse gave you tremendous support or when your son struggled in school and a teacher saw him through – what are the best gift ideas for teachers you might ask yourself. Or when that co-worker who puts a smile on your face is leaving you'll need glorious leaving gift ideas. Or do you want to thank your best friend for all those times he's been there for you through thick and thin or thank your long-time nanny who's leaving?If you spent a holiday season in a home full of hospitality or hired a decorator who fulfilled all your interior dreams you should say a big thank you with photo gifts.
Thank You Gift Ideas Range
Thank you gift ideas should show your love and appreciation and photo gifts are frankly ideal. A photo jigsaw puzzle with photos of the kids is ideal for the family nanny of ten years. For a family member who hosted Christmas this year you could make a personalised tin box that is easy to send off in the post. Thank you greeting cards or postcards are flexible and easy to send to people. The greeting cards come in sets of 12, 20 0r 40 and they can have identical or individual designs – convenient for all your thank you purposes. Photo cubes, photo canvas prints, photo books and photo boxes are other gift ideas applicable as thank you gift ideas. Gift ideas that the receiver will appreciate combined with the possiblity to add many photos make the best thank you gift ideas.