A duplicate present at a baby shower is embarrassing. Customising your baby gifts is the perfect preventative measure! Check out these gift ideas below if you got a baby shower on the agenda.
1.A personalised baby blanket with photos of the new parents from your own photo album will go down a treat with expectant parents and make useful and unusual baby gifts.
2.A personalised changing holdall bag to suit the parents tastes is a good idea for a new parent gift, as well as the baby. To ensure your holdall bag is the most treasured – make it a unisex design because daddy's change nappies too!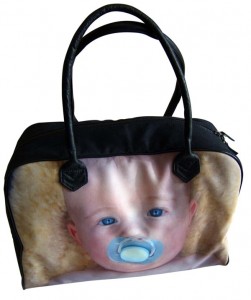 3.A changing mat, soft to the touch, could double as a bath mat is a nifty idea because they are easy to fold up for weekends away. You can use the baby's hands and footprints to give a unique new born baby gift.
4.Personalised banners for baby showers will be kept as a memento, and is a good present to twin with a personalised keepsake box.
5.Cushions are a handy gift idea for a baby shower because they can be used as home gifts or to decorate the baby's room. Following this idea, it's possible to personalise baby wallpaper for the nursery – you can have great fun with this – particularly if the parents have a theme.
6.A photo canvas is a stunning gift for new mums and dads – a single facial shot of the baby in all its snugly glory is a one-off present that shows you really care. Baby photos on canvas are a particularly thoughtful gift idea from godparents who are usually close friends of the parents, and will know the style of the home décor.
7.A personalised baby journal is a perfect gift for parents, and you could give them one every year on the baby's birthday!
Bags of Love can guarantee that by giving these personalised gifts you'll never have to keep a receipt again!