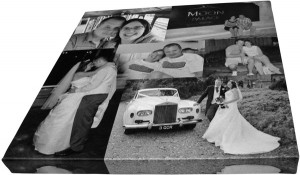 A wedding anniversary is a momentous occasion and every anniversary is a date to celebrate between yourselves and with family and friends allowing everybody to join in your celebrations. Personalised photo anniversary gifts make visually stunning and incredibly appealing wedding anniversary gifts that are perfect whether you're celebrating one or ten years together and whether the gift is for your husband, your wife, or your parents.
Photo canvas prints are amongst the most popular personalised photo gifts for anniversaries, available in virtually any size. You can have a single image printed on a natural hand woven canvas or several pictures together in a photo montage.
Photo canvas prints are a great way to show off those favourite snaps from the day. You can even have an image updated – colour images can be converted into black and white or you can have a pop art design applied to any of your photographs.
Alternatively, triptych and multi panel canvas prints are a row or collection of canvases that have one image printed across them all. The triptych typically uses a row of three canvases and has been used in art for many centuries while multi panel canvas prints allow you to choose the number of canvases and the shape that they form when hung on the wall.
With a photo block, your photograph is printed onto a resilient and glossy board that also includes a metal stand. The glossy finish means that no glass or frame needs to be added creating an all in one picture print.