Personalizing gifts with your best snaps is a foolproof system to always have original gift ideas for any occasions. There are many objects that can be personalised by printing photos, photo montages, pop art ideas or any other type of custom graphics. One of the main advantages of photo gifts is their extreme versatility; in fact, they can be used as gifts for the home, to decorate the office or as birthday or anniversary gifts. The peculiarity and beauty of the photo gift is directly proportional to the digital photo that you 'd like to have printed on them plus the quality of materials used. Among the photo gifts ideas you can find there are some that may be considered more "classic" (as it is very popular – among them the prints on canvas, photos, blankets, pillows or picture puzzles), On the other hand there are photo gifts that may be considered a little bit more out of the norm (double deck, shower curtains, personalised radiator covers).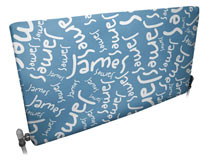 Personalised radiator covers
Personalised radiator covers are a great way to give a touch of personality and color to any room plus to drastically reduce the chances of various domestic accidents and burns. Personalised radiator covers can be customized by choosing the type of graphics, photos or montage. Cosidering the variety of shapes and sizes of radiators on the market you can have your personalised radiator covers custom-made. In fact personalised radiator covers are based on the size of your radiator, and if your radiator had a particular shape you can also send us a photo of it to make sure.