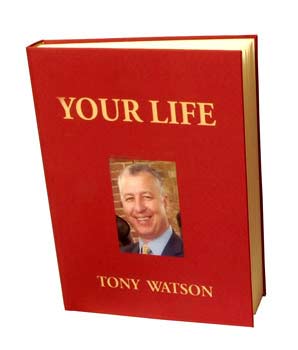 If someone you know has had an extraordinary life so far you should put it on paper – literally! Maybe your granddad fought in the Second World War and has dedicated his life to helping his local community, now isn't that a lifetime to celebrate? If a long time co-worker is leaving the work place, what better way to send him or her off than by presenting their life achievements in a book? Personalised gifts make a big impact and the Bags Of Love "Your Life" books make ideal personalised gifts for people who has led interesting lives. Simply ideal if you want to give someone photo birthday gifts.
Our "Your Life" book are totally personalised to the recipient. You choose the colour of the book, the look of the cover – text such as "This is your life so far Tony Watson" is one alternative but whatever you want we'll add onto it, and what photo shall grace the cover. We create these books from scratch to ensure the book is 100% personalised. We custom print the text in gold on the satin cover and the corners are beautifully decorated with gold coloured corner protectors.
You can choose from making a personalised album or a custom made photo book. The album has 60 (medium album) or 100 (large album) blank pages that are covered with tissue parchment interleaves. Put photos, clippings and notes on the blank pages to personalise it to the recipient. The photo book is the ultimate in personalised books. We print your digital photos straight onto the book then we hand bind it and personalise the cover just like we do with the albums. Either way they make superb personalised gifts for big birthdays or anniversaries. Your dad's 50th birthday or grandparents Diamond wedding anniversary deserve to be celebrated grandiose! If you need photo birthday gifts the "Your Life" book will do the trick.