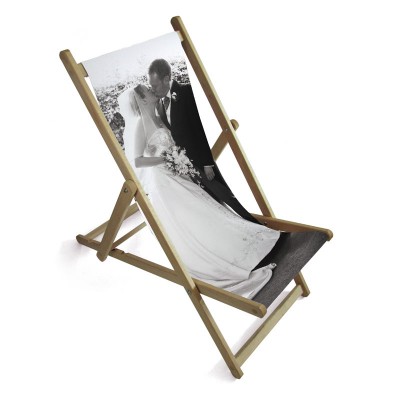 Personalised Traditional Anniversary Gifts
When you hear the words anniversary gifts what springs to mind? Flowers, cards or kitchen towels? Think again. With today's modern technology there are so many more exciting ways of buying someone anniversary gifts. Whether it's for your parents, a friend or your husband or wife personalised anniversary gifts are the way forward. You can even buy traditionally themed personalised anniversary gifts – paper, cotton, leather and so on – with the help of our services as our range of products come in different materials and shapes. So why wouldn't you give your spouse or family member unconventional anniversary gifts customised just for them?
Bold 2nd Anniversary Gifts
Traditional 2nd anniversary gifts are made from cotton – but skip the towels or dull bed linen's this time and go for something more bold and fun. With the help of your own photos, designers or patterns you can create personalised 2nd anniversary gifts such as the personalised deckchair which as a canvas seat – therefore gives it the cotton connection. We also offer an extended range of patterns, colours and font options for the personalised deckchair if you don't have any ideas at the top of your head. You can add anything from a photo montage, private designs, Pop Art image or Mr and Mrs text.
Personalised Deckchair Options
These 2nd anniversary gifts are totally unconventional in comparison to other cotton 2nd anniversary gifts. The personalised deckchair is symbolic in the way of it being made from the traditional 2nd anniversary theme – cotton – as well as whatever you place on it will have a symbolic meaning to the couple or your spouse. For your husband or wife why don't you get her a deckchair with a photo of the two of you from your wedding day in which she can relax? Or for your parents how about getting them a double personalised deckchair, like a love seat, with Mr and Mrs followed by their surname written on the seat?