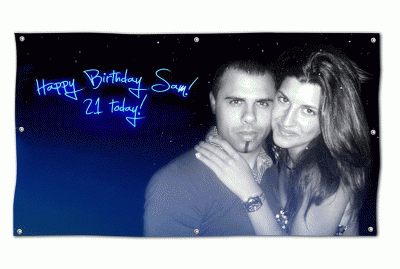 Summer Celebrations
What's better than having parties and barbeques in the summer? As the heat has made a welcoming return to the UK it's time to start planning those outdoor parties. Invite all your friends around to your house for a barbeque to celebrate the beginning of summer. Or maybe you recently got engaged? Throw an engagement party in your garden and let everyone know you are to be married. Or perhaps your best friend just had a baby, make her feel part of the gang again by surprising her with a baby party.
Add Personalised Banners To Outdoor Parties
For people with birthdays in the summer outdoor parties are superb celebration options. If your son or daughter is turning 21 this summer surprise him or her with a birthday party in the garden with all the friends and family members. For big outdoor parties in the summer you need those extra festive accessories; personalised banners. If your work-place is throwing a leaving party for a colleague who is leaving, personalised banners for the soiree are ideal to make him or her feel appreciated. Dig up some digital photos and start making personalised banners now!
Personalise Indoor And Outdoor Banners With A Digital Photo
Personalised banners come in two different styles – for indoor and outdoor use. The personalised outdoor banners are waterproof and long-lasting so even if rain would appear, fingers crossed that it won't, the banner will stay intact. The personalised banners for indoor use have a softer finish more suitable for homes and offices. Whether you need banners for parties or corporate events simply add a digital photo, graphic, text or logo to these long-lasting personalised banners.