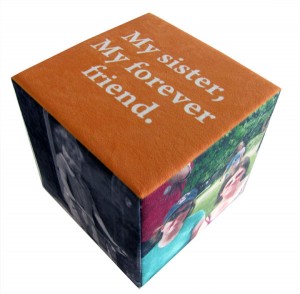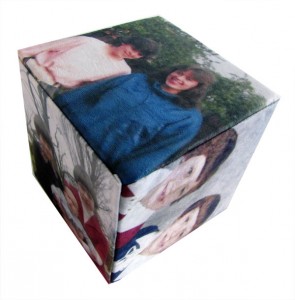 When it comes to home furnishing there's nothing more unique or better looking than the personalised photo cube. Photo cubes are cube shaped cushions, in a great range of sizes, that can be personalised with the printing of between one and six images on the cover.  The soft cushion material and a great looking photo reproduction cubes are perfect gift ideas.
The larger photo cube are comfortable for sitting on or resting your feet on and make a unique piece of interior décor. The shape of the cube means that you can combine several of them into an incredibly unique feature and because they're soft and safe the kids will love to play with them, climb on them, and build with them. The smaller, 6" personalised photo cubes are excellent as personalised gifts and can be given to any recipient to celebrate any occasion.
Personalised photo cubes have many different uses. As well as making perfect gift ideas they look great as interior décor items and they have already been used as brainstorming executive toys at companies like Sony. As Christmas or birthday gifts or just as a desirable keepsake they really are the perfect fit.
The smaller form cubes make the ideal personalised gift ideas. You can decorate them with pictures of the kid's and give them to grandparents or use them to remind somebody of home with a great panoramic image of the area. For extra posterity you can use one or two of the sides to personalise the design even further; add a brief message or a data and time and really help bring the memories back whenever you rest your feet on one.
Larger cubes are the ideal solution to showing off digital prints of your own. The foam material will happily take the weight of a fully grown man and they'll last an age. Not only are photo cubes great as original gift ideas but they can bring a touch of personality to your home décor and interior design.