Our small personalised leather products make lovely gift ideas for men and women!
A couple of particular favourites of ours at Bags of Love HQ are our Personalised Leather Keyring and our Personalised Leather Luggage Tags. Both of these leather gifts are small, functional and look fabulous. We'd love to tell you a little bit more about each of them.
First up, our Personalised Leather Keyring.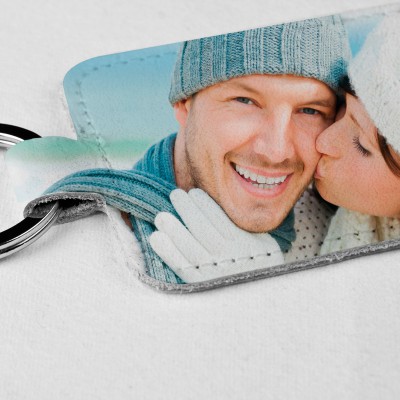 This photo keyring is made from gorgeous Italian Nappa lightweight leather. Our printing technique allows us to print your photos, designs and text onto the keyring, to create a rather lovely, unique piece. Choose your favourite photos or design and upload them, using our online design interface. You can design both sides of the leather keyring. Once your design is complete, we print it onto our beautiful leather and then cut it and stitch it by hand, creating a unique piece just for you. The final step is to add a strong and robust silver coloured ring. Now your personalised leather keyring is all set to go! Our leather printing technique is exclusive to us, and we are pretty proud of it, as it allows us to make unique gifts for our lovely customers. If you fancy creating your own leather keyring, click here and we'll start you off on the design process.
Now we would like to introduce you to our Personalised Luggage Tags.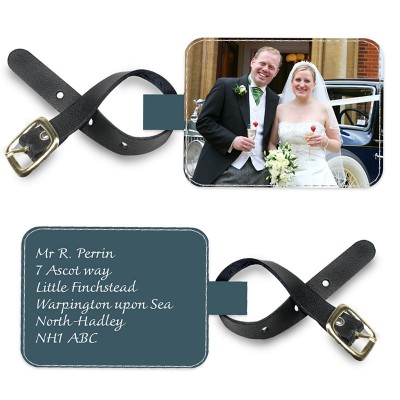 These sweet customised leather luggage tags are made with the same clever leather printing technique as our leather keyring. These luggage labels make a great gift for someone who loves to globe trot, or if you are planning a few trips, why not treat yourself to one? The permanent print on our leather tags will ensure your design and important details stay put! As with our leather keyrings, you can print on both sides of the labels, so why not choose your favourite photo for one side and your name and address for the other side? That way, you will have something that looks beautiful and is practical. Once we have printed the leather tag, we insert a robust buckle strap, to ensure your label stays firmly attached to your suitcase. These make adorable wedding gifts, for the bride and groom to attach to their honeymoon luggage! To start design your own Personalised Luggage Tags, click here.
As with all real leather products, there will always be a few natural imperfections in the leather, for example small pockmarks and visible grain. We always strive to source the best quality leather available for our lovely products. Our printed leather has a long lifespan and will break in over time, which, we think, adds to its gorgeous natural charm! To help explain how our small leather good are made, we've created a little video for you! We hope you like it.
If you have any questions about these, or any of our products, you can call or email us or use the handy online chat tool, which can be found on our website here.
Bags of Love x 
How to make a personalised luggage tag and keyring from Contrado on Vimeo.